The Wiley-Blackwell Companion to Human Geography
ISBN: 978-1-119-25043-2
620 pages
August 2016, Wiley-Blackwell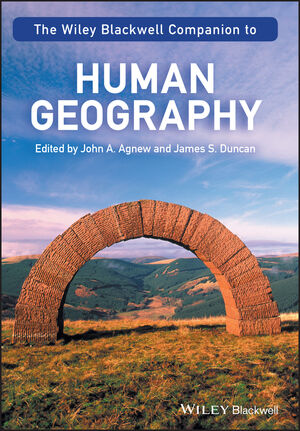 This volume provides an up-to-date, authoritative synthesis of the discipline of human geography. Unparalleled in scope, the companion offers an indispensable overview to the field, representing both historical and contemporary perspectives.
Edited and written by the world's leading authorities in the discipline
Divided into three major sections: Foundations (the history of human geography from Ancient Greece to the late nineteenth century); The Classics (the roots of modern human geography); Contemporary Approaches (current issues and themes in human geography)
Each contemporary issue is examined by two contributors offering distinctive perspectives on the same theme
See More
List of Illustrations viii
Notes on Contributors x
1 Introduction 1
John A. Agnew and James S. Duncan
Part I Foundations 9
2 Where Geography Came From 11
Peter Burke for David Lowenthal
3 Cosmographers, Explorers, Cartographers, Chorographers: Defining, Inscribing and Practicing Early Modern Geography, c.1450–1850 23
Robert J. Mayhew
4 Colonizing, Settling and the Origins of Academic Geography 50
Daniel Clayton
Part II The Classics 71
5 German Precursors and French Challengers 73
Vincent Berdoulay
6 Creating Human Geography in the English-Speaking World 89
Ron Johnston
7 Landscape Versus Region – Part I 114
Nicolas Howe
8 Landscape Versus Region – Part II 130
Kent Mathewson
9 From Region to Space – Part I 146
Trevor J. Barnes
10 From Region to Space – Part II 161
Anssi Paasi
Part III Contemporary Approaches 177
11 Nature – Part I 179
Noel Castree
12 Nature – Part II 197
Jamie Lorimer
13 Landscape – Part I 209
Don Mitchell and Carrie Breitbach
14 Landscape – Part II 221
Mitch Rose and John W. Wylie
15 Place – Part I 235
Tim Cresswell
16 Place – Part II 245
Steven Hoelscher
17 Territory – Part I 260
Stuart Elden
18 Territory – Part II 271
Jacques Lévy
19 Globalization – Part I 283
Richard Florida
20 Globalization – Part II 298
Emily Gilbert
21 World Cities – Part I 313
Carolyn Cartier
22 World Cities – Part II 325
Paul L. Knox
23 Governance – Part I 336
Wendy Larner
24 Governance – Part II 347
Stephen Legg
25 Mobility – Part I 361
David Ley
26 Mobility – Part II 373
George Revill
27 Scale and Networks – Part I 387
Andrew E.G. Jonas
28 Scales and Networks – Part II 404
John Paul Jones III, Sallie A. Marston, and Keith Woodward
29 Class – Part I 415
Andrew Herod
30 Class – Part II 426
Clive Barnett
31 Race – Part I 440
Kay Anderson
32 Race – Part II 453
Arun Saldanha
33 Sexuality – Part I 465
Natalie Oswin
34 Sexuality – Part II 475
Mary E. Thomas
35 Gender – Part I 486
Michael Landzelius
36 Gender – Part II 501
Joanne P. Sharp
37 Geopolitics – Part I 512
Phil Kelly
38 Geopolitics – Part II 523
Merje Kuus
39 Segregation – Part I 534
Larry S. Bourne and R. Alan Walks
40 Segregation – Part II 547
Steve Herbert
41 Development – Part I 559
Glyn Williams
42 Development – Part II 575
Wendy Wolford
Index 588
See More
John Agnew is Distinguished Professor of Geography at the University of California, Los Angeles. He has taught at a number of universities including Syracuse University, the University of Chicago, and the University of Siena. He has authored or co-authored numerous books including Berlusconi's Italy: Mapping Contemporary Italian Politics (2008) and Globalization and Sovereignty (2009). He is co-editor of the Wiley Blackwell Companion to Political Geography (2015).
James Duncan
is an Emeritus Fellow of Emmanuel College, Cambridge. He has written extensively on Culture Theory and landscape interpretation in contemporary America and nineteenth century Sri Lanka. Recent publications include
Landscapes of Privilege: The Politics of the Aesthetic in an American Suburb
(2004, with Nancy Duncan) and
In
the Shadows of the Tropics: Climate, Race and Biopower in Nineteenth Century Ceylon
(2007).
See More
More in this series