Schiff's Diseases of the Liver, 12th Edition
ISBN: 978-1-119-25122-4
1232 pages
November 2017, Wiley-Blackwell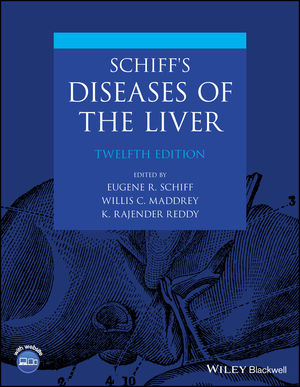 The most important and reliable resource for treating diseases of the liver
For more than 55 years, "Schiff" has been acclaimed as the most outstanding liver book in the world. This new 12th edition brings the field completely up to date and includes a companion website that features a wide-variety of accessory materials. The text is evidence-based to offer hepatologists and gastroenterologists treating patients with liver disease a comprehensive and essential resource. The text highlights clinical practice and covers anatomy, pathology, testing, imaging, and the effects of liver disease on other organs. The book is written in clear and accessible terms and key features include:
Treatment guidelines and management algorithms for every disease
Full-color attractive design throughout the text
Informative section overviews for each section
Concise key concepts box in every chapter
A full liver transplant section
This 12th edition is thoroughly revised with the latest clinical information. The new edition offers:
Information on acute and chronic liver failure and infections in cirrhosis
Over 100 MCQs
Downloads for Powerpoint™ making the content ideal for presentations
Schiff's Diseases of the Liver is designed to be a first-stop reference for dealing with today's demanding clinical situations.
See More
Contributors
Foreword
Preface
About the CompanionWebsite
Part I Overview: Clinical Fundamentals of Hepatology
1 History Taking and Physical Examination for the Patient with Liver Disease
Esperance A. Schaefer and Lawrence S. Friedman
2 Laboratory Tests, Noninvasive Markers of Fibrosis, Liver Biopsy, and Laparoscopy
Michael P. Curry and Lennox J. Jeffers
3 Noninvasive and Invasive Imaging of the Liver and Biliary Tract
Koushik K. Das, Matthew A.Morgan, and Gregory G. Ginsberg
Part II General Considerations
4 Physioanatomic Considerations
Ian R. Wanless
5 Bilirubin Metabolism and Jaundice
Allan W. Wolkoff and Paul D. Berk
6 Hepatic Histopathology
Zachary D. Goodman
7 Mechanisms of Liver Injury
Harmeet Malhi and Gregory J. Gores
8 Hepatic Manifestations of Systemic Disorders
Stuart C. Gordon and Humberto C. Gonzalez
9 The Liver in Pregnancy
Nancy Reau and Yannick Bacq
Part III Consequences of Liver Disease
10 Hepatic Fibrosis
Scott L. Friedman
11 Preoperative Evaluation of the Patient with Liver Disease
Patrick S. Kamath and Mark T. Keegan
12 Management of Portal Hypertension
Guadalupe Garcia-Tsao and Juan G. Abraldes
13 Renal Complications of Liver Disease and the Hepatorenal Syndrome, 33
Xingxing S. Cheng and W. Ray Kim
14 Pulmonary Manifestations of Liver Disease
Michael B. Fallon and Anil Seetharam
15 Ascites and Spontaneous Bacterial Peritonitis
Vicente Arroyo and Javier Fern´andez
16 Hepatic Encephalopathy
Chathur Acharya and Jasmohan S. Bajaj
17 Acute Liver Failure
Robert J. Fontana and Khurram Bari
18 Acute-on-Chronic Liver Failure
Florence Wong
19 Malnutrition and Liver Disease
Craig McClain, Irina Kirpich, and Laura Smart
Part IV Cholestatic Disorders
20 Primary Sclerosing Cholangitis
John M. Vierling
21 Primary Biliary Cholangitis
Cynthia Levy, Andres F. Carrion, and Marlyn J. Mayo
22 Autoimmune Hepatitis
Gideon M. Hirschfield and Gwilym J. Webb
Part V Viral Hepatitis
23 Hepatitis A and E
Kenneth E. Sherman and Shyam Kottilil
24 Hepatitis B and D
Marc G. Ghany and Naveen Gara
25 Hepatitis C
Michael W. Fried, Jama M. Darling, and Stanley M. Lemon
Part VI Alcohol- and Drug-induced Liver Disease
26 Alcoholic Liver Disease
Mack C. Mitchell and Gyongyi Szabo
27 Drug-induced Hepatotoxicity, 740
Dominique Larrey, Jose Ursic-Bedoya, and Lucy Meunier
28 Mechanisms of Drug-induced Liver Injury
Paul B. Watkins and Merrie Mosedale
Part VII Genetic and Metabolic Disease
29 Wilson Disease
Michael L. Schilsky and Aftab Ala
30 Hemochromatosis and Iron Storage Disorders
Kris V. Kowdley and Priya Handa
31 Alpha-1 Antitrypsin Deficiency
David H. Perlmutter
32 Nonalcoholic Fatty Liver Disease
Curtis K. Argo, Zachary H. Henry, and Stephen H. Caldwell
Part VIII Vascular Diseases of the Liver
33 Vascular Liver Disease
Dominique-Charles Valla
34 The Liver in Circulatory Failure
Santiago J. Munoz, Hanisha R. Manickavasagan, and Idean Amirjazil
Part IX Benign and Malignant Tumors; Cystic Disorders
35 Benign Tumors, Nodules, and Cystic Diseases of the Liver
Julien Calderaro and Jessica Zucman-Rossi
36 Hepatocellular Carcinoma
Maddie Kubiliun and Jorge A. Marrero
37 Surgical Options in Liver Cancers
Garrett R. Roll and John Paul Roberts
Part X Infectious and Granulomatous Disease
38 Amoebic and Pyogenic Liver Abscesses
Marco A. Olivera-Mart´ýnez and David Kershenobich
39 Parasitic Diseases
Michael A. Dunn
40 Granulomas of the Liver
James H. Lewis
Part XI Elements of Liver Transplantation
41 Selection of Candidates and Timing of Liver Transplantation
Meaghan Phipps, Alyson N. Fox, and Robert S. Brown Jr.
42 Immunosuppression: The Global Picture
Caroline C. Jadlowiec, Timucin Taner, and Russell H. Wiesner
43 The First Six Months Following Liver Transplantation
K. Rajender Reddy and Manuel Mendizabal
44 Long-term Management of the Liver Transplant Patient
Timothy M. McCashland
45 The Liver Transplant Procedure
Bijan Eghtesad, Koji Hashimoto, and John Fung
46 Recurrent Disease Following Liver Transplantation
Haripriya Maddur and Josh Levitsky
47 The Role of Retransplantation
Peter L. Abt and Kim M. Olthoff
48 Controversies in Liver Transplantation
James F. Trotter
Index
See More
About the Editors
EUGENE R. SCHIFF MD, MACP, FRCP, MACG, FAASLD is Professor of Medicine, University of Miami Miller School of Medicine, and Director, Schiff Center for Liver Diseases, Miami, USA.
WILLIS C. MADDREY MD, MACP, FRCP, FAASLD is Professor of Internal Medicine, University of Texas Southwestern Medical Center, Dallas, USA.
K. RAJENDER REDDY MD, FAASLD is Ruimy Family President's Distinguished Professor of Medicine, Director of Hepatology, and Medical Director of Liver Transplantation, University of Pennsylvania, Philadelphia, USA.
See More