MCSA Microsoft Windows 10 Study Guide: Exam 70-697
ISBN: 978-1-119-25230-6
576 pages
June 2016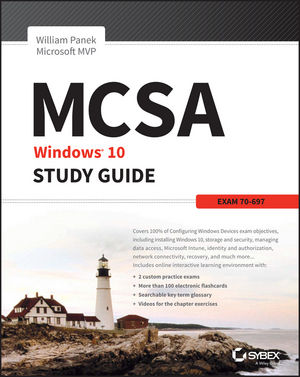 NOTE: The correct URL to access the Sybex interactive online test bank and study tools is www.wiley.com/go/sybextestprep. The book's back cover, Introduction, and last page in the book provided the wrong URL. We apologize for any confusion and inconvenience this may have caused you.


Master 100 percent of Microsoft Windows 10 exam with real-world hands-on practice
MCSA: Microsoft Windows 10 Complete Study Guide is your ultimate preparation resource for the new Windows 10 certification. Fully updated to align with the latest version of the exam, this new edition digs deeper into the intricacies of the Windows OS and provides the most up-to-date information on new Windows 10 technologies. With complete coverage of all exam topics, this invaluable guide walks you through device planning, deployment, and management; network and storage configuration; access, data, app, and recovery management, and much more to help you master the exam material. You also get access to the Sybex interactive online learning environment, featuring electronic flashcards, a searchable glossary, an assessment test, and bonus practice exams designed to give you a preview of exam day.
MCSA: Microsoft Windows 10 is the Microsoft Certified Solutions Associate certification for Windows 10, testing your abilities in a broad variety of associate-level tasks. This book rounds them up into a comprehensive knowledge base to help you clarify, memorize, and deepen your understanding so you can approach exam day with confidence.
Master 100 percent of exam 70-697, Configuring Windows Devices, objectives
Get more hands-on practice in real-world scenarios
Test your knowledge with challenging review questions
Access digital study aids and practice tests for comprehensive prep
Windows is the world's leading operating system, with an estimated 90 percent share of the desktop OS market. There are currently over 110 million Windows 10 users, and that number is expected to rise—putting Windows 10 Specialists in high demand in the job market. If you're ready to fill the growing need for trained Windows 10 associates, Microsoft Configuring Windows Devices Study Guide Exam 70-697 has you covered for complete and detailed exam preparation.
See More
Introduction xxv
Assessment Test xxxvii
Chapter 1 Installing Windows 10 1
Introducing Windows 10 2
Windows 10 Features 6
Windows Feature Deprecation 8
Windows 10 Architecture 8
Preparing to Install Windows 10 9
Windows 10 Home 10
Windows 10 Professional 10
Windows 10 Enterprise 11
New Install or Upgrade? 15
Disk Partitioning 19
Language and Locale 20
Installing Windows 10 20
Performing a Clean Install of Windows 10 20
Performing an Upgrade to Windows 10 28
Troubleshooting Installation Problems 33
Migrating Files and Settings 34
Supporting Multiple-Boot Options 38
Using Windows Activation 40
Using Windows Update 40
Using Command-Line Options 42
Installing Windows Service Packs 43
Summary 43
Video Resources 44
Exam Essentials 44
Review Questions 45
Chapter 2 Automated Windows 10 Deployments 49
Understanding Automated Deployment Options 50
An Overview of the Microsoft Deployment Toolkit 2013 51
An Overview of Unattended Installation 57
An Overview of Windows Deployment Services 59
An Overview of the System Preparation Tool and Disk Imaging 61
Overview of the Windows Assessment and Deployment Kit 65
Windows Imaging and Configuration Designer 66
Summary of Windows 10 Deployment Options 67
Deploying Unattended Installations 68
Using the System Preparation Tool to Prepare an Installation for Imaging 69
Using Windows Imaging and Configuration Designer (Windows ICD) to Create a Disk Image 71
Installing from a Disk Image 73
Using the Deployment Image Servicing and Management Tool 74
Using Windows System Image Manager to Create Answer Files 75
Understanding Hyper-V 76
What Is Virtualization? 77
Installing the Hyper-V Role 78
Configuring Virtual Machines 84
Summary 89
Video Resources 90
Exam Essentials 90
Review Questions 91
Chapter 3 Configuring Storage and Security 95
Understanding File Systems 96
File System Selection 97
File System Conversion 99
Configuring NTFS 100
Configuring Disk Storage 103
Basic Storage 103
Dynamic Storage 104
GUID Partition Table 106
Cloud-Based Storage 107
Using the Disk Management Utility 111
Using the Microsoft Management Console 112
Understanding the Disk Management Utility 116
Managing Storage 131
Managing Dynamic Storage 131
Troubleshooting Disk Management 133
Understanding Disk Management Status Codes 134
Troubleshooting Disks That Fail to Initialize 135
Managing Data Compression 135
Using the Compact Command-Line Utility 137
Using Compressed (Zipped) Folders 138
Understanding Distributed File System 138
Advantages of DFS 138
Types of DFS 139
Managing Data Encryption with EFS 139
Encrypting and Decrypting Folders and Files 140
Managing EFS File Sharing 141
Recovering Encrypted Files 142
Understanding RAID 145
RAID Levels 145
Storage Spaces 146
Using Disk-Maintenance Tools 148
Using the Disk Optimization Utility 149
Using the Disk Cleanup Utility 150
Using the Check Disk Utility 151
Summary 152
Video Resources 152
Exam Essentials 152
Review Questions 154
Chapter 4 Managing Data Access 157
Managing File and Folder Security 158
Folder Options 159
Understanding Dynamic Access Control 163
Securing Access to Files and Folders 164
Determining and Viewing Effective Permissions for NTFS 168
Determining NTFS Permissions for Copied or Moved Files 170
Managing Network Access 171
Creating and Managing Shared Folders 171
Configuring Share Permissions 172
Configuring OneDrive 174
Joining and Sharing HomeGroups in Windows 10 178
Understanding Hardware Security 183
Using BitLocker Drive Encryption 183
Features of BitLocker 185
Windows 7 and 2008 R2 vs. Windows 10 & 2012 R2 187
Using the BitLocker Administration and Monitoring Utility 189
Understanding Smart Cards 190
Summary 191
Video Resources 191
Exam Essentials 191
Review Questions 193
Chapter 5 Managing the Windows 10 Environment 197
Configuring the Windows 10 Operating System 198
Configuring the Desktop Environment 199
Configuring Personalization 207
Using Control Panel 213
Understanding the System Icon 223
Understanding the Settings Window 226
Understanding Mobility Options 228
Configuring Offline Files and Synchronization 228
Configuring Power Policies 230
Configuring Windows To Go 236
Configuring Wi-Fi Direct 238
Using the Registry Editor 239
Configuring Remote Connections 240
Remote Assistance 241
Remote Desktop 245
Configuring a VPN Connection 248
Transparent Caching 250
Broadband Tethering 250
Managing Windows 10 Services 252
Summary 254
Video Resources 255
Exam Essentials 255
Review Questions 256
Chapter 6 Planning and Managing Microsoft Intune 259
Managing Devices with Microsoft Intune 260
Understanding Microsoft Intune Benefits 262
Configuring Intune Subscriptions 263
Provisioning User Accounts 265
Supporting Applications 281
Deploying Applications Using Intune 281
Supporting Broadband Connectivity 285
Understanding Data Synchronization 286
Understanding Updates 288
Deploying Software Updates Using Intune 288
Using the Intune Reports 292
Summary 294
Video Resources 295
Exam Essentials 295
Review Questions 296
Chapter 7 Configuring Applications 299
Supporting Desktop Applications 300
Using the Application Compatibility Toolkit (ACT) 300
Using Hyper-V for Desktop Applications 302
Configuring User Experience Virtualization (UE-V) 307
Understanding AppLocker 309
Understanding Azure 310
Using Azure RemoteApp 314
Understanding App-V 320
Supporting the Windows Store 321
Installing and Managing Software by Using
Microsoft Office 365 and Windows Store Apps 321
Sideloading Apps into Online and Offline Images 322
Integrating Microsoft Accounts Including
Personalization Settings 323
Understanding Web Browsers 326
Browser Controls 326
Working with Web Slices 327
Using the Browser Compatibility View 328
Using Protected Mode for IE11 329
Using InPrivate Browsing and InPrivate Filtering 329
Configuring Windows Internet Explorer 11 Options 330
Summary 335
Video Resources 335
Exam Essentials 336
Review Questions 337
Chapter 8 Managing Identity and Authorization 341
Overview of Windows 10 User Accounts 342
Account Types 343
Built-In Accounts 343
Local and Domain User Accounts 345
Working with User Accounts 346
Using the Local Users and Groups Utility 346
Using the User Accounts Option in Control Panel 348
Creating New Users 349
Disabling User Accounts 354
Deleting User Accounts 355
Renaming User Accounts 357
Changing a User's Password 358
Using a Microsoft Passport, Pictures, and Biometrics 359
Managing User Properties 359
Managing User Group Membership 360
Setting Up User Profiles, Logon Scripts, and Home Folders 362
Troubleshooting User Account Authentication 367
Managing and Creating Groups 368
Using Built-In Groups 369
Creating Groups 373
Managing Group Membership 374
Deleting Groups 376
Managing Security Using GPOs and LGPOs 376
Understanding the GPO and LGPO Basics 376
Using the Group Policy Result Tool 378
Managing and Applying LGPOs 379
Configuring Local Security Policies 381
Using Account Policies 382
Using Local Policies 388
Configuring User Account Control 395
Privilege Elevation 396
Registry and File Virtualization 398
Understanding Smart Cards 398
Summary 400
Video Resources 401
Exam Essentials 401
Review Questions 402
Chapter 9 Configuring Network Connectivity 405
Understanding Networking 406
Windows Peer-to-Peer Network 406
Windows Server 2012 R2 Active Directory Network 408
Cloud-Based Azure Active Directory 410
Other Microsoft Networking Terms and Roles 411
Configuring Windows 10 NIC Devices 414
Configuring a Network Adapter 414
Troubleshooting a Network Adapter 421
Configuring Wireless NIC Devices 421
Understanding TCP/IP 431
Benefits and Features of TCP/IP 431
Basics of IP Addressing and Configuration 433
Using IPv6 Addresses 437
Configuring TCP/IP on Windows 10 448
Testing Your IP Configuration 450
Configuring Windows 10 on a Network 452
Configuring Windows Firewall 457
Summary 462
Video Resources 463
Exam Essentials 463
Review Questions 464
Chapter 10 Configuring Recovery 467
Safeguarding and Recovery Basics 468
Using Advanced Boot Options 469
Starting in Safe Mode 470
Enabling Boot Logging 473
Using Other Startup Setting Options 474
Understanding System Restore 475
Using the System Image Recovery 477
Using the Startup Repair Tool 478
Maintaining Windows 10 with Backup and Restore 478
Creating a Backup 478
Restoring Files from a Backup 481
Recovering Files from OneDrive 481
Using the Wbadmin Command Utility 482
Using Advanced Backup Options 483
Using System Protection 485
Creating Restore Points 486
Restoring Restore Points 486
Cleaning Up Old Restore Points 487
Using the Recycle Bin 487
Summary 488
Video Resources 489
Exam Essentials 489
Review Questions 490
Appendix Answers to the Review Questions 493
Index 505
See More
William Panek, MCP, MCSE, MCSA, MCTS, MCITP, CCNA, is a three-time Microsoft MVP and a live online instructor for StormWind Studios. He has taught at a number of institutions including Boston University, Clark University, and the University of Maryland, and has served as a trainer and consultant for the United States Secret Service, Cisco, the United States Air Force, and the United States Army. Visit YouTube.com/c/williampanek to view some of his videos on preparing for various Microsoft exams.
See More
Instructors Resources
Request a print evaluation copy
Contact us

See More
See Less
Learn more about