E-book
The Intelligent REIT Investor: How to Build Wealth with Real Estate Investment Trusts
ISBN: 978-1-119-25276-4
240 pages
August 2016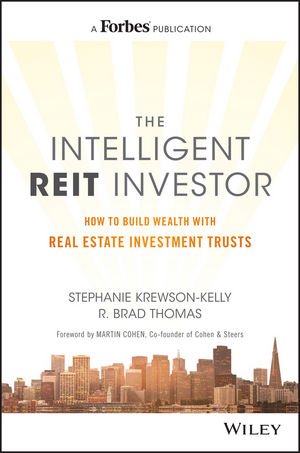 The go-to guide for smart REIT investing
The Intelligent REIT Investor is the definitive guide to real estate investment trusts, providing a clear, concise resource for individual investors, financial planners, and analysts—anyone who prioritizes dividend income and risk management as major components to wealth-building.
Later this year, the REIT industry will experience a watershed event when Standard & Poors creates a new Global Industry Classification Standard (GICS) sector called Real Estate. On September 1st, publicly traded equity REITs will be removed from Financials, where they have been classified since their creation in 1960, and begin trading as their own S&P Sector. This separation from banks and financial institutions already is attracting new investors, but REITs require an industry-specific knowledge that is neither intuitive or readily accessible to newcomers—until now. Using straightforward language and simple example to illustrate important concepts, this book will enable any reader to quickly learn and understand the lexicon and valuation techniques used in REIT investing, providing a wealth of practical resources that streamline the learning process. The discussion explains terminology, metrics, and other key points, while examples illustrate the calculations used to evaluate opportunities. A comprehensive list of publicly-traded REITs provides key reference, giving you access to an important resource most investors and stockbrokers lack.
REITs are companies that own or finance commercial rental properties, such as malls and apartment buildings. Despite historically high total returns relative to other investments, such as the Nasdaq or S&P 500 index, most investors are unfamiliar with the REIT industry, and wary of investing without adequate background. This book gets you up to speed on the essentials of REIT investing so you can make more informed—and profitable—decisions.
Understand REITs processes, mechanisms, and industry
Calculate key metrics to identify suitable companies
Access historical performance tables and industry-specific terminology
Identify publicly-traded REITs quickly and easily
REITs have consistently outperformed many more widely known investments. Over the past 15-year period, for example, REITs returned an average of 11% per year, better than all other asset classes. Since 2009, REITs have enjoyed positive returns; large cap stocks and cash are the only other classes that paralleled that record. Even in 2015, a 'year of fear' related to rising rates, REITs returned 2.4%, beating most all other asset classes.
REITs have a long history (over fifty years) of performance, and are about to enter the big leagues. If you feel like you've been missing out, don't keep missing out. Prepare yourself, and your portfolio, to benefit from the demand for REITs that will follow the creation of a Real Estate GICS sector. The Intelligent REIT Investor gives you the information you need to invest wisely and manage your real estate risk effectively. By maintaining a tactical exposure in the brick and mortar asset class, investors should benefit from the information contained in The Intelligent REIT Investor. Join the REIT world and look forward to owning stocks that will help you to sleep well at night.
See More
Foreword xi
Preface xv
Acknowledgments xix
About the Author xxi
Part I An Introduction to REITs 1
Chapter 1 What Is a REIT? 3
Size of the REIT Industry 4
Categories of REITs 4
Equity REITs 4
Mortgage REITs 6
Classification by Property Type 7
Size and Index Inclusion 7
Geographic Focus 9
Growth Strategy 12
Where to Find Information on REITs 15
FTSE NAREIT All REITs Index 15
Company-Specific Websites 15
Indexes for Tracking REIT Performance 15
Exchange-Traded Funds for Investing in REITs 17
Chapter 2 Why Invest in REITs? 19
Double-Digit Total Returns 19
Dividends 20
Liquidity 20
Portfolio Diversification 21
Hedge Against Inflation 23
Transparent Corporate Structures 25
Chapter 3 REIT Dividends 27
Rockland REIT 27
REIT Yields 27
Are REIT Yields Safe? 30
Quantifying Dividend Safety 31
Dividend/FFO Payout Ratio 31
Debt Ultimately Determines Dividend Safety 32
Debt-to–Total Market Capitalization Ratio 32
Debt-to–Gross Book Value Ratio 32
Legal Standing of Leases Supports Dividend Safety 33
REIT Dividends and Taxation 34
REITs Do Not Pay Out All of Their Cash in Dividends 35
The Components of a REIT's Common Dividend 36
REIT Dividends and the Bush Tax Cuts 39
Preferred Stock Dividends 40
Preferred Stock Basics 40
Risks to Owning Preferred Shares 40
Conclusion 42
Chapter 4 Leases 43
Lease Terminology 44
The Four Major Types of Leases 48
Leases and Tenant Bankruptcy 51
FASB and the New Standard for Accounting for Leases 52
Lease Duration and REIT Stock Price Performance 52
Chapter 5 REITs by Property Type 55
Diversified and Specialized REITs 55
REITs that use Triple-Net-Leases 56
Risks and Rewards of REITs That Use Triple-Net Leases 59
Health-Care REITs 59
Risks and Rewards of Health-care REITs 61
Industrial REITs 62
Risks and Rewards of Industrial REITs 63
Lease Terms 63
Lodging/Resort REITs 63
Hotel Revenue 64
Hotel Expenses 64
Technical Aspects Specific to Hotel REITs 64
Risks and Rewards of Hotel REITs 66
Mortgage REITs 66
Risks and Rewards of Mortgage REITs 69
Office REITs 70
Lease Terms 72
Risks and Rewards of Office REITs 72
Residential REITs 73
Apartment REITs 73
Manufactured Housing REITs 75
Single-Family-Home REITs 76
Retail REITs 77
Shopping Center REITs 77
Mall REITs 79
Freestanding Retail REITs 80
Risks and Rewards of Retail REITs 81
Self-Storage REITs 82
Risks and Rewards of Self-Storage REITs 82
Conclusion 83
Part II Investing in REITs 85
Chapter 6 Getting Technical 87
REIT Structures 87
UPREITs 88
OP Units 89
OP Units and Estate Planning 90
DownREITs 91
Publicly Traded, Public Nonlisted, and Private REITs 92
Volatility versus Liquidity 92
Transparency and Corporate Governance 92
Costs and Fees 95
Externally Advised and Externally Managed REITs 95
Qualifying as a REIT 96
REITs Are Not Limited Partnerships 98
Chapter 7 REIT Performance 99
Historical Total Returns 99
Factors Influencing Demand for REIT Shares 101
Events That Increased Demand for REIT Shares 102
REITs versus the Attractiveness of Other Investments (Lessons from History) 108
Growth Stocks versus REITs, 1998–1999 108
Treasury Yield versus REITs, 2004–2006 109
Safety and Yield, and the Big League of Benchmarks, 2000–2006 110
REITs During the Financial Crisis of 2007–2008 111
Company Attributes That Affect Performance 113
Real Estate Fundamentals and REIT Performance 113
Performance by Property Type 116
How Lease Length and Structure Affect REIT Returns 122
Weighted Average Cost of Capital and REIT Performance 127
Debt as a Four-Letter Word 127
Competitive Advantage or Disadvantage—Why Cost of Capital Matters 127
REIT Performance in a Rising Interest Rate Environment 129
Conclusion 131
Chapter 8 Analyzing REITs 133
Operating Metrics 134
Net Operating Income (NOI) 134
Same-Store (Organic) Earnings 134
'Earnings Growth' for REITs Is 'FFO Growth' 135
Management's Track Record as a Screening Tool 136
Profitability Metrics 137
Funds from Operation 137
Adjusted Funds from Operations (AFFO) 139
Cash Available for Distribution (CAD) 140
Balance Sheet Metrics and Analysis 140
Leverage 140
Debt-to–Total Market Capitalization Ratio 141
Debt-to–Gross Book Value Ratio 142
Debt-to-EBITDA Ratio 142
Weighted Average Cost of Capital (WACC) 143
Valuation Metrics 145
Price/Earnings Multiple 145
PEG Ratios 145
Dividend Yield 146
Dividend Safety 147
Dividend Coverage, or Payout Ratios 147
Dividend Discount Model 148
Net Asset Valuation (NAV) 149
Implied Capitalization Rate 158
Conclusion 161
Appendix A REITs Listed Alphabetically by Company Name 167
Appendix B REITs Listed Alphabetically by Ticker Symbol 175
Appendix C REITs by Sector 182
Appendix D REITs with Credit Ratings 193
Glossary 199
Index 209
See More
Stephanie Krewson-Kelly analyzed REITs for top Wall Street firms from 1994 through 2009 and, today, heads the Investor Relations department for a publicly traded REIT. Her prior publications include REIT Roadmap: An Insider's Guide to Successful Investing in Real Estate Investment Trusts (2nd edition, 2012).
R. Brad Thomas is an acknowledged expert in commercial real estate investing and REITs. He is editor of the Forbes Real Estate Investor newsletter and writes for Forbes and Seeking Alpha.
See More