Learning That Lasts: Challenging, Engaging, and Empowering Students with Deeper Instruction, with DVD
ISBN: 978-1-119-25345-7
432 pages
March 2016, Jossey-Bass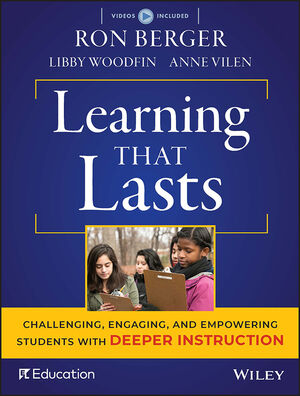 A practical guide to deeper instruction—a framework for challenging, engaging, and empowering students of all ages
For schools to meet ambitious new standards and prepare all students for college, careers, and life, research has shown unequivocally that nothing is more important that the quality of daily instruction. Learning That Lasts presents a new vision for classroom instruction that sharpens and deepens the quality of lessons in all subject areas. It is the opposite of a 'teacher-proof' solution. Instead, it is predicated on a model of instruction that honors teachers as creative and expert planners of learning experiences for their students and who wish to continuously grow in their instructional and content knowledge. It is not a theoretical vision. It is a model of instruction refined in some of the nation's most successful public schools—schools that are beating the odds to create remarkable achievement—sited primarily in urban and rural low-income communities.
Using case studies and examples of powerful learning at all grade levels and in all disciplines, Learning That Lasts is a guide to creating classrooms that promote deeper understanding, higher order thinking, and student independence. Through text and companion videos, readers will enter inspiring classrooms where students go beyond basics to become innovators, collaborators, and creators. Learning That Lasts embraces a three-dimensional view of student achievement that includes mastery of knowledge and skills, character, and high-quality work. It is a guide for teachers who wish to make learning more meaningful, memorable, and connected to life, and inspire students to do more than they think possible.
See More
DVD Contents vii
Foreword ix
Preface xv
Acknowledgments xvii
About the Authors xxi
About EL Education xxiii
Introduction 1
1 Planning and Delivering Lessons That Challenge,
Engage, and Empower 15
2 Laying the Foundation for Deeper Learning with Literacy 67
3 Creating Scientists and Historians 121
4 Reimagining Mathematics Instruction 175
5 Teaching in and through the Arts 225
6 Differentiating Instruction 275
Conclusion 333
Appendix A Sample Protocol-Based Lessons 337
Appendix B The What, Why, and How of Protocols 345
Appendix C Primary Source Close Reading Guide 349
Appendix D Factors to Guide Your Selection of Text 353
Appendix E From Assignment to Assessment 357
Appendix F Informational Text Resources 359
Appendix G Photograph Resources 363
Appendix H Great Online Mathematics Resources 365
Appendix I Kid Curators Rubric 369
Appendix J Initiatives that Build a Positive Classroom Culture of
Differentiation 373
References 377
How to Use the DVD 383
Index 385
See More
RON BERGER is Chief Academic Officer for EL Education. He taught public school for more than twenty-five years. He is coauthor of Leaders of Their Own Learning and Transformational Literacy. LIBBY WOODFIN is the director of publications for EL Education. She is coauthor of Leaders of Their Own Learning and Transformational Literacy. ANNE VILEN is a staff writer and school designer for EL Education. She is coauthor of Transformational Literacy: Making the Common Core Shift with Work That Matters.
See More