Networking For Dummies, 11th Edition
ISBN: 978-1-119-25776-9
456 pages
May 2016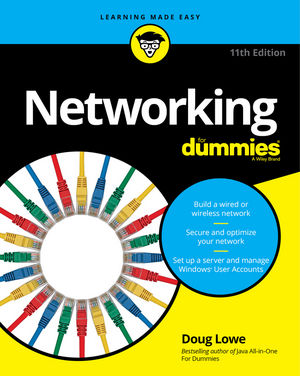 The #1 bestselling beginner's guide to computer networking—now in a new edition
Need networking know-how, but don't know where to turn? Run—don't walk—to the no-nonsense networking guidance offered in this friendly guide! Whether you're a networking administrator or an everyday computer user looking to set up a network in your home or office, Networking For Dummies seamlessly gets you connected with the basics and gives you the knowledge to work out whatever kinks may come your way—in no time.
A network can make everything in your home or office run more smoothly and easily, but setting one up can be challenging for even the most computer-savvy people. Well, relax—this bestselling guide has you covered! Inside, you'll find step-by-step instructions on setting up and maintaining a network, working with broadband and wireless technologies, ensuring you're following best practices with storage and back-up procedures, building a wired or wireless network, and much more.
Set up a network for all major operating systems
Secure, optimize, and troubleshoot your network
Create an intranet and use the Cloud safely
Make sense of the latest updates to Windows 10
Don't let a thorny networking issue get the best of you! Heed the simple guidance in this friendly guide and effectively network your way to more effective shared data and resources.
See More
Introduction 1
Part 1: Getting Started with Networking 5
CHAPTER 1: Let's Network! 7
CHAPTER 2: Life on the Network 19
CHAPTER 3: More Ways to Use Your Network 39
Part 2: Setting Up a Network 55
CHAPTER 4: Planning a Network 57
CHAPTER 5: Dealing with TCP/IP 69
CHAPTER 6: Oh, What a Tangled Web We Weave: Cables, Switches, and Routers 95
CHAPTER 7: Configuring Windows Clients 113
CHAPTER 8: Connecting Your Network to the Internet 123
CHAPTER 9: Setting Up a Wireless Network 131
CHAPTER 10: Virtual Networking 151
Part 3: Working with Servers 177
CHAPTER 11: Setting Up a Server 179
CHAPTER 12: Managing Windows User Accounts 191
CHAPTER 13: Managing Network Storage 207
CHAPTER 14: Managing Exchange Server 2016 223
CHAPTER 15: Creating an Intranet 237
Part 4: Managing and Protecting Your Network 251
CHAPTER 16: Welcome to Network Management 253
CHAPTER 17: Solving Network Problems 263
CHAPTER 18: Backing Up Your Data 281
CHAPTER 19: Securing Your Network 295
CHAPTER 20: Hardening Your Network 311
CHAPTER 21: Network Performance Anxiety 323
Part 5: More Ways to Network 335
CHAPTER 22: Life in Cloud City 337
CHAPTER 23: Managing Mobile Devices 347
CHAPTER 24: Connecting from Home 361
Part 6: Networking Beyond Windows 369
CHAPTER 25: Networking with Linux 371
CHAPTER 26: Mac Networking 393
Part 7: The Part of Tens 403
CHAPTER 27: Ten Networking Commandments 405
CHAPTER 28: Ten Big Network Mistakes 409
CHAPTER 29: Ten Things You Should Keep in Your Closet 417
Index 421
See More
Doug Lowe is the information technology director for a civil engineering firm in Clovis, California. He has been managing networks at publishing companies and nonprofits for more than 30 years and is the bestselling author of Networking All-in-One For Dummies.
See More