Mindfulness-Based Cognitive Therapy for Chronic Pain: A Clinical Manual and Guide
ISBN: 978-1-119-25790-5
248 pages
May 2017, Wiley-Blackwell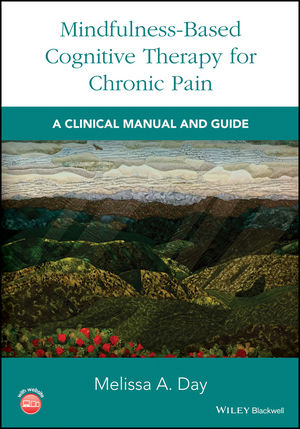 This unique new guide integrates recent advances in the biopsychosocial understanding of chronic pain with state-of-the-art cognitive therapy and mindfulness techniques to offer a fresh, highly-effective MBCT approach to helping individuals manage chronic pain.
There is intense interest from clinicians, researchers and patients alike in mindfulness-based therapeutic techniques, and the integration of mindfulness theory and practice with CBT
Provides everything a therapist needs to integrate MBCT into their practice and optimize its delivery, including a manualized 8-session program and guidance on how to teach MBCT skills
Features case studies and real-world examples that help practitioners to avoid common pitfalls and optimize the delivery of MBCT for chronic pain for their own individual clients
Features links to guided meditations, client and therapist handouts and other powerful tools
See More
Foreword ix
Acknowledgments xi
About the Companion Website xiii
Introduction 1
Part I Chronic Pain 5
1 Defining Chronic Pain and its Territory 7
2 Psychosocial Chronic Pain Management: Current State of the Theory and Evidence 39
3 The Development of MBCT for Chronic Pain 63
Part II MBCT for Chronic Pain 87
4 Overview of the Eight –Session Treatment 89
5 Session 1: Stepping Out of Automatic Pain Habits 115
6 Session 2: Facing the Challenge 137
7 Session 3: The Breath as an Anchor 155
8 Session 4: Learning to Stay Present 167
9 Session 5: Active Acceptance 183
10 Session 6: Seeing Thoughts as Just Thoughts 197
11 Session 7: Taking Care of Myself 211
12 Session 8: Harnessing the Power of the Mind for Chronic Pain Management 223
13 Integrating MBCT for Chronic Pain with Existing Treatments 235
Conclusion 249
Index 259
See More
Melissa A. Day, PhD, is a NHMRC Research Fellow at the University of Queensland, Brisbane, Australia. Dr. Day completed her MA (Clin) and PhD in clinical health psychology, with a research focus on pain. Currently her research focuses on optimizing mindfulness-based and cognitive-behavioural interventions for chronic pain.
See More