Community-Based Participatory Research for Health: Advancing Social and Health Equity, 3rd Edition
ISBN: 978-1-119-25885-8
480 pages
October 2017, Jossey-Bass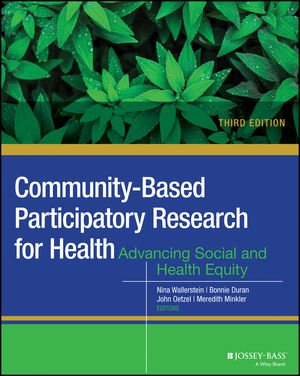 The definitive guide to CBPR concepts and practice, updated and expanded
Community-Based Participatory Research for Health: Advancing Health and Social Equity
provides a comprehensive reference for this rapidly growing field in participatory and community-engaged research. Hailed as effective by the Centers for Disease Control and Prevention, CBPR and CEnR represent the link between researchers and community and lead to improved public health outcomes.
This book provides practitioner-focused guidance on CBPR and CEnR to help public health professionals, students, and practitioners from multiple other clinical, planning, education, social work, and social science fields to successfully work towards social and health equity.
With a majority of new chapters, the book provides a thorough overview of CBPR history, theories of action and participatory research, emerging trends of knowledge democracy, and promising practices. Drawn from a ten-year research effort, this new material is organized around the CBPR Conceptual Model, illustrating the importance of social context, promising partnering practices, and the added value of community and other stakeholder engagement for intervention development and research design. Partnership evaluation, measures, and outcomes are highlighted, with a revised section on policy outcomes, including global health case studies.
For the first time, this updated edition also includes access to the companion website, featuring lecture slides of conceptual and partnership evaluation-focused chapters, with resources from appendices to help bring CBPR concepts and practices directly into the classroom.
Proven effective year after year, CBPR has become a critically important framework for public health, and this book provides clear reference for all aspects of the practice. Readers will:
Examine the latest research on CPBR, and incorporate new insights into practice
Understand the history and theoretical basis of CPBR, and why it has been so effective
Reflect on critical issues of racism, power, and privilege; trust development; ethical practice within and beyond IRBs; and cultural humility
Learn new partnership evaluation and collective reflection strategies, including measures and metrics, to enhance their own practice for improved health and social equity outcomes
See More
The Editors xiii
The Contributors xv
Preface xxxiii
Camara Phyllis Jones
Acknowledgments xxxvii
PART ONE: INTRODUCTION: HISTORY AND PRINCIPLES
ONE: ON COMMUNITY-BASED PARTICIPATORY RESEARCH 3
Nina Wallerstein, Bonnie Duran, John G. Oetzel, and Meredith Minkler
TWO: THEORETICAL, HISTORICAL, AND PRACTICE ROOTS OF CBPR 17
Nina Wallerstein and Bonnie Duran
THREE: CRITICAL ISSUES IN DEVELOPING AND FOLLOWING CBPR PRINCIPLES 31
Barbara A. Israel, Amy J. Schulz, Edith A. Parker, Adam B. Becker, Alex J. Allen, III, J. Ricardo Guzman, and Richard Lichtenstein
PART TWO: POWER, TRUST, AND DIALOGUE: WORKING WITH DIVERSE COMMUNITIES
FOUR: UNDERSTANDING CONTEMPORARY RACISM, POWER, AND PRIVILEGE AND THEIR IMPACTS ON CBPR 47
Michael Muhammad, Catalina Garzón, Angela Reyes, and The West Oakland Environmental Indicators Project
FIVE: TRUST DEVELOPMENT IN CBPR PARTNERSHIPS 61
Julie E. Lucero, Kathrine E. Wright, and Abigail Reese
PART THREE: CBPR CONCEPTUAL MODEL: CONTEXT AND PROMISING RELATIONSHIP PRACTICES
SIX: SOCIO-ECOLOGIC FRAMEWORK FOR CBPR: DEVELOPMENT AND TESTING OF A MODEL 77
Sarah L. Kastelic, Nina Wallerstein, Bonnie Duran, and John G. Oetzel
SEVEN: YOUTH-LED PARTICIPATORY ACTION RESEARCH (YPAR): PRINCIPLES APPLIED TO THE US AND DIVERSE GLOBAL SETTINGS 95
Emily J. Ozer and Amber Akemi Piatt
EIGHT: PARTNERSHIP, TRANSPARENCY, AND ACCOUNTABILITY: CHANGING SYSTEMS TO ENHANCE RACIAL EQUITY IN CANCER CARE AND OUTCOMES 107
Eugenia Eng, Jennifer Schaal, Stephanie Baker, Kristin Black, Samuel Cykert, Nora Jones, Alexandra Lightfoot, Linda Robertson, Cleo Samuel, Beth Smith, and Kari Thatcher
NINE: SOUTH VALLEY PARTNERS FOR ENVIRONMENTAL JUSTICE: A STORY OF ALIGNMENT AND MISALIGNMENT 123
Magdalena Avila, Shannon Sanchez-Youngman, Michael Muhammad, Lauro Silva, and Paula Domingo de Garcia
PART FOUR: PROMISING PRACTICES: INTERVENTION DEVELOPMENT AND RESEARCH DESIGN
TEN: CBPR IN HEALTH CARE SETTINGS 141
Margarita Alegría, Chau Trinh-Shevrin, Bowen Chung, Andrea Ault, Alisa Lincoln, and Kenneth B. Wells
ELEVEN: NATIONAL CENTER FOR DEAF HEALTH RESEARCH: CBPR WITH DEAF COMMUNITIES 157
Steven Barnett, Jessica Cuculick, Lori Dewindt, Kelly Matthews, and Erika Sutter
TWELVE: CBPR IN ASIAN AMERICAN COMMUNITIES 175
Nadia Islam, Charlotte Yu-Ting Chang, Pam Tau Lee, and Chau Trinh-Shevrin
THIRTEEN: ENGAGED FOR CHANGE: AN INNOVATIVE CBPR STRATEGY TO INTERVENTION DEVELOPMENT 189
Scott D. Rhodes, Lilli Mann, Florence M. Simán, Jorge Alonzo, Aaron T. Vissman, Jennifer Nall, and Amanda E. Tanner
PART FIVE: PROMISING PRACTICES: ETHICAL ISSUES
FOURTEEN: CBPR PRINCIPLES AND RESEARCH ETHICS IN INDIAN COUNTRY 207
Myra Parker
FIFTEEN: DEMOCRATIZING ETHICAL OVERSIGHT OF RESEARCH THROUGH CBPR 215
Rachel Morello-Frosch, Phil Brown, and Julia Green Brody
SIXTEEN: EVERYDAY CHALLENGES IN THE LIFE CYCLE OF CBPR: BROADENING OUR BANDWIDTH ON ETHICS 227
Sarah Flicker, Adrian Guta, and Robb Travers
PART SIX: PROMISING PRACTICES TO OUTCOMES: CBPR CAPACITY AND HEALTH
SEVENTEEN: EVALUATION OF CBPR PARTNERSHIPS AND OUTCOMES: LESSONS AND TOOLS FROM THE RESEARCH FOR IMPROVED HEALTH STUDY 237
John G. Oetzel, Bonnie Duran, Andrew Sussman, Cynthia Pearson, Maya Magarati, Dmitry Khodyakov, and Nina Wallerstein
EIGHTEEN: PARTICIPATORY EVALUATION AS A PROCESS OF EMPOWERMENT: EXPERIENCES WITH COMMUNITY HEALTH WORKERS IN THE UNITED STATES AND LATIN AMERICA 251
Noelle Wiggins, Laura Chanchien Parajón, Chris M. Coombe, Aileen Alfonso Duldulao, Leticia Rodriguez Garcia, and Pei-Ru Wang
NINETEEN: ACADEMIC POSITIONS FOR FACULTY OF COLOR: COMBINING LIFE CALLING, COMMUNITY SERVICE, AND RESEARCH 265
Lorenda Belone, Derek M. Griffith, and Barbara Baquero
PART SEVEN: PROMISING PRACTICES TO OUTCOMES: HEALTHY PUBLIC POLICY
TWENTY: COMMUNITY-BASED PARTICIPATORY RESEARCH FOR HEALTH EQUITY POLICY MAKING 277
Lisa Cacari-Stone, Meredith Minkler, Nicholas Freudenberg, and Makani N. Themba
TWENTY ONE: IMPROVING FOOD SECURITY AND TOBACCO CONTROL THROUGH POLICY-FOCUSED CBPR: A CASE STUDY OF HEALTHY RETAIL IN SAN FRANCISCO 293
Meredith Minkler, Jennifer Falbe, Susana Hennessey Lavery, Jessica Estrada, and Ryan Thayer
TWENTY TWO: CRIMINAL JUSTICE REFORM THROUGH PARTICIPATORY ACTION RESEARCH 305
Saneta deVuono-Powell, Meredith Minkler, Evan Bissell, Tamisha Walker, LaVern Vaughn, Eli Moore, and The Morris Justice Project
TWENTY THREE: GLOBAL HEALTH POLICY: SLUM SETTLEMENT MAPPING IN NAIROBI AND RIO DE JANEIRO 321
Jason Corburn, Ives Rocha, Alexei Dunaway, and Jack Makau
APPENDIX 1: CHALLENGING OURSELVES: CRITICAL SELF-REFLECTION ON POWER AND PRIVILEGE 337
Cheryl Hyde
APPENDIX 2: GUIDING CBPR PRINCIPLES: FOSTERING EQUITABLE HEALTH CARE FOR LGBTQ+ PEOPLE 345
Miria Kano, Kelley P. Sawyer, and Cathleen E. Willging
APPENDIX 3: QUALITY CRITERIA OF THE INTERNATIONAL COLLABORATION FOR PARTICIPATORY HEALTH RESEARCH (ICPHR) 351
Michael T. Wright
APPENDIX 4: CULTURAL HUMILITY: REFLECTIONS AND RELEVANCE FOR CBPR 357
Vivian Chávez
APPENDIX 5: FUNDING IN CBPR IN US GOVERNMENT AND PHILANTHROPY 363
Laura C. Leviton and Lawrence W. Green
APPENDIX 6: REALIST EVALUATION AND REVIEW FOR COMMUNITY-BASED PARTICIPATORY RESEARCH: WHAT WORKS, FOR WHOM, UNDER WHAT CIRCUMSTANCES, AND HOW? 369
Justin Jagosh
APPENDIX 7: PARTNERSHIP RIVER OF LIFE: CREATING A HISTORICAL TIME LINE 375
Shannon Sanchez-Youngman and Nina Wallerstein
APPENDIX 8: PURPOSING A COMMUNITY-GROUNDED RESEARCH ETHICS TRAINING INITIATIVE 379
Cynthia Pearson and Victoria Sánchez
APPENDIX 9: PARTNERSHIP AGREEMENTS: A PRACTICAL GUIDE TO DEVELOPING DATA SHARING, OWNERSHIP, AND PUBLISHING AGREEMENTS 385
Patricia Rodríguez Espinosa and Al Richmond
APPENDIX 10: INSTRUMENTS AND MEASURES FOR EVALUATING COMMUNITY ENGAGEMENT AND PARTNERSHIPS 393
Nina Wallerstein
APPENDIX 11: PARTICIPATORY MONITORING AND EVALUATION OF COMMUNITY HEALTH INITIATIVES USING THE COMMUNITY CHECK BOX EVALUATION SYSTEM 399
Stephen Fawcett, Jerry Schultz, Vicki Collie-Akers, Christina Holt, Jomella Watson-Thompson, and Vincent Francisco
APPENDIX 12: POWER MAPPING: A USEFUL TOOL FOR UNDERSTANDING THE POLICY ENVIRONMENT AND ITS APPLICATION TO A LOCAL SODA TAX INITIATIVE 405
Jennifer Falbe, Meredith Minkler, Robin Dean, and Jana Cordeiero
APPENDIX 13: CBPR INTERACTIVE ROLE-PLAYS: THREE SCENARIOS 411
Michele Polacsek and Gail Dana-Sacco
AFTERWORD 417
Budd Hall and Rajesh Tandon
INDEX 419
See More
Nina Wallerstein, DrPH, MPH, is a professor of public health in the College of Population Health and the Director of the Center for Participatory Research at the University of New Mexico.
Bonnie Duran, DrPH, is a Professor in the School of Social Work at the University of Washington, and is also Director of the Center for Indigenous Health Research at the Indigenous Wellness Research Institute.
John G. Oetzel, PhD, is a Professor in the Department of Management Communication in the Waikato Management School at the University of Waikato in Hamilton, New Zealand.
Meredith Minkler, DrPH, is Professor Emerita of Health and Social Behavior in the School of Public Health, University of California, Berkeley.
See More
Instructors Resources
Request a print evaluation copy
Contact us

See More
See Less