Breaking Through: Stories and Best Practices From Companies That Help Women Succeed
ISBN: 978-1-119-26133-9
240 pages
April 2016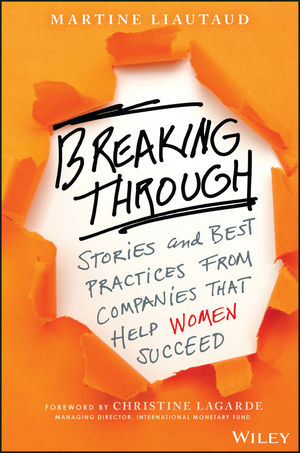 When women succeed, we all win.
Breaking Through explores the mentoring relationship, and unravels its effects on women, businesses, society, and the economy. In 2010, author Martine Liautaud founded the Women Business Mentoring Initiative (WBMI) to support women entrepreneurs with the targeted advice and personalized guidance that can only come from a mentor. In late 2015, she set up the Women Initiative Foundation to broaden her action in favor of women in the business world. This book encapsulates the WBMI mission and other similar experiences inside international and US corporations, showing how mentoring and sponsorship can take many forms—and how each form benefits women in business. Through evidence-based narratives, you'll learn what real women have gained from both sides of the dynamic, and why they credit mentoring with the strength of their business success. These stories show how mentoring yields increased efficiency, improved financials, more effective management, increased innovation, a broader talent pool, and increased revenues, and how helping women succeed in business leads to increased philanthropy and improves community sustainability.
Gender equality has made huge strides in the US and Western Europe, but this progress is only apparent in the junior levels of the workplace. This book shows how mentoring women entrepreneurs and women managers provides the key that opens the door to the new economy.
Understand why mentoring is key to women's economic advancement
Learn how mentoring yields tangible benefits beyond the workplace
Delve into the experiences of real mentor/mentee pairs
Consider the effectiveness of various types of mentoring
Despite the increasing opportunities for women in business, statistics and pervading stereotypes suggest that true gender equality is still far on the horizon. Mentoring and sponsorship can be tremendously helpful to women looking to achieve great things—the wisdom of experience is a powerful asset in business strategy and decision-making, and the mentor/mentee relationship benefits everyone. Breaking Through makes a compelling case for the effectiveness of mentoring, with real women's stories of success.
See More
FOREWORD xiii
ACKNOWLEDGMENTS xv
PREFACE xvii
PART I Overview
CHAPTER 1 Women and the New Economy 5
The New Economy: Opportunities for Women 6
Women in Corporates and Finance 8
Women in STEM (Science, Technology, Engineering, and Mathematics) 10
Women Entrepreneurs 12
CHAPTER 2 Mentoring and Sponsoring: The Keys to Success 15
Mentoring and Sponsoring Women Employees 16
Mentoring and Sponsoring Women Entrepreneurs 18
PART II Voices ofWomen Business Leaders
CHAPTER 3 Obstacles to Success and Solutions for Overcoming Them 23
The Obstacles 24
The Solutions 26
CHAPTER 4 Role of Women in the Global Economy 30
Interview with Irene Natividad, Founder and President of Global Summit of Women 30
CHAPTER 5 Career Strategies for Women 36
Interview with Professor Margaret Neale, Adams Distinguished Professor of Management at Stanford Graduate School of Business 36
References 42
CHAPTER 6 Inclusive Leadership 44
Interview with Deborah Gillis, President and CEO of Catalyst 44
CHAPTER 7 Improving the Place of Women in the Economy 50
Interview with Audra Bohannon, Senior Partner at Korn Ferry's Leadership and Talent Consulting 50
CHAPTER 8 Overcoming Women's Obstacles 54
Interview with Christiane Bergevin, Executive Vice President at Desjardins Group 54
CHAPTER 9 Women's Spirit of Enterprise 59
Interview with Valérie Bernis, Executive Vice President at ENGIE, in Charge of Communications, Marketing, and Environmental and Societal Responsibility 59
PART III Designing Mentoring and Sponsoring Programs
CHAPTER 10 "Mentoring by ENGIE" 69
Interview with Gérard Mestrallet, Chairman of ENGIE 69
"Mentoring by ENGIE," A Structured Program to Train Women as Leaders 71
CHAPTER 11 Oracle Women Leadership (OWL) Mentoring Program 77
Interview with Leopoldo Boado, Chairman of Oracle Spain 77
Oracle's Mentoring Program and Intercompany Experience 79
CHAPTER 12 Viva Women! Program 82
Interview with Maurice Levy, Chairman of the Board and Chief Executive Officer of Publicis Groupe 82
At Publicis Groupe, the Main Aim of Mentoring Is to Retain Talented Staff 83
CHAPTER 13 Mix City and Women's Leadership Initiative 87
Interview with Marie-Claire Capobianco, Head of BNP Paribas French Retail Banking 87
BNP Paribas as a Proactive Supporter of Women in Business: A Mentoring Program 89
CHAPTER 14 Women's Initiative Network and Reverse Mentoring Program 94
Interview with Karen Peetz, President of BNY Mellon 94
Interview with Jean Wynn, Managing Director and Chief Administrative Officer of BNY Mellon's Office of the President 101
PART IV Mentoring Program Success Stories
CHAPTER 15 BNP Paribas Corporate & Institutional Banking (CIB) 109
Interview with Tabitha Coombe (Mentee) 109
Interview with François Freyeisen (Mentor) 111
Interview with Marguerite Burghardt (Mentee) 114
Interview with Constance Chalchat (Mentor) 117
CHAPTER 16 ENGIE 120
Interview with Mathias Curnier (Mentor) 120
Interview with Paola Vezzaro (Mentee) 123
CHAPTER 17 Oracle 128
Interview with Nicoleta Apostol (Mentee) 128
Interview with Giovanna Sangiorgi (Mentor) 132
Interview with Paula Craythorne (Mentee) 136
CHAPTER 18 Publicis Groupe 141
Interview with Michele Gilbert (Mentor) 141
Interview with Charlotte Guillabert (Mentee) 143
CHAPTER 19 BNY Mellon 146
Interview with Regina Meredith-Carpeni 146
Interview with Yoon Park (Reverse Mentor) 150
Interview with Jeff Kuhn (Reverse Mentee) 154
PART V Ways to Help Entrepreneurs to Succeed
CHAPTER 20 Mentoring and Sponsoring Programs 163
Mentoring Women Entrepreneurs 163
Interview with Emilie Creuzieux, Founder of Monbento (Mentee) 166
Interview with Jean-Jacques Berard, Co-Founder of Executive Interim Management (Mentor) 169
Interview with Muriele Roos, Founder of Femme Majuscule (Mentee) 172
Interview with Eve Magnant, VP at Publicis (Mentor) 176
Interview with Jane Chen, Co-Founder of Embrace 179
Interview with Abigail Holsborough, Founder of Route Map 183
Interview with Clara Shih, Founder of Hearsay Social 187
CHAPTER 21 Networking 191
Dell Women's Entrepreneur Network 191
Interview with Stéphanie Cardot, Founder and CEO of TO DO TODAY 192
ASTIA: A Different Kind of Network Performing in a Different Kind of Way 195
The Goldman Sachs 10,000 Women Initiative 198
CHAPTER 22 Training 202
Women Entrepreneur Program at Stanford 202
INDEX 207
See More
MARTINE LIAUTAUD is an investment banker, entrepreneur, and investor specializing in mergers and acquisitions and financial engineering. A recipient of the Chevalier de la Légion d'honneur, she is chair of Liautaud et cie, which specializes in mergers and acquisitions, financial engineering, and consultancy to major French groups, as well as founder of Women Business Mentoring Initiative, a non-profit supporting women entrepreneurs. She recently set up the Women Initiative Foundation (www.women-initiative-foundation.com) to promote and boost the role of women in the business world.
See More