Software
Architectural Graphic Standards Online 1 Year Subscription Access Card
ISBN: 978-1-119-26257-2
April 2016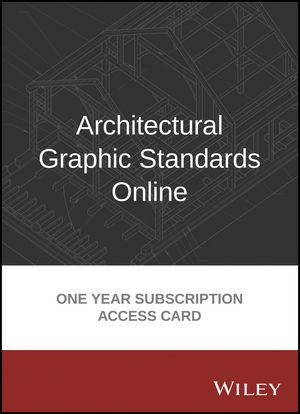 A New Digital Tool for the Digital Age
Architectural Graphic Standards (AGS) is the unsurpassed reference for building design and construction professionals. Now it's being updated for the 21st century and evolving to meet the needs of today's design professionals with a brand new, online resource, Architectural Graphic Standards Online.

Putting thousands of graphic details, charts and text at your fingertips, a subscription to the cloud-based Architectural Graphic Standards Online makes it easy and cost-effective to access reliable, expert knowledge anytime, anywhere. More than just the print edition online, you have complete access to search, use and download all the expert content and details in the brand new AGS Twelfth Edition, plus access to all new content updates as they become available.
•Search thousands of graphic details, texts and tables from your computer, tablet or mobile device
•Download, ready-to-edit CAD files (dwg, dgn, dxf formats) for immediate use in design and presentation software
•Access the latest content updates and industry standards as they become available
The Architectural Graphic Standards Online Access Card is an easy way to purchase a one year subscription. Your Online Access Card will be ship to you and includes a unique activation code and instructions for starting the one year subscription.
Need more information? Visit graphicstandards.com today.
See More