Going to the Sources: A Guide to Historical Research and Writing, 6th Edition
ISBN: 978-1-119-26274-9
168 pages
June 2017, Wiley-Blackwell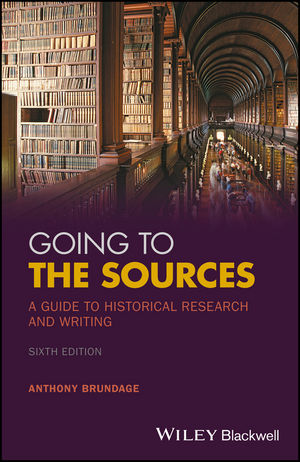 It's been almost 30 years since the first edition of Going to the Sources: A Guide to Historical Research and Writing was first published. Newly revised and updated, the sixth edition of this bestselling guide helps students at all levels meet the challenge of writing their first (or their first "real") research paper.
Presenting various schools of thought, this useful tool explores the dynamic, nature, and professional history of research papers, and shows readers how to identify, find, and evaluate both primary and secondary sources for their own writing assignments.
This new edition addresses the shifting nature of historical study over the last twenty years. Going to the Sources: A Guide to Historical Research and Writing includes:
A new section analyzing attempts by authors of historical works to identify and cultivate the appropriate public for their writings, from scholars appealing to a small circle of fellow specialists, to popular authors seeking mass readership
A handy style guide for creating footnotes, endnotes, bibliographical entries, as well as a list of commonly used abbreviations
Advanced Placement high school and undergraduate college students taking history courses at every level will benefit from the engaging, thoughtful, and down-to-earth advice within this hands-on guide.
See More
Preface x
The Ever-Changing Shape and Texture of the Past 1
Static and Dynamic Concepts of History 1
Revising Our View of the Past 3
New Forms of Historical Consciousness 4
Toward a "People's History" 6
Minorities andWomen Enter History 7
The Annales School and Cliometrics 9
Psychology and History 12
Microhistory and Macrohistory 13
Postmodernism 14
A Multitude of Avenues to the Past 15
The Nature and Variety of Historical Sources 17
Primary Sources 17
Manuscript Sources 18
Published Sources 18
SecondaryWorks 21
Books 22
Essays 24
Articles 24
Dissertations and Conference Papers 26
Finding Your Sources: The Online Library Catalog and Beyond 30
The Online Library Catalog 31
Subject Headings, Keywords, and TitleWords 32
Creating and Using a Research Bibliography 36
Published Bibliographies 38
Printed and Electronic Indexes and Abstracts 40
Finding Scholarly Essays 45
Other Important Databases 46
Historical Research on the Internet 47
Finding Useful Reference Materials 48
Getting theMost Out of History Books: Critical Reading and Assessment 51
The Need for More Effective Reading 51
Finding Out about Authors 53
Comparing SimilarWorks of History 55
Reviewing a History Book 62
Beyond Textual Sources: Historians'Use of Other Media 64
Words, Images, and the Historical Imagination 64
The Birth of a Nation: Entertainment, Propaganda, and Critical Response 65
Reading, Viewing, Reflecting: A Case Study 72
The Evolving Integration of Text and Image 75
History's Public(s) and Public History 77
Reaching Out to a Mass Public by Early Electronic Media 78
History and Journalism 80
Beyond the Classroom and the Study: Public History 82
Contested History in the Public Arena 86
Exploring Changing Interpretations: The Historiographic Essay 89
Selecting and Refining a Topic 89
Research for a Historiographic Essay: A Case Study 91
Writing the Historiographic Essay 94
Alternative Approaches 108
Engaging with Primary Sources: The Research Paper 110
Searching for a Viable Topic 111
Finding Primary Sources 112
Approaching Your Reading 113
Notetaking 114
The Outline and Structure of Your Paper 118
Some Elements of EffectiveWriting 119
An Open Mind and Intellectual Honesty 122
Quoting 123
Footnoting 125
Editing and Revising 127
One Final Look 129
Conclusion: The Open-Ended Nature of History 130
Appendix A: Published Bibliographies 133
Appendix B: Major Databases for Bibliographic Searching 135
Appendix C: Footnote/Endnote Formatting 136
Books 136
Book by a Single Author 136
Book by Two Authors 137
Book byThree Authors 137
Book by Four or More Authors 137
Book with Author(s) as Editor(s) 137
Articles and Essays (Chapters) 137
Journal Article 138
Magazine Article 138
Newspaper Article 138
Encyclopedia Article 138
Essay (Chapter) 138
Book Review 139
Other Types of Sources 139
Dissertation 139
Government Document 139
Website 139
Videorecording 139
Footnote Reference to a Previously CitedWork 139
Appendix D: Bibliography Formatting 141
Book 141
Article 141
Essay (Chapter) 141
Dissertation 141
Sample Bibliography 142
Appendix E: Commonly Used Abbreviations 144
Suggestions for Further Reading 146
Index 148
See More
Anthony Brundage is Professor of History Emeritus at California State Polytechnic University, Pomona, USA. Among his publications are seven books, the most recent of which, co-authored with Richard Cosgrove is British Historians and National Identity: From Hume to Churchill.
See More