E-book
The Bloomberg Way: A Guide for Journalists, 14th Edition
ISBN: 978-1-119-27233-5
368 pages
July 2017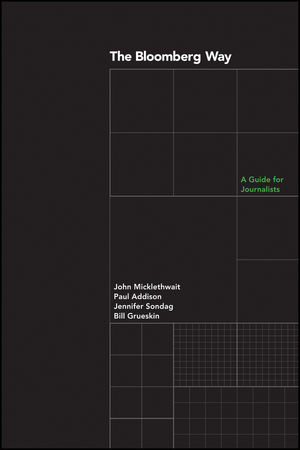 Learn best practices from the most trusted name in business and financial reporting
The Bloomberg Way is the journalist's guide to covering business, finance and the economy, with authoritative guidance from the editor-in-chief and senior editors of Bloomberg. As the lines between objectivity and opinion become increasingly blurred, the new edition of the Bloomberg Way shows you how to be the first to publish print and multimedia content with accuracy and journalistic integrity. The authors walk through the best-practice reporting, writing and editing processes followed by this elite, global journalistic organization.
You'll learn how to work effectively in a highly competitive real-time news environment where every second matters. The book offers expert tips for taking a story from pitch to publication, along with discussion of journalistic principles including fairness, transparency, sourcing, libel, privacy and ethics. The Bloomberg Way describes essential guidelines for producing content for print, broadcast and web audiences. Topics include interviewing techniques, clarity and precision in writing and editing, compelling headlines and leads, the marriage of words and data in stories, effective charts and graphs, how to appear on television, writing for the web, and more. Each topic is accompanied by how-to examples and showcases useful functions from the Bloomberg Terminal.
The Bloomberg Way also shows you how to collaborate with colleagues across platforms to report and present stories about:
The stock, bond, commodity and currency markets.
Companies, including earnings, mergers, debt, product strategy and managementms changes.
Economies and their intersection with government and politics.
The Bloomberg Way is the definitive book for any journalist or media specialist who needs to know how one of the world's leading news organizations covers news about business, finance and the economy.
See More
Introduction ix
Chapter 1: What We Do 1
The Bloomberg Way 2
Bloomberg Editorial & Research 4
Collaboration in Action 9
Chapter 2 How We Report 15
Learning a Beat 15
Sourcing 21
Interviewing 26
Breaking News 30
The Multiplatform Approach 33
Beyond Breaking News 37
Pitching Your Story 42
Research Using the Terminal 44
Chapter 3 How We Write 49
Headlines 50
Leads & Nut Paragraphs 60
The Whole Story 69
Writing Well 74
Corrections & Lapses 80
Sending Corrections 83
Social Media 83
Chapter 4 How We Use Data 91
Charting 92
Commonly Used Terms 95
Common Errors 100
Automation 101
Technical Analysis 103
Chapter 5 Ethics & Standards 107
Accuracy & Fairness 108
Defamation 110
Privacy 113
Access 114
Plagiarism 115
Conflicts of Interest 116
Conduct 120
Endorsements & Paying Our Way 122
Events & Interviews 123
Contests 124
Chapter 6 How We Cover Markets 127
What's Moving (& Why) 128
Traders & Investors 131
Markets Style 133
Equities 135
Debt 138
Currencies 143
Commodities 147
Chapter 7 How We Cover Companies 153
Earnings 154
Deals 160
Corporate Debt 166
Finding News 170
Context & Valuation 173
Corporate Equity 177
Chapter 8 How We Cover Economies & Governments 183
Economies 184
Governments 192
Acknowledgments 197
Appendix 199
Words & Terms 213
Index 323
See More
John Micklethwait has been the editor-in-chief of Bloomberg Editorial & Research since 2015. Previously, he was the editor-in-chief of The Economist.
Paul Addison and Jennifer Sondag are editors for global training. Paul joined Bloomberg in 1994, and Jennifer joined in 2000.
Bill Grueskin is a professor at Columbia Journalism School. Previously, he was Bloomberg's executive editor for global training.
See More