Winning New Business For Dummies
ISBN: 978-1-119-27416-2
360 pages
March 2017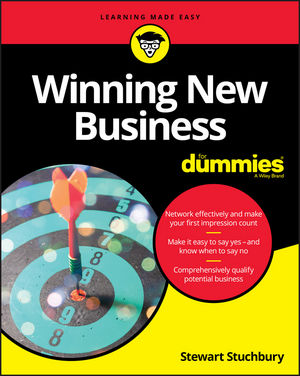 Win more new business today
New business is the lifeblood of every company – and this book expertly guides you through the process of securing more than your fair share of it. If you're a salesperson in the trenches looking for inspiration, this book offers real-life advice on improving your customer-facing skills to win more new business. The structured approach presented inside will have you walking the walk, talking the tallk and closing more deals in no time!
Inside…
Know your subject
Be an active listener
Make a great first impression
Present solutions
Stay on-brand and on-message
Prospect effectively
Overcome objections
Structure the deal
See More
Introduction 1
Part 1: Getting Started with Winning New Business 5
CHAPTER 1: Introducing a Winning New Business Culture 7
CHAPTER 2: Having Something Relevant to Say 21
CHAPTER 3: Making First Impressions Count 41
CHAPTER 4: Using Technology to Help 57
Part 2: Planning for New Business 71
CHAPTER 5: Presenting Solutions 73
CHAPTER 6: Marketing Matters 85
CHAPTER 7: Making It Easy to Say Yes 95
CHAPTER 8: Elevator Pitching 105
CHAPTER 9: Prospecting Effectively 117
Part 3: Making New Business Happen 137
CHAPTER 10: Overcoming Objections 139
CHAPTER 11: Structuring the Deal 157
CHAPTER 12: Having the Confidence to Say No 175
CHAPTER 13: Asking for the Order 183
CHAPTER 14: Understanding That "Selling Hard" Isn't the Answer 195
CHAPTER 15: Taking Action Today 205
Part 4: Rainmaking: Developing a Constant Stream of New Business 219
CHAPTER 16: Reaching a Win-Win Solution 221
CHAPTER 17: Networking Effectively 229
CHAPTER 18: Managing the Perception of Risk 243
CHAPTER 19: Qualifying Potential Business 255
CHAPTER 20: Knowing When to Move On 277
CHAPTER 21: Being Realistic with Forecasts 287
Part 5: The Part of Tens 293
CHAPTER 22: Ten Key Metrics to Watch 295
CHAPTER 23: Ten Prospecting Resources 305
Index 315
See More
Stewart Stuchbury is a creative agency and SME new business consultant. He developed the TLG (Targeted Lead Generation) new business methodology that has been at the forefront of creative services new business for almost 20 years. He believes that the only real new business opportunities are those that are well qualified from the beginning.
See More