E-book
The Sociology of Healthcare Safety and Quality
ISBN: 978-1-119-27638-8
168 pages
September 2016, Wiley-Blackwell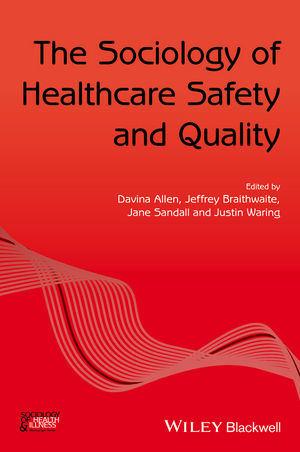 The Sociology of Healthcare Safety and Quality presents a series of research-informed readings on the sociological contributions of technologies, practices, experiences, and organizational quality and safety across a range of healthcare contexts.
Represents the first collection of peer-reviewed research articles showcasing ways that sociology can contribute to the ongoing policy concern of healthcare safety and quality
Features original contributions from leading experts in healthcare related fields from three continents
Reveals the state-of-the art in sociological analyses of contemporary healthcare safety and quality along with future directions in the field
Offers sociological insights from the perspectives of managers, clinicians, and patients
See More
Notes on contributors vii
1 Towards a sociology of healthcare safety and quality 1
Davina Allen, Jeffrey Braithwaite, Jane Sandall and Justin Waring
2 Healthcare quality and safety: a review of policy, practice and research 18
Justin Waring, Davina Allen, Jeffrey Braithwaite and Jane Sandall
3 What is the role of individual accountability in patient safety? A multi-site ethnographic study 36
Emma-Louise Aveling, Michael Parker and Mary Dixon-Woods
4 Enacting corporate governance of healthcare safety and quality: a dramaturgy of hospital boards in England 52
Tim Freeman, Ross Millar, Russell Mannion and Huw Davies
5 The social practice of rescue: the safety implications of acute illness trajectories and patient categorisation in medical and maternity settings 69
Nicola Mackintosh and Jane Sandall
6 Sensemaking and the co-production of safety: a qualitative study of primary medical care patients 87
Penny Rhodes, Ruth McDonald, Stephen Campbell, Gavin Daker-White and Caroline Sanders
7 Chains of (dis)trust: exploring the underpinnings of knowledge-sharing and quality care across mental health services 102
Patrick R. Brown and Michael W. Calnan
8 Spatio-temporal elements of articulation work in the achievement of repeat prescribing safety in UK general practice 121
Suzanne Grant, Jessica Mesman and Bruce Guthrie
9 Infections and interaction rituals in the organisation: clinician accounts of speaking up or remaining silent in the face of threats to patient safety 140
Julia E. Szymczak
Index 155
See More
Davina Allen is a Professor of Health Care Delivery and Organization at Cardiff University, UK, a member of the Sociology of Health & Illness editorial team and Editorial Board member of the Journal of Health Services Research and Policy.
Jeffrey Braithwaite is Foundation Director, Australian Institute of Health Innovation, Director, Centre for Healthcare Resilience and Implementation Science, and Professor of Health Systems Research, Faculty of Medicine and Health Sciences, Macquarie University, Sydney, Australia.
Jane Sandall is a Professor of Social Science and Women's Health and co-leads King's Improvement Science at King's College, London.
Justin Waring
is Professor of Organisational Sociology and Director of the Centre for Health Innovation, Leadership & Learning at Nottingham University Business School, UK.
See More
More in this series