The DNA of Strategy Execution: Next Generation PMO and Strategy Execution Office
ISBN: 978-1-119-27801-6
336 pages
March 2018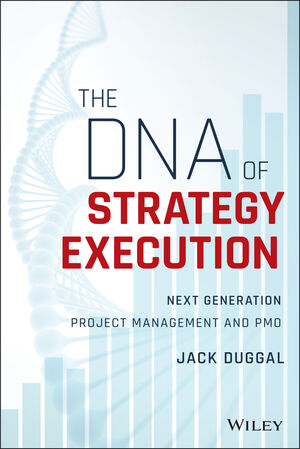 A transformative framework to bring the PMO into the future
The DNA of Strategy Execution provides clear guidance and a practical framework for moving forward amidst the dynamic changes in today's business environment. The PMO walks a tightrope between creativity and structure, between innovation and bureaucracy; demands for formal structures and discipline counter the need to be responsive and adaptive. This book provides a fresh perspective, with a real-world blueprint for the modern PMO. Through a set of practical tools, best practices, and a series of short supporting case studies from different industries, you'll discover how to strike the critical balance, prove value, and reconcile divergent needs into a more agile next generation PMO.
The Project Management Office is a common fixture that is facing new challenges—many of which appear diametrically opposed. But today's turbulent and disruptive business environment demands a solution, and this insightful guide shines a light on the path forward.
Build adaptive capabilities to thrive in uncertain environments
Maintain creativity and innovation while building responsiveness
Prove value amidst a perception of overhead and bureaucracy
Maintain relevancy with a fresh perspective and transformative framework
Today's environment is tough; stakeholders are no longer satisfied with on-scope, on-time, and on-budget delivery, and the PMO is under pressure to show their worth in the era of cost-cutting. It's up to the PMO itself to navigate these rapids without overturning the boat, and natural evolution is no longer enough; today's environment calls for a complete transformation to bring the PMO into the future. The DNA of Strategy Execution provides the plan, and the tools to bring it to life.
See More
Chapter 1 Introduction: Strategy-Execution in a DANCE World
Recognize the DANCE: The Need to Re-Think & Re-Invent
Which Game Are You Playing?
Copernican Revolution in Management
From Efficiency and Effectiveness to Experience and Impact
Agile DANCE
Approach
Background
How Can You Use this Book?
Chapter 2 Agility: Rigor without Rigidity
How to re-frame the organizational operating system and mindset for agility
Distinguishing Traditional vs. Evolving / Startup Agile Approaches
What is Next Generation Project Management and PMO?
Which quadrant is your organization in today?
How to achieve balance
Finding your sweet-spot
Startup Sandbox
How to Build Effective Fences
Fair Process and Procedural Justice
Communities & Collaboration
Seven Keys for Successful Project Management and PMO
Shaping the Future with Project Management and PMO
Key Takeaways
Chapter 3 DNA of Strategy-Execution
The Journey of Identifying the DNA
What are the other DNA elements?
What is the big deal about the DNA of Strategy Execution?
Applying the DNA
Developing DNA Intelligence
Getting Started: How to apply the DNA to Project Management or PMO
Diagnosing the Pain
Stakeholder Empathy Map
Who is the customer?
What is the role, types, models, frameworks and functions of a PMO?
Defining Your PMO
Developing a Mission / Purpose for your PMO
PMO Frameworks
What type of PMO approach is right for you?
Strategy-Execution Office
Developing DNA Maturity and Intelligence
Key Takeaways
Chapter 4 Strategy
What is Strategy?
Strategy is not Planning
Whose Fault is it, Strategy or Execution?
What is the Role of Project, Program, Portfolio and PMO in Strategy?
The DNA Strands of Strategy
Decisions vs. Design
How can the PMO Link Strategy with Execution?
Selecting, Prioritizing and Balancing: Portfolio Management
Resource Management: Is it Possible to Defy the Laws of Physics?
What Will You Say No To?
PMO's role in Portfolio Management
Enabling Exploration & Innovation
Evaluating Results, Value and Impact
Developing Project Management and PMO Strategy Intelligence
Key Takeaways
Chapter 5 Execution
What is Execution?
Strategic-Execution
Decoding the DNA Strands of Execution
People: Developing Strategy-Execution Capabilities with the Right Talent
Process
Technology: Tools, Systems, Apps & Bots
Types of Project Management and PMO Related Tools
FLOW
Designing an Adaptive Execution Platform
Principles of Design Thinking
Designing for Execution Agility
Designing a Scalable Adaptive Execution Platform
Assessing and Maturing Execution Agility
Building Execution Intelligence
Key Takeaways
Chapter 6 Governance
To Define Effective Governance, Understand its Purpose
The strands of governance
Adaptive Governance
Developing Governance Intelligence
Key Takeways
Chapter 7 Connect
Disconnected and Adrift
Power of Connections
The DNA Strands of Connect: How and What to Connect?
Connecting Stakeholders, Networks and Connections (Identifying the Invisible)
Connecting Silos: Bridging the Matrix
Connecting Business Activities and Organizational Priorities
See the Gap and Make the Connection
Connecting Interfaces and Interdependencies
Holacracy: Antidote to the Matrix?
Connecting is Communicating
Why Communication is not Enough, You Need a MarCom Strategy
Leveraging Social Media
Relationships: Strengthening Relationships and Developing Partnerships
Community & Collaboration
How to Develop Connect Intelligence?
Key Takeaways
Chapter 8 Measure
Why does measurement continue to be elusive and challenging?
The DNA Strands of Measure
Purpose
Perspective (Customer/Stakeholder) - Whose perspective are we measuring from?
Measure vs. Metric
Are You Ben or BoB?
Presentation and Communication
How do we present and communicate the measures and metrics to inspire desired action?
Action – What can we do with the measures? Are the measures actionable?
Learning - Are we getting effective feedback? Are we learning and adjusting?
Defining and Measuring Project Success
Objectives and Key Results (OKR)
Developing an Integrative Approach: Strategy-Execution Measurement Framework
Measuring and Showing PMO Value
Illuminating PMO Value
Sustaining PMO Value: Managing Value Dissipation & Benefits Erosion
Next Generation Measures
Project Management Artificial Intelligence (AI)
How to Develop Measure Intelligence
Key Takeaways
Chapter 9 Change
Change is the catalytic element in the DNA of strategy execution.
Change is Hard
The DNA Strands of Change
Awareness
Anticipation
Absorption
Adoption
Customer
Choices
Communication
Connectors
How to Develop Change Intelligence
Dealing with Change Resistance
How to Get Results Without being a Nag
From Managing Change to Change Making
Changing the World with Change Intelligence
Key Takeaways
Chapter 10 Learn
Traditional PM and PMOs Are Not Organized for Learning
Need for a New Perspective
Learning from Failure
How to Make Failure Survivable
The DNA Strands of Learn: 7 C's of Cultivating a Learning Environment & PMO
Culture
Curiosity
Capture
Community and Collaboration
Curation
Correcting (Self-correction and Application)
Continuous Innovation
Moving from Continuous Improvement to Continuous Innovation
Meta Learning
Key Takeaways
Chapter 11 Simplify: Building the Department of Simplicity
Kill the PMO
Why Simplicity is a Strategic Imperative in Today's Disruptive DANCE-World?
Optimizing for Efficiency versus Optimizing for Simplicity
Why Simplicity is Hard?
PM & PMO Principles of Simplicity
How to Build Your Own Department of Simplicity
Re-thinking Maturity: Subtraction, not Addition
Project and PMO Experience: Creating Raving Fans
Developing Simplify Intelligence
Key Takeaways
Chapter 12 Balance: DANCEing on the Edge of Chaos
Dealing with the DANCE
Agile Being Agile
Thriving at the Edge of Chaos
What is the Next Generation?
Ten Skills for Next Generation Project Management and PMOs
Application Questions
Feedback Loops: Project Management / PMO Delight Index (PDI)
Ben or BoB?
Appendix A PMO Functions & Activities Service Catalog
Appendix B Application of DNA of Strategy-Execution
See More