E-book
Before I Was CEO: Life Stories and Lessons from Leaders Before They Reached the Top
ISBN: 978-1-119-27811-5
240 pages
October 2016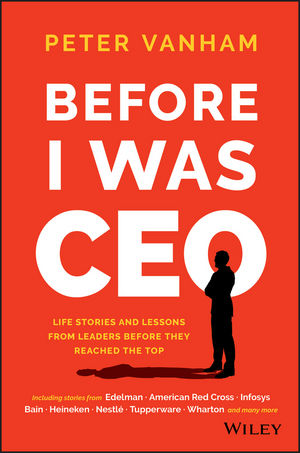 Have you always known what you wanted to be in life?
What are some "watershed moments" that made you who you are?
When did you get on track to become a successful CEO?
It started with three questions at Davos. The younger Peter Vanham looked to the answers from the elite leaders he asked to validate his own career choice, and the rich, private wisdom he received revealed more about building a career than he'd found anywhere else. He shares it all with you in Before I Was CEO.
For everyone who lays awake at night wondering if they're heading up or down the corporate ladder, this collection of personal stories from a remarkable group of the most accomplished men and women in business today proves everyone can put themselves in the C-suite by taking a variety of different paths—it's all how you do it. Some found opportunity through adversity and others came by their big-break moments through serendipity. A group of them walked away from corporate life and lived in other ways and all of them made calculated moves to advance their careers. In their own words, read how it all unfolded, the tough decisions they wrestled, the risks and rewards they saw, and how it all came together. You don't need a royal pedigree or Ivy League education to reach the top as long as you:
• Value family, leave home, and make informed decisions based on your dreams
• Take the first thirty-five years of your life to discover what you're interested in and don't rush to be a CEO
• Strategically deal with failure, remember the lessons you learned, and adapt to situations you can't change
You aren't the first person to be at the crossroads you're standing in, and with the motivating and instructive stories in Before I Was CEO, you may be answering a young journalist's questions at Davos one day.
See More
Foreword xi
Introduction xv
Part I: Adversity 1
Chapter 1: Finding True North 3
The Story of Orit Gadiesh, Bain & Company 4
The Story of David Kenny, IBM 9
Lessons Learned 14
Endnotes 18
Chapter 2: The Dot-Com Crisis 19
The Story of Kris Gopalakrishnan, Infosys 22
The Story of David Kenny, IBM (cont'd) 26
The Story of Raf Keustermans, Plumbee 28
The Unraveling & Lessons Learned 30
Part II: Opportunities 39
Chapter 3: Living the American Dream 41
The Story of Alberto Vitale, Random House 41
Lesson Learned 55
Endnotes 57
Chapter 4: Serendipity 59
The Story of Geoffrey Garrett, The Wharton School 61
The Story of Peter Henry, NYU Stern 68
Lessons Learned 75
Endnotes 76
Part III: Off the Beaten Track 77
Chapter 5: A Shining Path 79
The Story of Paul Bulcke, Nestle 80
Lessons Learned 90
Chapter 6: Brewing in the Brousse 92
The Story of Jean-Francois van Boxmeer, Heineken 92
Lessons Learned 104
Endnotes 109
Part IV: Breaking Free and Coming Home 111
Chapter 7: Breaking Free 113
The Story of Rick Goings, Tupperware Brands 114
The Story of Susan Cameron, Reynolds American Inc. 121
Lessons Learned 129
Endnotes 131
Chapter 8: Coming Home 132
The Story of Barry Salzberg, Deloitte 133
The Story of Johan Aurik, A.T. Kearney 139
The Story of Steve Davis, PATH 144
Lessons Learned 149
Endnotes 150
Part V: Role Models 151
Chapter 9: Father's Footsteps 153
The Story of Richard Edelman, Edelman 155
The Story of Andrew Likierman, London Business School 159
The Story of Chris Burggraeve, Vicomte 165 165
Lessons Learned 174
Endnotes 176
Chapter 10: Practical Advice 178
The Story of Gail McGovern, American Red Cross 179
The Story of Patrick De Maeseneire, Jacobs Holding 184
Conclusions 195
What They Didn't Need 195
Building a Career from Interests 196
Climbing the Ladder 198
Learning to Deal with Failure 198
Leaving Home 199
Making Informed Choices 200
Valuing the Importance of Family 201
Surfing theWaves of History 202
Setting Aside Your CEO Ambitions 204
Remembering Lessons Learned 205
Endnote 206
About the Author 207
Acknowledgments 208
Index 211
See More
PETER VANHAM is a business writer and media strategist. He is the U.S. media lead and a global leadership fellow at the World Economic Forum, as well as a contributor to Financial Times, Business Insider, and Forbes. Prior to working in media, he was a management consultant at Bain & Company in Brussels. He holds an M.A. in Business & Economics from Columbia Journalism School and an M.S. in Commercial Engineering from the University of Leuven.
See More