Textbook
Visualizing Environmental Science, 5th Edition
ISBN: 978-1-119-27916-7
528 pages
November 2016, ©2017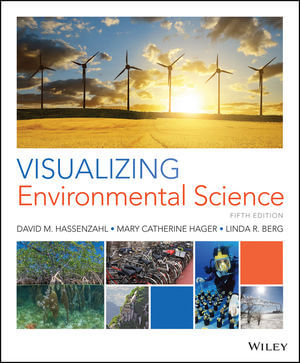 The 5th Edition of Visualizing Environmental Science provides students with a valuable opportunity to identify and connect the central issues of environmental science through a visual approach. Beautifully illustrated, this fifth edition shows students what the discipline is all about—its main concepts and applications—while also instilling an appreciation and excitement about the richness of the subject. This edition is thoroughly refined and expanded; the visuals utilize insights from research on student learning and feedback from users.
See More
Contents
Chapter 1: The Environmental Challenges We Face
Chapter 2: Sustainability and Human Values
Chapter 3: Environmental History, Politics, and Economics
Chapter 4: Risk Analysis and Environmental Health Hazards
Chapter 5: How Ecosystems Work
Chapter 6: Ecosystems and Evolution
Chapter 7: Human Population Change and the Environment
Chapter 8: Air and Air Pollution
Chapter 9: Global Atmospheric Change
Chapter 10: Freshwater Resources and Water Pollution
Chapter 11: The Ocean and Fisheries
Chapter 12: Mineral and Soil Resources
Chapter 13: Land Resources
Chapter 14: Agriculture and Food Resources
Chapter 15: Biodiversity and Conservation
Chapter 16: Solid and Hazardous Waste
Chapter 17: Nonrenewable Energy Resources
Chapter 18: Renewable Energy Resources
Graphing Appendix
See More
David M. Hassenzahl is the Dean of the College of Natural Sciences at the California State University at Chico. An internationally recognized scholar of sustainability and risk analysis, his research focuses on incorporating scientific information and expertise into public decision. He holds a B.A. in Environmental Science and Paleontology from the University of California at Berkeley, and a Ph.D. from Princeton University's Woodrow Wilson School. His efforts in climate change education have been supported by the National Science Foundation, and recognition of his work includes the Society for Risk Analysis Outstanding Educator Award and the UNLV Foundation Distinguished Teaching Award. Dr. Hassenzahl is a Senior Fellow of the National Council for Science and the Environment, a Fellow of the Society for Risk Analysis, and president of the Association of Environmental Studies and Sciences. Prior to his academic career, Dr. Hassenzahl worked in the private sector as an environmental manager, and as an inspector for the (San Francisco) Bay Area Air Quality Management District.
Mary Catherine Hager is a professional science writer and editor specializing in life and earth sciences. She received a double-major B.A. in environmental science and biology from the University of Virginia and an M.S. in zoology from the University of Georgia. Ms. Hager worked as an editor for an environmental consulting firm and as a senior editor for a scientific reference publisher. For more than 20 years she has written and edited for environmental science, biology, and ecology textbooks for high school and college. Additionally, she has published articles in environmental trade magazines and edited federal and state reports addressing wetlands conservation issues. Her writing and editing pursuits are a natural outcome of her scientific training and curiosity, coupled with her love of reading and effective communication.
Linda R. Berg is an award-winning teacher and textbook author. She received a B.S. in science education, an M.S. in botany, and a Ph.D. in plant physiology from the University of Maryland. Dr. Berg taught at the University of Maryland—College Park for 17 years and at St. Petersburg College in Florida for 8 years. She has taught introductory courses in environmental science, biology, and botany to thousands of students and has received numerous teaching and service awards. Dr. Berg is also the recipient of many national and regional awards, including the National Science Teachers Association Award for Innovations in College Science Teaching, the Nation's Capital Area Disabled Student Services Award, and the Washington Academy of Sciences Award in University Science Teaching. During her career as a professional science writer, Dr. Berg has authored or co-authored numerous editions of several leading college science textbooks. Her writing reflects her teaching style and love of science.
See More
New WileyPLUS Learning Space course – WileyPLUS Learning Space is an online teaching and learning platform that helps students learn, collaborate, and grow, and helps instructors diagnose student progress; facilitate engagement; and measure outcomes.
New Interactive Graphics – 3 to 5 per chapter – Interactive Graphics engage students by presenting processes, relationships, data, and layers in a dynamic fashion, all controllable by the student. Instead of skipping quickly over static images, students explore Interactive Graphics in ways that allow them to see how the parts relate to the whole, visualize data, build processes, and relate elements to each other.
An updated chapter on food resources, to reflect increased awareness of the impact of the environment on food production and food production on the environment.
New chapter opener on the energy embedded in every vehicle on the road
A new EnviroDiscovery feature exploring the idea of deep retrofits to reduce the energy demand of a residence.
Chapter-wide updates evaluating human impacts on the ocean and global fisheries, and assessing efforts to preserve and protect marine resources.
A new chapter opener exploring a groundbreaking approach to wildlife conservation in Africa.
See More
The text's visualizing approach uses a variety of research-based visuals to engage students so they become active participants in the learning process.
The 5th edition of Visualizing Environmental Science immerses students in course material through imagery (both in print and rich multimedia resources) while organizing complex processes and related course information into easily digestible segments.
See More
Instructors Resources
ENHANCE YOUR COURSE
Digital evaluation copy available for this title
Request Copy

Contact your Wiley Representative
Find Your Rep

See More
See Less