The JCMS Annual Review of the European Union in 2015
ISBN: 978-1-119-27971-6
232 pages
September 2016, Wiley-Blackwell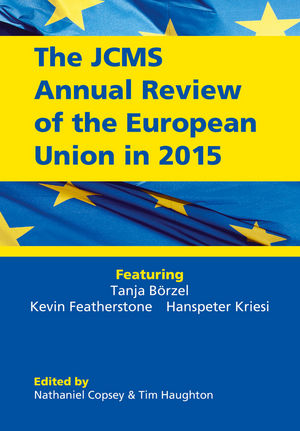 Produced in association with the Journal of Common Market Studies (JCMS), the Annual Review covers the major developments in the European Union in the past year.
Includes analytical articles written by leading experts in their respective fields covering a wide array of political, economic and legal issues
Contains specially commissioned articles by Tanja Börzel on governance in the European Union, Hanspeter Kriesi on the politicization of Europe and Kevin Featherstone on Greece's tumultuous year
The most up-to-date and authoritative source of information for practitioners, lecturers, students and researchers of European integration, as well as for general readers who simply want to know more about the European Union
See More
1. Is Crisis the New Normal? The European Union in 2015 (Tim Haughton)
2. From EU Governance of Crisis to Crisis of EU Governance: Regulatory Failure, Redistributive Conflict and Eurosceptic Publics (Tanja A. Börzel)
3. The Politicization of European Integration (Hanspeter Kriesi)
4. Conditionality, Democracy and Institutional Weakness: the Euro-crisis Trilemma (Kevin Featherstone)
5. Beelines, Bypasses and Blind Alleys: Theory and the Study of the European Union (Tim Haughton)
6. The 2015 Latvian Presidency of the Council of the European Union (Daunis Auers and Toms Rostoks)
7. Luxembourg's EU Council Presidency: Adapting Routines to New Circumstances (Anna-Lena Högenauer)
8. Governance and Institutions: A More Political Commission (Desmond Dinan)
9. Eurozone Crisis Management, Citizenship Rights and the Global Reach of EU Data Protection Law: EU Legal Developments in 2015 (Thomas Horsley)
10. Justice and Home Affairs (Jörg Monar)
11. Eurozone Governance: From the Greek Drama of 2015 to the Five Presidents' Report (Dermot Hodson)
12. Rising Hopes in the European Economy Amidst Global Uncertainties (István Benczes and BALÁZS Szent-Iványi)
13. The Political Economy of European Capital Markets Union (Lucia Quaglia, David Howarth and Moritz Liebe)
14. Europe as a Global Actor: Searching for a New Strategic Approach (Karolina Pomorska and Sophie Vanhoonacker)
15. Chronology: The European Union in 2015 (Charlotte Galpin)
Index
See More
Nathaniel Copsey is Professor in Politics at Aston University, UK.
Tim Haughton is Reader (Associate Professor) in European Politics at the University of Birmingham, UK.
See More
More in this series