E-book
iPhone For Seniors For Dummies, 6th Edition
ISBN: 978-1-119-28019-4
480 pages
November 2016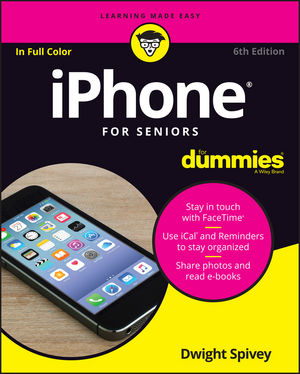 Your no-nonsense guide to getting in touch with your iPhone
Once you're comfortable with your iPhone, you'll wonder how you ever lived without it—and this full-color guide will get you there faster than you can say 'Siri.' Packed with guidance on everything from buying your first iPhone and navigating the Home screen to making calls, surfing the web, and sending texts and emails, iPhone For Seniors For Dummies shows you just how fun and easy it is to keep up with the kids!
Featuring a large-print format, easy-to-follow figures and drawings, and lots of step-by-step guidance, it gives you all the friendly instruction you need to put the iPhone to work for you—to shop, socialize, consume media, and absolutely everything in between. Whether you're finally retiring that familiar old flip phone or switching over to Apple from an Android device, everything you need to take the leap is a page away.
Keep in touch with email, social media, and FaceTime video calls
Stay on schedule with the Calendar and Reminder apps
Share photos, read ebooks, play games, and listen to music
Explore the multitouch interface and get familiar with built-in apps
The iPhone is only intimidating on the surface, and this plain-English guide shows you how its simplicity and ease of use are actually a better fit for your needs than you ever realized!
See More
Introduction 1
Part 1: Getting to Know Your iPhone 5
CHAPTER 1: Buying Your iPhone 7
CHAPTER 2: Exploring the Home Screen 21
CHAPTER 3: Getting Going 37
CHAPTER 4: Beyond the Basics 51
Part 2: Beginning to Use Your iPhone63
CHAPTER 5: Making and Receiving Calls 65
CHAPTER 6: Managing Contacts 81
CHAPTER 7: Communicating with FaceTime and Messages 103
CHAPTER 8: Using Handy Utilities 125
CHAPTER 9: Making Your iPhone More Accessible 139
CHAPTER 10: Conversing with Siri 159
Part 3: Exploring the Internet177
CHAPTER 11: Browsing with Safari 179
CHAPTER 12: Working with Email in Mail 203
CHAPTER 13: Expanding Your iPhone Horizons with Apps 225
CHAPTER 14: Socializing with Facebook and Twitter 239
Part 4: Enjoying Media 251
CHAPTER 15: Shopping the iTunes Store 253
CHAPTER 16: Reading Books 269
CHAPTER 17: Enjoying Music and Podcasts 289
CHAPTER 18: Taking and Sharing Photos 305
CHAPTER 19: Creating and Watching Videos 327
CHAPTER 20: Playing Games 337
Part 5: Living with Your iPhone 361
CHAPTER 22: Getting in Step with Health 363
CHAPTER 23: Keeping On Schedule with Calendar and Clock 375
CHAPTER 24: Working with Reminders and Notifications 397
CHAPTER 25: Making Notes 411
CHAPTER 26: Getting the News You Need 429
CHAPTER 27: Troubleshooting and Maintaining Your iPhone 437
Index 451
See More
Dwight Spivey is an expert on all things Apple with more than 20 years of experience. He's the author of many technology books, including Home Automation For Dummies. His technology experience includes Linux and Windows operating systems, laser printers and drivers, networking, and desktop publishing software. Dwight is also the Educational Technologist at Spring Hill College in Mobile, AL.
See More