SAT Quick Prep For Dummies with Online Practice, 2016 Target Edition
ISBN: 978-1-119-28060-6
168 pages
May 2016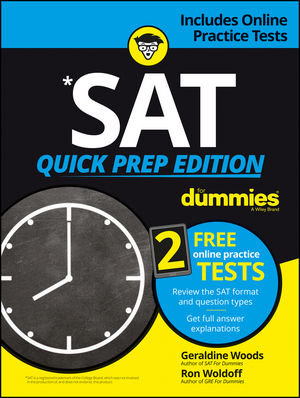 2 FREE online practice tests
Review the SAT format and question types
Get full answer explanations
Breathe easy—and score high on the SAT
The SAT is an important step on your journey to college, so it's natural to feel a bit—or a lot—nervous about performing your best. This hands-on guide will help increase your chance of scoring higher on the new SAT and ensure there are no surprises on test day! Review practice questions to hone your skills and make the most of an online test bank.
Inside...
Preview the SAT
Pinpoint your weaknesses
Focus your study
Find grammar questions
Make sense of math
Explore the essay section
Take a full-length test
Wisely manage your time
Erase your worries
FREE 1-year access to 2 practice tests online!
See More
Geraldine Woods has prepared students for the SAT, both academically and emotionally, for the past four decades. She has written more than 50 books, including SAT For Dummies. Ron Woldoff is the founder of National Test Prep, where he helps students reach their goals on the GMAT, GRE, SAT, and ACT.
See More