macOS Sierra For Dummies
ISBN: 978-1-119-28065-1
480 pages
October 2016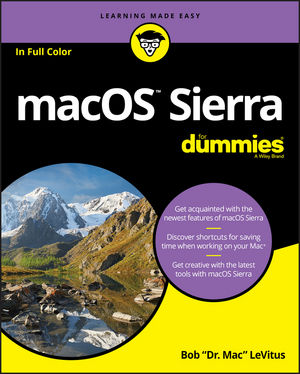 Your trusted tour guide to macOS Sierra
macOS is the engine that runs your Mac, so it's a good idea to know a bit about how it works. Fully updated to cover macOS Sierra, this long-time bestseller is the map you need to navigate Apple's operating system. Whether you're exploring macOS for the first time, looking for shortcuts to speed up common tasks, or trying to fix a common problem, macOS Sierra For Dummies provides easy-to-follow answers to all your questions.
Written by Bob 'Dr. Mac' LeVitus, a well-known tech columnist and Mac expert, this hands-on guide offers how-to information on the classic elements that help run Macs as well as timesaving tips on working with all the major changes that come with Sierra. The book begins with a plain-English explanation of the basics of the macOS desktop and goes on to cover everything from finding files faster, making the most of organization and communication tools, getting your Mac on a network, adding music, movies, and books, and so much more. In short: life with your Mac is about to get so much easier and more efficient!
Get acquainted with the newest and classic features of macOS Sierra
Discover shortcuts for saving time when working on your Mac
Learn how popular mobile tools like Siri and Apple Pay are now part of macOS
Use the latest creative and productivity tools that come with Sierra
Find helpful troubleshooting and safety tips
With the help of this bestselling guide, you'll learn not only how to do it, but how to do it better on macOS Sierra.
See More
Introduction 1
Part 1: Introducing macOS Sierra: The Basics 5
CHAPTER 1: macOS Sierra 101 (Prerequisites: None) 7
CHAPTER 2: Desktop and Windows and Menus (Oh My!) 23
CHAPTER 3: What's Up, Dock? 45
Part 2: Inside macOS Sierra (Or How Stuff Works) 63
CHAPTER 4: Delving Deeper into the Finder and Its Desktop 65
CHAPTER 5: Have It Your Way 97
CHAPTER 6: The Care and Feeding of Files and Folders 121
CHAPTER 7: Comprehending the macOS Clipboard 159
Part 3: Getting Things Done in macOS Sierra 165
CHAPTER 8: Four Terrific Timesaving Tools 167
CHAPTER 9: Organizing Your Life 185
CHAPTER 10: Siri-ously! 201
CHAPTER 11: Maps Are Where It's At 207
Part 4: Getting Along with Others in macOS Sierra 219
CHAPTER 12: (Inter)Networking 221
CHAPTER 13: Dealing with People 239
CHAPTER 14: Communicating with Mail and Messages 249
CHAPTER 15: Sharing Your Mac and Liking It 273
Part 5: Getting Creative in macOS Sierra 307
CHAPTER 16: The Musical Mac 309
CHAPTER 17: The Multimedia Mac 327
CHAPTER 18: Words and Letters 343
CHAPTER 19: Publish or Perish: The Fail-Safe Guide to Printing 353
Part 6: The Care and Feeding of macOS Sierra 367
CHAPTER 20: Features for the Way You Work 369
CHAPTER 21: Safety First: Backups and Other Security Issues 389
CHAPTER 22: Utility Chest 405
CHAPTER 23: Troubleshooting OS X 415
Part 7: The Part of Tens 427
CHAPTER 24: Ten (Or So) Ways to Speed Up Your Mac Experience 429
CHAPTER 25: Ten Great Websites for Mac Freaks 441
Index 447
See More
Bob "Dr. Mac" LeVitus has penned the "Dr. Mac" column for the Houston Chronicle since 1996. He's a regular contributor to tech publications and author of more than 70 how-to books on topics including iPhone, iPad, Office for the Mac, and GarageBand.
See More