Alien and Philosophy: I Infest, Therefore I Am
ISBN: 978-1-119-28081-1
240 pages
June 2017, Wiley-Blackwell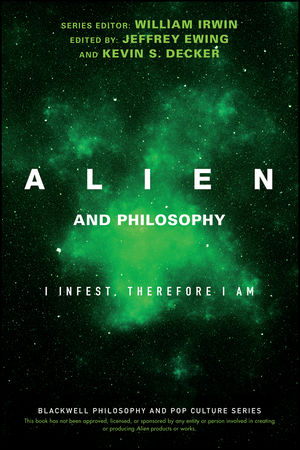 Alien and Philosophy: I Infest, Therefore I Am presents a philosophical exploration of the world of Alien, the simultaneously horrifying and thought-provoking sci-fi horror masterpiece, and the film franchise it spawned.
The first book dedicated to exploring the philosophy raised by one of the most successful and influential sci-fi franchises of modern times
Features contributions from an acclaimed team of scholars of philosophy and pop culture, led by highly experienced volume editors
Explores a huge range of topics that include the philosophy of fear, Just Wars, bio-weaponry, feminism and matriarchs, perfect killers, contagion, violation, employee rights and Artificial Intelligence
Includes coverage of H.R. Giger's aesthetics, the literary influences of H.P. Lovecraft, sci-fi and the legacy of Vietnam, and much more!
See More
Kevin S. Decker is Professor of Philosophy at Eastern Washington University. He has edited and contributed to several books in the Pop Culture and Philosophy series including The Ultimate Star Wars and Philosophy (2015), The Ultimate Star Trek and Philosophy (2016), and more. He also writes, acts, and produces "Men in Charge," a sketch-comedy show on Spokane Public Radio.
Jeffrey Ewing is a doctoral candidate in Sociology at the University of Oregon. He has a forthcoming chapter in Philosophical Approaches to Demonology and has contributed to volumes on Game of Thrones, Star Trek, The Devil, Jurassic Park, and Frankenstein.
William Irwin (series editor) is Herve A. LeBlanc Distinguished Service Professor and Chair of Philosophy at King's College in Pennsylvania and is the author of The Free Market Existentialist. Irwin originated the philosophy and popular culture genre of books with Seinfeld and Philosophy in 1999 and has overseen recent titles including House of Cards and Philosophy, Game of Thrones and Philosophy, and Ultimate Star Wars and Philosophy.
See More
More in this series