E-book
Alien and Philosophy: I Infest, Therefore I Am
ISBN: 978-1-119-28084-2
240 pages
March 2017, Wiley-Blackwell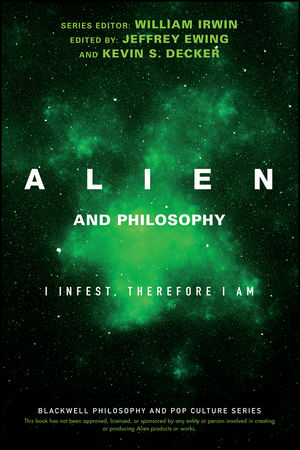 Alien and Philosophy: I Infest, Therefore I Am presents a philosophical exploration of the world of Alien, the simultaneously horrifying and thought-provoking sci-fi horror masterpiece, and the film franchise it spawned.
The first book dedicated to exploring the philosophy raised by one of the most successful and influential sci-fi franchises of modern times
Features contributions from an acclaimed team of scholars of philosophy and pop culture, led by highly experienced volume editors
Explores a huge range of topics that include the philosophy of fear, Just Wars, bio-weaponry, feminism and matriarchs, perfect killers, contagion, violation, employee rights and Artificial Intelligence
Includes coverage of H.R. Giger's aesthetics, the literary influences of H.P. Lovecraft, sci-fi and the legacy of Vietnam, and much more!
See More
Contributors: In Space, No One Can Hear Them Scream x
Introduction: A Word of Warning 1
I Identity and Moral Considerability: "We Made You Because We Could" 5
1 "No Man Needs Nothing": The Possibility of Androids as Lockean Persons in Alien and Prometheus 7
Chris Lay
2 Androids: Artificial Persons or Glorified Toasters? 17
Joe Slater
3 "All Other Priorities Are Rescinded": The Moral Status of Employees in the Alien Franchise 25
James M. Okapal
II Ethics: "I Don't Know Which Species is Worse" 37
4 Disposable Assets: Weyland?]Yutani's Special Brew of Business Ethics 39
Bruno de Brito Serra
5 Corporate Greed and Alien/ation: Marx vs. Weyland?]Yutani 48
Alejandro Bárcenas
6 The Public and its Alien Problem 55
David Denneny
7 Cross My Heart and Hope to Die: Why Ripley Must Save Newt 67
William A. Lindenmuth
III Moral Psychology: "Unclouded by Conscience, Remorse, or Delusions of Mortality" 81
8 Nuking the Colony to Save It: Colonial Marines and Just Wars 83
Louis Melançon
9 Xenomorphs and the Benefits of Exposure to Violence as Education 93
Adam Barkman and Sabina Tokbergenova
10 Alien, Alienation, and Alien Nation 101
Daniel Conway
IV Horror: "They Mostly Come at Night" 115
11 Terror from the Stars: Alien as Lovecraftian Horror 117
Greg Littmann
12 Art?]Horror Environments and the Alien Series 132
Martin Glick
13 Contagion: Impurity, Mental Illness, and Suicide in Alien3 140
Kevin S. Decker
V Sex and Gender: "None of Them Have Seen a Woman in Years" 153
Andrea Zanin
15 Is Ellen Ripley a Feminist? 166
Alexander Christian
16 Alien Violation: Male Bodily Integrity in an Equal Opportunity Rape Culture 178
Tim Jones
VI Continental Philosophy: "I'm the Monster's Mother" 187
17 The Alien as Übermensch: Overcoming Morality in Order to Become the Perfect Killer 189
Robert M. Mentyka
18 "Why Do You Go On Living?" Ripley?]8 and the Absurd 198
Seth M. Walker
19 God Save the Xenomorph Queen: Defending Xenomorph Self?]Defense 207
Jeffrey Ewing
Index 216
See More
Kevin S. Decker is Professor of Philosophy at Eastern Washington University. He has edited and contributed to several books in the Pop Culture and Philosophy series including The Ultimate Star Wars and Philosophy (2015), The Ultimate Star Trek and Philosophy (2016), and more. He also writes, acts, and produces "Men in Charge," a sketch-comedy show on Spokane Public Radio.
Jeffrey Ewing is a doctoral candidate in Sociology at the University of Oregon. He has a forthcoming chapter in Philosophical Approaches to Demonology and has contributed to volumes on Game of Thrones, Star Trek, The Devil, Jurassic Park, and Frankenstein.
William Irwin (series editor) is Herve A. LeBlanc Distinguished Service Professor and Chair of Philosophy at King's College in Pennsylvania and is the author of The Free Market Existentialist. Irwin originated the philosophy and popular culture genre of books with Seinfeld and Philosophy in 1999 and has overseen recent titles including House of Cards and Philosophy, Game of Thrones and Philosophy, and Ultimate Star Wars and Philosophy.
See More
More in this series