QuickBooks 2017 All-In-One For Dummies
ISBN: 978-1-119-28134-4
624 pages
November 2016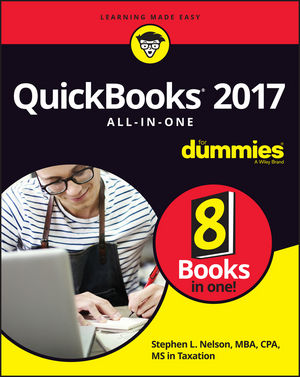 Make business chores easy with QuickBooks
Managing the books for a small business can be a challenging, onerous task. If you're looking to spend fewer hours hunched over multiple spreadsheets and more time focused on other aspects of your growing business, this all-in-one guide gives you everything you need to put QuickBooks to work for you. Combining eight content-rich books into one complete package, this value-priced reference provides answers to all the questions you have about how QuickBooks can manage your business finances—even the ones you didn't know to ask!
With the help of QuickBooks 2017 All-In-One For Dummies, you'll quickly and painlessly discover how to use this fan-favorite software program to establish fundamental accounting practices that will keep your company successful and healthy. From installing the software and configuring QuickBooks to setting up payroll reminders and keeping track of your business checkbook and credit cards, everything you need to effectively—and efficiently—stay on top of those dollars and cents is only a page away!
Organize all of your business finances in one place
Pay vendors, invoice customers, and track inventory
Prepare financial statements and reports
Access your cloud-based account using your smartphone
This is your all-encompassing guide to putting your financial woes to rest and simplifying your business accounting with confidence!
See More
Introduction 1
Book 1: An Accounting Primer 5
CHAPTER 1: Principles of Accounting 7
CHAPTER 2: Double-Entry Bookkeeping 27
CHAPTER 3: Special Accounting Problems 47
Book 2: Getting Ready to Use QuickBooks 69
CHAPTER 1: Setting Up QuickBooks 71
CHAPTER 2: Loading the Master File Lists 89
CHAPTER 3: Fine-Tuning QuickBooks 113
Book 3: Bookkeeping Chores 143
CHAPTER 1: Invoicing Customers .145
CHAPTER 2: Paying Vendors 179
CHAPTER 3: Tracking Inventory and Items 199
CHAPTER 4: Managing Cash and Bank Accounts 229
CHAPTER 5: Paying Employees 259
Book 4: Accounting Chores 271
CHAPTER 1: For Accountants Only 273
CHAPTER 2: Preparing Financial Statements and Reports 289
CHAPTER 3: Preparing a Budget 309
CHAPTER 4: Using Activity-Based Costing 321
CHAPTER 5: Setting Up Project and Job Costing Systems 337
Book 5: Financial Management 349
CHAPTER 1: Ratio Analysis 351
CHAPTER 2: Economic Value Added Analysis 369
CHAPTER 3: Capital Budgeting in a Nutshell 383
Book 6: Business Plans 399
CHAPTER 1: Profit-Volume-Cost Analysis 401
CHAPTER 2: Creating a Business Plan Forecast 421
CHAPTER 3: Writing a Business Plan 457
Book 7: Care and Maintenance 471
CHAPTER 1: Administering QuickBooks 473
CHAPTER 2: Protecting Your Data 491
CHAPTER 3: Troubleshooting 507
Book 8: Appendixes 513
APPENDIX A: A Crash Course in Excel 515
APPENDIX B: Government Web Resources for Businesses 531
APPENDIX C: Glossary of Accounting and Financial Terms 549
Index 579
See More
Stephen L. Nelson, MBA, CPA, MS in Taxation, is a CPA in Redmond, Washington. He provides accounting, business advisory, and tax planning and preparation services to small businesses such as manufacturers, retailers, professional service firms, and start-up technology companies.
See More