QuickBooks 2017 For Dummies
ISBN: 978-1-119-28146-7
408 pages
October 2016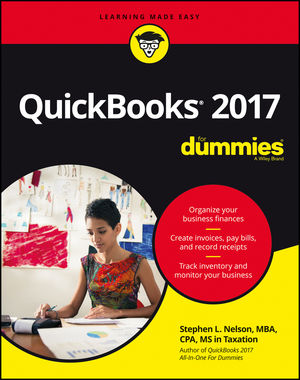 The perennial bestseller—updated for the latest release of QuickBooks
If you're like most people involved with a small business, accounting isn't necessarily your strong suit, and certainly isn't the reason you got involved with your venture. Luckily, this bestselling guide shows you just how easy it is to use QuickBooks to keep your ducks in a row—so you can spend less time worrying about finances and more time concentrating on other aspects of your growing business.
With easy-to-follow guidance and plain-English explanations that cut through confusing financial jargon, QuickBooks 2017 For Dummies assumes no prior knowledge of the software and gets you started at the very beginning. In no time, you'll discover how to install the software and configure QuickBooks for your business needs, set up payroll reminders, download bank and credit card transactions, pay bills online, keep track of your checkbook and credit cards, and so much more.
Organize all of your business finances in one place
Create invoices and credit memos, record sales receipts, and pay the bills
Track inventory, calculate job costs, and monitor your business reports
Make tax time easier
Written by a CPA who knows QuickBooks and understands your unique business needs, this is your go-to guide for getting past the paperwork and putting the program to work for you.
See More
Introduction .1
Part 1: Quickly into QuickBooks .5
CHAPTER 1: QuickBooks: The Heart of Your Business 7
CHAPTER 2: The Big Setup .17
CHAPTER 3: Populating QuickBooks Lists .35
Part 2: Daily Entry Tasks .81
CHAPTER 4: Creating Invoices and Credit Memos .83
CHAPTER 5: Reeling in the Dough 107
CHAPTER 6: Paying the Bills 131
CHAPTER 7: Inventory Magic 155
CHAPTER 8: Keeping Your Checkbook 175
CHAPTER 9: Paying with Plastic 193
Part 3: Stuff You Do from Time to Time 203
CHAPTER 10: Printing Checks 205
CHAPTER 11: Payroll 217
CHAPTER 12: Building the Perfect Budget 229
CHAPTER 13: Online with QuickBooks 237
Part 4: Housekeeping Chores 249
CHAPTER 14: The Balancing Act 251
CHAPTER 15: Reporting on the State of Affairs 261
CHAPTER 16: Job Estimating, Billing, and Tracking 275
CHAPTER 17: File Management Tips 285
CHAPTER 18: Fixed Assets and Vehicle Lists 297
Part 5: The Part of Tens 309
CHAPTER 19: Tips for Handling (Almost) Ten Tricky Situations 311
CHAPTER 20: (Almost) Ten Secret Business Formulas 319
Part 6: Appendixes 335
APPENDIX A: Installing QuickBooks in 11 Easy Steps 337
APPENDIX B: If Numbers Are Your Friends 341
APPENDIX C: Sharing QuickBooks Files 359
Index 369
See More
Stephen L. Nelson, MBA, CPA, MS in Taxation, provides accounting, business advisory, tax planning, and tax preparation services for small businesses such as manufacturers, retailers, service firms, and start-up technology companies. He has written more than 100 books, which have sold more than five million copies.
See More