E-book
Photoshop Elements 15 For Dummies
ISBN: 978-1-119-28151-1
448 pages
October 2016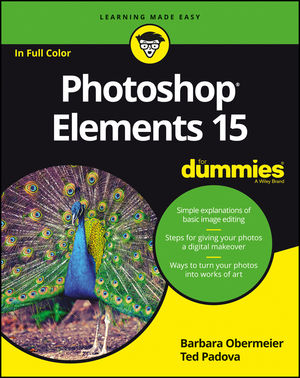 The top-selling guide to Photoshop Elements—updated for Photoshop Elements 15
No matter if you're a photo-editing newbie or an old hat looking for new tricks, Photoshop Elements 15 For Dummies offers photographers of all skill levels the power to turn run-of-the-mill digital pictures into beautiful photographs. Covering the latest version of this popular software, this up-to-date guide quickly shows you how to organize images for editing, adjust color and focus, apply artsy filters, add text to an image—and beyond.
There's a reason Photoshop Elements 15 For Dummies is the best place to start learning Elements—it gets you up and running with this image-editing software faster than you can say 'cheese!' Get ready to explore your inner artist and add pizzazz to even the most ordinary pics with the professional tools in Photoshop Elements 15!
Find simple explanations of how to handle basic image editing
Get steps for giving your photos a digital makeover
Create layers in your images
Discover one-click instant fixes when you hit roadblocks
The power and simplicity of Photoshop Elements makes it easy to produce photos worth bragging about—and this no-nonsense guide will get you there in a flash.
See More
Introduction 1
Part 1: Getting Started with Photoshop Elements 15 5
CHAPTER 1: Getting Started with Image Editing 7
CHAPTER 2: Basic Image-Editing Concepts 23
CHAPTER 3: Exploring the Photo Editor 51
Part 2: Managing Media 73
CHAPTER 4: Navigating the Organizer 75
CHAPTER 5: Organizing Your Pictures 91
CHAPTER 6: Viewing and Finding Your Images 113
Part 3: Selecting and Correcting Photos 131
CHAPTER 7: Making and Modifying Selections 133
CHAPTER 8: Working with Layers 163
CHAPTER 9: Simple Image Makeovers 187
CHAPTER 10: Correcting Contrast, Color, and Clarity 223
Part 4: Exploring Your Inner Artist 255
CHAPTER 11: Playing with Filters, Effects, Styles, and More 257
CHAPTER 12: Drawing and Painting 295
CHAPTER 13: Working with Type 325
Part 5: Printing, Creating, and Sharing 345
CHAPTER 14: Getting It on Paper 347
CHAPTER 15: Sharing Your Work 363
CHAPTER 16: Making Creations 375
Part 6: The Part of Tens 383
CHAPTER 17: Ten Tips for Composing Better Photos 385
CHAPTER 18: Ten (Or So) More Project Ideas 393
Index 399
See More
Barbara Obermeier is the principal of Obermeier Design, a graphic design studio in Ventura, California. She is currently Chair of the Graphic Design program at Brooks Institute.
Ted Padova has worked with digital imaging since 1990. His expertise includes Acrobat, PDF forms, LiveCycle Designer forms, Adobe Design Premium Suite, and Photoshop.
See More