E-book
Humanizing the Education Machine: How to Create Schools That Turn Disengaged Kids Into Inspired Learners
ISBN: 978-1-119-28312-6
320 pages
October 2016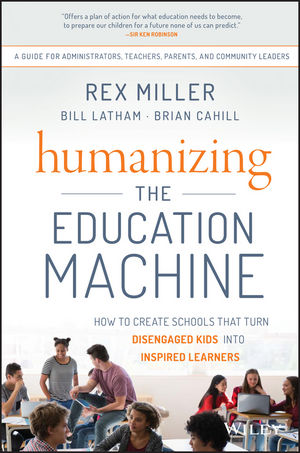 A clear roadmap for the new territory of education
Education in the U.S. has been under fire for quite some time, and for good reason. The numbers alone tell a very disconcerting story: according to various polls, 70% of teachers are disengaged. Add to that the fact that the United States ranks last among industrialized nations for college graduation levels, and it's evident there's a huge problem that needs to be addressed. Yet the current education system and its school buildings—with teachers standing in front of classrooms and lecturing to students—have gone largely unchanged since the 19th century.
Humanizing the Education Machine tackles this tough issue head-on. It describes how the education system has become ineffective by not adapting to fit students' needs, learning styles, perspectives, and lives at home. This book explains how schools can evolve to engage students and involve parents. It serves to spread hope for reform and equip parents, educators, administrators, and communities to:
Analyze the pitfalls of the current U.S. education system
Intelligently argue the need to reform the current landscape of education
Work to make a difference in the public education system
Be an informed advocate for your child or local school system
If you're a concerned parent or professional looking for a trusted resource on the need for education reform, look no further than Humanizing the Education Machine. This illuminating resource provides the information you need to become a full partner in the new human-centered learning revolution.
See More
Foreword Kevin E. Baird ix
Foreword Ricky Kassanoff and Mark Hubbard xi
Foreword Dan Boggio xiii
Foreword Gregory Moore xv
Foreword Chris Petrick xvii
Preface xix
Chapter 1 Numbers Don't Lie 1
Chapter 2 Two Guys From Gainesville 13
Chapter 3 MindShift: We Didn't Seek Permission 21
Chapter 4 The Learning Manifesto 27
Chapter 5 How the Road to Transformation Began in Failure 43
Chapter 6 Gutenberg to Google 57
Chapter 7 The Learning Matrix: Mapping the Five Eras of Learning 67
Chapter 8 The Pandorification of Learning: The Future Is Here 83
Chapter 9 Changing the Odds: Getting Beyond Zip Code Destiny 99
Chapter 10 Humanizing the Great Education Machine 115
Chapter 11 The Healing Power of Social Emotional Literacy 131
Chapter 12 Creating a Healthy Learning Culture 147
Chapter 13 How Technology Is Supposed to Work 161
Chapter 14 Designing a Place That Inspires and Equips 183
Chapter 15 The Power of Positive 205
Chapter 16 Leading Change at Your School 221
Chapter 17 Humanity High: The Movie 239
Appendix From Accidental Change Agent to Up-Front Grief Counseling 253
Notes 255
References 265
Core Leaders 275
Acknowledgments 281
Index 285
See More
REX MILLER is the principal and thought leader for MindShift, a future-focused consultancy and organizational performance firm. He is the author of The Commercial Real Estate Revolution, The Millennium Matrix: Reclaiming the Past, Reframing the Future of the Church, and Change Your Space, Change Your Culture, all from Wiley.
BILL LATHAM is the CEO of MeTEOR Education, an organization who works alongside communities and their students in creating transformational learning experiences and supportive high impact environments.
BRIAN CAHILL is the California Division President for Balfour Beatty Construction Services United States.
See More