E-book
iPad For Dummies, 9th Edition
ISBN: 978-1-119-28320-1
384 pages
November 2016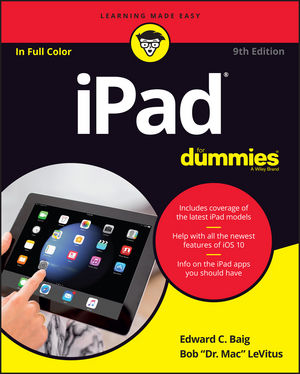 Set up and use your iPad like a boss!
When your coworkers or friends attempt to explain the latest functions and features of the iPad, do you feel as if they're speaking a foreign language? We've all been there. And seriously, you spent a lot of money on your new device, so why not get the plain-English guidance you need to maximize its performance and capabilities? In iPad For Dummies, you'll find easy-to-follow instructions on everything you need to operate your tablet with the skills of an iPad guru.
In this updated edition, you'll find out how to operate your iPad with ease, including setting up your new iPad, using the multi-touch interface, synching your data, using iCloud, setting up your iTunes account, surfing the web, accessing your email account, and navigating iOS 10. The latest iPad is loaded with features and functions you'll be eager to explore, and this full-color guide makes it a breeze!
Set up your iPad preferences
Connect with family and friends with iMessage and FaceTime
Capture and create memories with photos and videos
Keep your day on track with the calendar, reminders, and more
Whether you've just purchased your first iPad or have been an avid supporter since the product's launch, iPad For Dummies keeps you up to date on the features and functions of the latest model.
See More
INTRODUCTION 1
About This Book 1
Foolish Assumptions 2
Icons Used in This Book 2
Where to Go from Here 3
PART 1: GETTING TO KNOW YOUR IPAD 5
CHAPTER 1: Unveiling the iPad 7
Exploring the iPad's Big Picture 8
The iPad as a media player 8
The iPad as an Internet communications device 9
The iPad as an e-book reader 10
The iPad as a multimedia powerhouse 10
The iPad as a platform for third-party apps 10
What do you need to use an iPad? 11
Touring the iPad Exterior 11
On the top 11
On the bottom 12
On the right side 13
On the front and back 14
Status bar 15
Discovering the Delectable Home Screen and Dock Icons 18
Home is where the screen is 18
Sittin' on the dock of the iPad 21
CHAPTER 2: iPad Basic Training 23
Getting Started on Getting Started 24
Turning On and Setting Up the iPad 26
Locking the iPad 31
Mastering the Multitouch Interface 31
Training your digits 32
Navigating beyond the Home screen 33
Select, cut, copy, and paste 34
Multitasking 36
Splitting the screen 37
Picture-in-picture 39
Organizing icons into folders 39
Printing 40
Proactive search 41
The Incredible, Intelligent, and Virtual iPad Keyboard 42
Anticipating what comes next 44
Discovering the special-use keys 44
Choosing an alternative keyboard 46
Finger-typing on the virtual keyboards 47
Editing mistakes 51
CHAPTER 3: Synchronicity: Getting Stuff to and from Your iPad 53
A Brief iCloud Primer 54
Syncing with iTunes 57
Backing Up Your iPad 61
Disconnecting the iPad 63
Synchronizing Your Data 64
Contacts 64
Calendars 65
Advanced 66
Synchronizing Your Media 66
Music, music videos, and voice memos 67
Movies 69
TV shows 69
Podcasts, iTunes U, and books 70
Tones 71
Photos 71
Manual Syncing 73
PART 2: THE INTERNET IPAD 75
CHAPTER 4: Going on a Mobile Safari 77
Surfin' Dude 77
Exploring the browser 78
Blasting off into cyberspace 78
Zoom, zoom, zoom 80
Reading clutter-free web pages 81
Finding Your Way around Cyberspace 82
Looking at lovable links 82
Tabbed browsing 83
iCloud tabs 84
Doing the splits 85
Revisiting Web Pages Time and Again 85
Book(mark) 'em, Dano 85
Altering bookmarks 86
Saving to your reading list 87
Clipping a web page 88
Letting history repeat itself 88
Saving web pictures 89
Sharing Your Web Experiences 89
Launching a Mobile Search Mission 91
Private Browsing 92
Smart Safari Settings 93
CHAPTER 5: The Email Must Get Through 97
Prep Work: Setting Up Your Accounts 98
Setting up your account the easy way 98
Setting up your account the less-easy way 99
See Me, Read Me, File Me, Delete Me: Working with Messages 103
Reading messages 103
Threading messages 106
Managing messages 107
Searching emails 108
Don't grow too attached to attachments 108
More things you can do with messages 110
Darling, You Send Me (Email) 111
Sending an all-text message 111
Formatting text in an email 113
Sending a photo with an email message 113
Adding attachments 114
Marking up attachments 114
Saving an email to send later 115
Replying to, forwarding, or printing an email message 116
Settings for sending email 117
Setting Your Message and Account Settings 118
Checking and viewing email settings 118
Altering account settings 120
Getting the iMessage 121
Sending iMessages 121
Group messages 122
Adding voice to an iMessage 123
Massive multimedia effects overhaul 123
Being a golden receiver: Receiving iMessages 127
Sending pix and vids in a message 128
Smart messaging tricks 129
CHAPTER 6: Maps Are Where It's At 131
Finding Your Current Location with Maps 132
Searching 133
Finding a person, place, or thing 133
Connecting maps and contacts 134
Viewing, Zooming, and Panning 135
Saving Time with Favorites, Categories, and Recents 136
Favorites 136
Categories & Recents 137
Smart Map tricks 138
Getting route maps and driving directions 138
Getting traffic info in real time 141
Getting more info about a location 141
PART 3: THE MULTIMEDIA IPAD 143
CHAPTER 7: Get in Tune(s): Audio on Your iPad 145
Introducing Your iPad's Music Player 146
It's music, just not YOUR music 147
Your Music Library 150
A library without library cards 151
Play it again, list 153
Share and share alike 155
Taking Control of Your Tunes 157
Customizing Your Audio Experience 160
Setting preferences 160
Setting a sleep timer 161
Using your voice to control your music 162
Shopping with the iTunes Store app 163
CHAPTER 8: iPad Videography 165
Finding Stuff to Watch 166
Playing Video 170
Finding and Working the Video Controls 172
Watching Video on a Big TV 173
Restricting Video Usage 174
Deleting Video from Your iPad 174
Shooting Your Own Videos 175
Going slow 176
Going fast 177
Editing what you shot 177
Sharing video 178
Seeing Is Believing with FaceTime 179
Getting started with FaceTime 179
Making a FaceTime call 180
Receiving a FaceTime call 181
CHAPTER 9: Photography on a Larger Scale 183
Shooting Pictures 184
Syncing pix 188
Connecting a digital camera or memory card 188
Saving images from emails and the web 188
Tracking Down Your Pictures 189
Choosing albums 189
Categorizing your pics 191
Making memories 193
Searching for pictures 194
Sharing your photos 195
Admiring Your Pictures 196
Maneuvering and manipulating photos 197
Launching slideshows 197
Storing pictures in the (i)Cloud 198
Editing and Deleting Photos 199
More (Not So) Stupid Picture Tricks 201
Entering the Photo Booth 205
CHAPTER 10: Curling Up with a Good iBook 207
Why E-Books? 208
Beginning the iBook Story 209
Reading a Book 211
Turning pages 212
Jumping to a specific page 214
Going to the table of contents 214
Adding bookmarks 214
Adding highlights and notes 215
Changing the type size, font, and page color 217
Searching inside and outside a book 218
Shopping for E-Books 218
Just browsing the iBooks Store 219
Searching the iBooks Store 220
Deciding whether a book is worth it 220
Buying a book from the iBooks Store 221
Buying books beyond Apple 222
Finding free books outside the iBooks Store 222
Reading Newspapers and Magazines 223
PART 4: THE IPAD AT WORK 225
CHAPTER 11: App-solutely! 227
Tapping the Magic of Apps 227
Using Your Computer to Find Apps 230
Browsing the App Store from your computer 230
Using the search field in the iTunes Store 232
Getting more information about an app in the iTunes Store 233
Downloading an app from the iTunes Store 236
Updating an app from the iTunes Store 237
Using Your iPad to Find Apps 237
Browsing the App Store on your iPad 237
Using the search field in the App Store 238
Finding details about an app in the App Store 239
Downloading an app from the App Store 239
Updating an app from the App Store 240
Working with Apps 241
Deleting an app 241
Writing an app review 243
CHAPTER 12: People, Places, and Appointments 245
Working with the Calendar 245
Year view 246
Month view 246
Day view 246
Week view 247
List view 248
Adding Calendar Entries 249
Managing your calendars 251
Letting your calendar push you around 252
Displaying multiple calendars 253
Responding to meeting invitations 253
Subscribing to calendars 254
Sifting through Contacts 254
Adding and viewing contacts 255
Searching contacts 256
Contacting and sharing your contacts 256
Linking contacts 257
Removing a contact 257
CHAPTER 13: Indispensable iPad Utilities 259
Taking Note of Notes 259
Remembering with Reminders 261
Working with lists 262
Setting up reminders 263
Viewing and checking off reminders 264
Negotiating Notification Center 264
Punching the Clock 266
World clock 266
Alarm 267
Bedtime 268
Stopwatch 269
Timer 269
Controlling Smart Appliances 269
Socializing with Social Media Apps 270
Facebook 270
Twitter 271
Sharing Your Connection (Personal Hotspot) 272
Dropping In on AirDrop 273
CHAPTER 14: Taking iPad Controls Siri-ously 275
Controlling Control Center 276
Summoning Siri 277
Figuring Out What to Ask 279
Correcting Mistakes 280
Using Dictation 280
Making Siri Smarter 282
PART 5: THE UNDISCOVERED IPAD 283
CHAPTER 15: Setting You Straight on Settings 285
Checking Out the Settings Screen 286
Flying with Sky-High Settings 286
Controlling Wi-Fi Connections 287
Getting Fired Up over Bluetooth 288
Roaming among Cellular Data Options 290
Managing Notifications 291
Controlling Control Center 294
Location, Location, Location Services 294
Settings for Your Senses 295
Display & Brightness 295
Wallpaper 296
Sounds 297
Transactional Settings 298
iTunes & App Store 298
Wallet & Apple Pay 298
Exploring Settings in General .298
About About 298
Software Update 300
Siri 300
Spotlight Search 300
Handoff 300
Multitasking 301
Accessibility 301
Storage & iCloud Usage 306
Battery 306
Background App Refresh 306
Restrictions 306
Use Side Switch 307
Date & Time 308
Keyboard 308
Language & Region 309
iTunes Wi-Fi Sync 309
VPN 310
Reset 310
Touch ID & Passcode 311
Promoting Harmony through Family Sharing 312
Settings for Social Media 313
Twitter 313
Facebook 313
Flickr, Vimeo, Sina Weibo, Tencent Weibo 314
Sorting and displaying contacts .314
Find My iPad 314
CHAPTER 16: When Good iPads Go Bad 317
Resuscitating an iPad with Issues 318
Recharge 319
Restart 320
Reset your iPad 320
Remove content 321
Reset settings and content 321
Restore 322
Recovery mode 323
Problems with Networks 324
Sync, Computer, or iTunes Issues 325
More Help on the Apple Website 326
If Nothing We Suggest Helps 327
Dude, Where's My Stuff? 328
CHAPTER 17: Accessorize Your iPad 329
Accessories from Apple 329
Listening and Talking 331
Wired headphones, earphones, and headsets 331
Bluetooth stereo headphones, earphones, and headsets 331
Listening with Speakers 332
Desktop speakers 332
Bluetooth speakers 333
AirPlay speakers .333
Wrapping Your iPad in Third-Party Cases 333
Standing up Your iPad 334
PART 6: THE PART OF TENS 337
CHAPTER 18: Ten Appetizing and Free Apps 339
TripCase 340
Shazam 341
Flipboard 342
Movies by Flixster 343
IMDb Movies & TV 343
Netflix 344
Comixology 344
Epicurious Recipes & Shopping List 345
Evernote 346
Pandora Radio 347
CHAPTER 19: Ten Apps Worth Paying For 349
Bill Atkinson PhotoCard 349
Words with Friends HD 350
ArtStudio — Draw and Paint 351
Pinball Crystal Caliburn II 352
Art Authority for iPad 352
Solar Walk 353
Action Movie FX 354
Facetune for iPad 356
Dark Sky Weather 356
Parallels Access 357
INDEX 359
See More
Edward C. Baig writes the "Personal Technology" column in USA TODAY and makes regular appearances on the web and TV. Ed is also the author of Macs For Dummies.
Bob LeVitus, aka "Dr. Mac," has written or cowritten more than 80 popular computer books. Bob has penned the popular "Dr. Mac" column in the Houston Chronicle for more than 20 years.
See More