Financial Valuation: Applications and Models, + Website, 4th Edition
ISBN: 978-1-119-28660-8
1296 pages
May 2017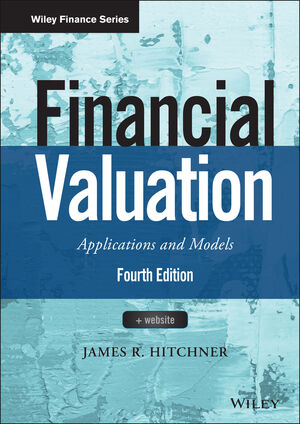 A practically-focused resource for business valuation professionals
Financial Valuation: Applications and Models provides authoritative reference and practical guidance on the appropriate, defensible way to prepare and present business valuations. With contributions by 30 top experts in the field, this new fourth edition provides an essential resource for those seeking the most up-to-date guidance, with a strong emphasis on applications and models. Coverage includes state-of-the-art methods for the valuation of closely-held businesses, nonpublic entities, intangible, and other assets, with comprehensive discussion on valuation theory, a consensus view on application, and the tools to make it happen. Packed with examples, checklists, and models to help you navigate your valuation project, this book also provides hundreds of expert "tips" and best practices in clear, easy-to-follow language. The companion website provides access to extensive appendix materials, and the perspectives of valuation thought-leaders add critical insight throughout each step of the process.
Valuation is an important part of any organization's overall financial strategy, and seemingly-small inaccuracies or incomplete assessments can have big repercussions. This book walks you through the valuation process to give you the skills and understanding you need to get it done right.
Learn best practices from 30 field-leading experts
Follow clear examples for complex or unfamiliar scenarios
Access practical tools that streamline the valuation process
Understand valuation models and real-world applications
The business valuation process can become very complex very quickly, and there's no substitute for clear guidance and a delineated framework in the run-up to completion. Get organized from the beginning, and be systematic and methodical every step of the way. Financial Valuation: Applications and Models is the all-encompassing, expert guide to business valuation projects.
See More
CHAPTER 1 Introduction to Financial Valuation 1

CHAPTER 2 Standards of Value 29

CHAPTER 3 Research and Its Presentation 59

CHAPTER 4 Financial Statement and Company Risk Analysis 77

CHAPTER 5 Income Approach 117

CHAPTER 6 Cost of Capital/Rates of Return 185

CHAPTER 7 International Cost of Capital 271

CHAPTER 8 Market Approach 291

CHAPTER 9 Asset Approach 343

CHAPTER 10 Valuation Discounts and Premiums 391

CHAPTER 11 Report Writing 495

CHAPTER 12 Business Valuation Standards 583

CHAPTER 13 Valuation of Pass-Through Entities 607

CHAPTER 14 Estate, Gift, and Income Tax Valuations 681

CHAPTER 15 Valuation of Family Limited Partnerships 725

CHAPTER 16 Summary of Tax Court Case Valuation Issues 779

CHAPTER 17 Shareholder Disputes 783

CHAPTER 18 Employee Stock Ownership Plans 801

CHAPTER 19 Valuation in the Divorce Setting 831

CHAPTER 20 Valuation Issues in Small Businesses 853

CHAPTER 21 Valuation Issues in Professional Practices 867

CHAPTER 22 Reasonable Compensation 889

CHAPTER 23 The Valuator as Expert Witness 911

CHAPTER 24 Fair Value Measurement and the Valuation of Intangible Assets 931

CHAPTER 25 Marketing, Managing, and Making Money in a Valuation Services Group 1007

CHAPTER 26 Business Damages 1009

CHAPTER 27 Other Valuation Service Areas 1043

CHAPTER 28 Valuation of Healthcare Service Businesses 1047

CHAPTER 29 Determination of Compensation in the Healthcare Industry 1089

CHAPTER 30 Special Industry Valuations 1099

CHAPTER 31 Valuation Views and Controversial Issues: An Illustration 1179

Index 1229
See More
JAMES R. HITCHNER, CPA/ABV/CFF, ASA, is Managing Director of Financial Valuation Advisors, Inc., President of The Financial Consulting Group, and CEO of Valuation Products and Services. He has thirty-seven years of valuation experience. He is editor in chief of Financial Valuation and Litigation Expert journal. Mr. Hitchner is editor/coauthor of Financial Valuation Workbook, Fourth Edition; A Consensus View Q&A Guide to Financial Valuation; Valuation for Financial Reporting: Fair Value, Business Combination, Intangible Assets, Goodwill and Impairment Analysis, Third Edition; and coauthor of PPC's Guide to Business Valuations. He has provided testimony on valuations in numerous state and federal courts. An inductee in the AICPA Business Valuation Hall of Fame, he is one of the four members of the original AICPA Business Valuation Standards Writing Task Force, on which he served for six years, until the June 2007 official release of the standards.
See More
Instructors Resources
Request a print evaluation copy
Contact us

See More
See Less