The High-Potential Leader: How to Grow Fast, Take on New Responsibilities, and Make an Impact
ISBN: 978-1-119-28695-0
240 pages
March 2017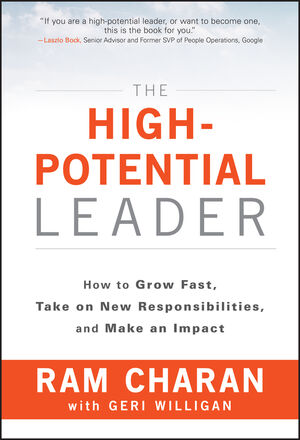 Set your sights on High-Potential leadership and help your organization thrive

In today's tumultuous and rapidly evolving business environment, High-Potential leaders are in high demand. Do you possess the relationship skills, strategic vision, innovation, and determination needed to thrive as a high-potential leader in your organization? New York Times bestselling author Ram Charan answers that question and helps you hop on the fast-track to leadership success in this insightful guide.

Traditionally, leaders have risen up through the ranks based on their cognitive abilities, analytical skills, thoroughness, and even perfectionist tendencies, but as modern businesses have moved to a more digitally-driven model, the criteria for leaders has markedly changed. The High-Potential Leader explains the modern business climate while highlighting the critical role relationship building, communication style, engagement, and ability to motivate and bring out the best performance in others play in becoming an impactful leader.

Whether you're just embarking on your leadership journey or are ready to make the leap to the next leadership level, Charan's real-world lessons and practical advice will help you discover who you are as a leader, chart your path, accelerate your growth, and ultimately, become the high-potential leader your organization needs to succeed.
See More
1 High-Potential Leaders Are Crucial to Helping Businesses Adapt and Thrive in the Digital Age 1
The Urgent Need for High-Potential Leaders 1
What "High Potential" Means Now 2
An Important Distinction 7
Getting Hipos There Faster 8
How Hipos Can Use This Book 11
How Leadership Developers Should Use This Book 13
A Final Word 14
Tips for Hipos—How to Use This Book 18
Tips for HR and Leadership Developers—How to Use This Book 20
PART I Five Essential Skills for High-Potential Leaders 23
2 Increase the Return on Your Time (ROYT) 25
Get Comfortable with People Better Than You 25
Set and Reset Your Priorities 28
Customize Your Information Flow 31
Delegate and Follow Through 33
Trust But Verify 34
Decide How to Leverage Yourself 35
Create Repeatable Processes 37
Be Decisive 38
Additional Resources 43
3 Multiply the Energy and Skills of Those Around You 45
Identify a Person's God-Given Talent 46
Build Other People's Strengths 50
Make Necessary Changes Quickly 52
Manage the Intersections 53
Lead the Dialogue 56
Be a Social Architect 58
How Tony Palmer Became a Talent Magnet 60
Additional Resources 68
4 Be a Master of Big Ideas and Execution 71
Make Your Big Ideas Better 71
How to Assess Your Good Ideas 72
Getting Big Ideas Executed 76
Execution Basics 78
The Art of Asking Incisive Questions 80
A Hipo's Vision and Execution at Fingerhut 81
Additional Resources 90
5 Get to Know Customers, Competitors, and the Macro Environment 91
Observe the End-to-End Consumer Experience 92
Know the Competition 94
Dissect Ecosystems 98
See Your Business from the Outside In 100
Keep Up with Technology 103
Additional Resources 108
6 Build Your Mental Capacity 109
Widen Your Lens 109
Keep Learning 111
Build Diverse Networks 114
Seek Information from Everywhere 116
Stay Mentally Flexible 120
Additional Resources 129
PART II Taking Charge of Your Growth and Choosing Your Next Big Career Move 131
7 How, When, and Why to Make a Leap 133
The Virtue of Leaps 134
Making Leaps Without Leaving Your Company 139
Build Your Own Support System 141
Bonnie Hill's Multiple Leaps 143
Leaps Outside the Company 146
Weighing a Job Change 148
Your Exit Plan 150
Your Entrance Plan 151
Additional Resources 159
8 Track Your Mental Health and Work/Life Balance 161
Business Achievement 162
Life Satisfaction 163
Find a Meaningful Focus 168
Protect Your Mental Health 172
How Aaron Greenblatt Found His Focus 173
Additional Resources 181
PART III The Care and Feeding of High Potentials—Every Organization's Precious Resource 183
9 Identifying, Recruiting, and Retaining Hipos 185
Redefi ne and Find High-Potential Leaders 186
Create Opportunities for Growth 189
Clear the Path for Hipos 192
Improve Feedback Loops 193
Refresh the Leadership Pool 196
How to Use This Book to Develop Your Organization's Hipos 197
Key Points for Talent Management Leaders 197
Additional Resources 209
Acknowledgments 211
Index 213
See More
RAM CHARAN is an advisor to many of the world's top CEOs and corporate boards. He is author or coauthor of twenty books, including The New York Times bestseller Execution. He has taught at Harvard Business School and GE's John F. Welch Learning Center, and is a member of six corporate boards.
See More