Fixing Business: Making Profitable Business Work for The Good of All
ISBN: 978-1-119-28739-1
200 pages
May 2017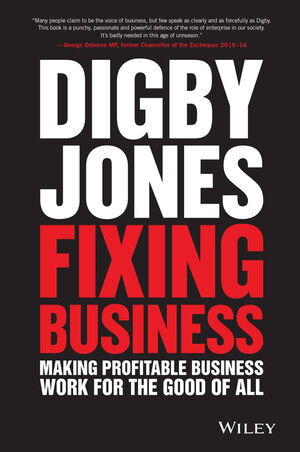 An optimistic call to action for business leaders and decision makers everywhere
In his second book 'the face of British Business' Lord Digby Jones shows us why profit isn't a dirty word—it's what you do with it that counts. Society is at a crossroads, and good business lays the foundation for a successful future; but are we brave enough to build it? Fixing Business focuses on why we must be.
Fixing the world requires a vibrant and successful, profit-yielding, tax-delivering, job-creating business sector. This book describes how that sector is built, and how the good of business means the good of all.
Learn why business must invest more—and better—in physical and human infrastructure
Discover the critical importance of social inclusion in the future of business
Understand why fixing education and the environment are at the top of the priority list
Engage with every aspect of society to create the wealth that holds the social fabric together
From the smallest shop around the corner to the largest multinational corporation, the variable upon which every facet of business success rests is people. Workers, investors, customers, creditors—all ensure that wealth is created, and at the end of the day, they are what business is about. Fixing Business shows us how to harness their power to change the world.
See More
1 Something is Wrong – and it's Everybody's Business 1
2 Where the Battle is Being Lost: Fixing the Reputation of Business 27
3 Achieving Socially Inclusive Wealth Creation 57
4 Harnessing the Power of Education, Training and Skills 85
5 Protecting the Environment: An Essential Priority 113
6 The Boardroom: Executive Pay and the Gulf between Big and Small Business 131
7 Dealing with a Post-BrexitWorld 149
8 What's Next? 167
Acknowledgements 189
About the Author 191
Index 195
See More
Do you think you've discovered an error in this book? Please check the list of errata below to see if we've already addressed the error. If not, please submit the error via our Errata Form. We will attempt to verify your error; if you're right, we will post a correction below.
Chapter
Page
Details
Date
Print Run
Copyright
iv
Errata in Text
Please include the below CIP data to the copyright page for the next reprints.

Library of Congress Cataloging-in-Publication Data

Names: Jones, Digby, 1955- author.
Title: Fixing business : making profitable business work for the good of all
/ Lord Digby Jones.
Description: Chichester, West Sussex, United Kingdom : Wiley, [2017] |
Includes index. |
Identifiers: LCCN 2017007714 (print) | ISBN 9781119287391 (cloth)
Subjects: LCSH: Social responsibility of business--Great Britain. | Success
in business--Great Britain.
Classification: LCC HD60.5.G7 J66 2017 (print) | DDC 658.4/08--dc23
LC record available at https://lccn.loc.gov/2017007714
17-May-17
See More