Green Techniques for Organic Synthesis and Medicinal Chemistry, 2nd Edition
ISBN: 978-1-119-28816-9
664 pages
March 2018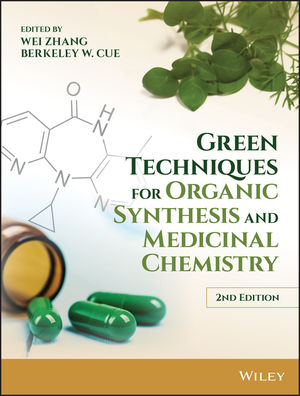 An updated overview of the rapidly developing field of green techniques for organic synthesis and medicinal chemistry
Green chemistry remains a high priority in modern organic synthesis and pharmaceutical R&D, with important environmental and economic implications. This book presents comprehensive coverage of green chemistry techniques for organic and medicinal chemistry applications, summarizing the available new technologies, analyzing each technique's features and green chemistry characteristics, and providing examples to demonstrate applications for green organic synthesis and medicinal chemistry.
The extensively revised edition of Green Techniques for Organic Synthesis and Medicinal Chemistry includes 7 entirely new chapters on topics including green chemistry and innovation, green chemistry metrics, green chemistry and biological drugs, and the business case for green chemistry in the generic pharmaceutical industry. It is divided into 4 parts. The first part introduces readers to the concepts of green chemistry and green engineering, global environmental regulations, green analytical chemistry, green solvents, and green chemistry metrics. The other three sections cover green catalysis, green synthetic techniques, and green techniques and strategies in the pharmaceutical industry.
Includes more than 30% new and updated material—plus seven brand new chapters
Edited by highly regarded experts in the field (Berkeley Cue is one of the fathers of Green Chemistry in Pharma) with backgrounds in academia and industry
Brings together a team of international authors from academia, industry, government agencies, and consultancies (including John Warner, one of the founders of the field of Green Chemistry)
Green Techniques for Organic Synthesis and Medicinal Chemistry, Second Edition is an essential resource on green chemistry technologies for academic researchers, R&D professionals, and students working in organic chemistry and medicinal chemistry.
See More
List of contributors
Foreword
Preface
PART I General Topics in Green Chemistry
1. Green Chemistry Metrics
Frank Roschangar and Juan Colberg
2. Green Solvents
Janet Scott and Helen Sneddon
3. Green Analytical Chemistry
Paul Ferguson and Douglas Raynie
4. Green Engineering
Christopher L. Kitchens and Lindsay Soh
5. Greening of Consumer Cleaning Products
David C. Long
6. Innovation with Non-Covalent Derivatization
John Warner and Emily Stoler
PART II GREEN CATALYSIS
7. Catalytic C-H Bond Cleavage for Heterocyclic Compounds
Zhanxiang Liu and Yuhong Zhang
8. Biocatalysis and Green Chemistry
James Lalonde
9. Practical Asymmetric Organocatalysis
Wen-Zhao Zhang, Samik Nanda and Sanzhong Luo
10. Fluorous Catalysis
László T. Mika and István T. Horváth
11. Solid-supported catalysis
Sukanta Bhattacharyya and Basudeb Basu
12. Asymmetric Organocatalysis in Aqueous Media
Kartick C. Bhowmick and Tanmoy Chanda
PART III GREEN SYNTHETIC TECHNIQUES
13. Solvent-Free Synthesis
Kendra Leahy and James Mack
14. Ultrasonic Reactions
Rodrigo Cella and Helio A. Stefani
15. Photochemical Synthesis
Stefano Protti, Maurizio Fagnoni and Angelo Albini
16. Pot-economy Synthesis
Wenbin Yi
17. Microwave-Assisted Organic Synthesis: Overview of Recent Applications
Nandini Sharma, Upendra K. Sharma and Erik Van der Eycken
18. Solid-Supported Synthesis
Indrajeet J. Barve and Chung-Ming Sun
19. Fluorous Synthesis
Wei Zhang
PART IV GREEN TECHNIQUES AND STRATEGIES IN THE PHARMACEUTICAL INDUSTRY
20. Ionic Liquids in the Pharmaceutical Industry
Julia L. Shamshina, Paula Berton, Hui Wang, Xiaosi Zhou, Gabriela Gurau and Robin D. Rogers
21. Green Technologies and Approaches in the Manufacture of Biologics
Sa V. Ho and Kristi Budzinski
22. Benchmarking Green Chemistry Adoption by "Big Pharma" and Generics Manufacturers
Vesela Veleva and Berkeley W. Cue
23. Green Process Chemistry in the Pharmaceutical Industry: Case Studies Update (2012-2016)
Joseph M. D. Fortunak, Ji Zhang, Frederick E. Nytko III and Tiffany N. Ellison
24. Greener Pharmaceutical Science Through Collaboration: The ACS GCI Pharmaceutical Roundtable
Julie B. Manley and Michael E. Kopach
Index
See More
Wei Zhang, PhD, is Professor of Chemistry and Director of the Center for Green Chemistry at the University of Massachusetts Boston. He is known for research work in organic synthesis, medicinal chemistry, and green chemistry. He received the 2015 International Fluorous Technology Award and is one of the top three most published authors in fluorous chemistry.
Berkeley W. Cue, PhD, is President and Founder of BWC Pharma Consulting LLC, a consultancy specializing in pharmaceutical sciences and green chemistry, and Adjunct Professor of Chemistry at the University of Massachusetts Boston.
See More