Medicare For Dummies, 2nd Edition
ISBN: 978-1-119-29339-2
432 pages
June 2016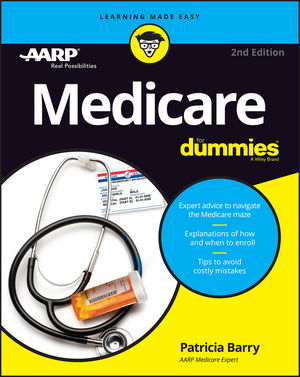 Medicare For Dummies, 2nd Edition (9781119293392) was previously published as Medicare For Dummies, 2nd Edition (9781119079422). While this version features a new Dummies cover and design, the content is the same as the prior release and should not be considered a new or updated product.

Make your way through the Medicare maze with help from For Dummies
America's baby boomers are now turning 65 at the rate of about 10,000 a day. Yet very few have any idea about how Medicare works, when they should sign up, or how the program fits in with other health insurance they may have. Medicare For Dummies, 2nd Edition provides a detailed road map for navigating Medicare's often-baffling complexities and helps consumers avoid pitfalls that could otherwise cost them dearly.
In plain language, the new edition explains:
How to qualify for Medicare, according to your personal circumstances, including new information on the rights of people in same-sex marriages
When to sign up at the time that's right for you, to avoid lifelong late penalties
How to weigh Medicare's many options so you can be confident of making the decision that's best for you
What Medicare covers and what you pay, with up-to-date details of the costs of premiums, deductibles, and copays—and how you may be able to reduce those expenses
By conveying not only the basics but also how to troubleshoot problems and where to find assistance, Medicare For Dummies, 2nd Edition helps you to get the most out of Medicare.
See More
Introduction 1
Part 1: Getting Started with Medicare 7
CHAPTER 1: The Nuts and Bolts of Medicare: What It Is and How It Works 9
CHAPTER 2: Spelling Out What Medicare Covers (A Lot, but Not Everything) 17
CHAPTER 3: Understanding What You Pay Toward Your Costs in Medicare 41
CHAPTER 4: Reducing Your Out-of-Pocket Expenses in Medicare 57
Part 2: The Hows and Whens of Medicare 85
CHAPTER 5: Qualifying for Medicare 87
CHAPTER 6: Enrolling in Medicare at the Right Time for You 103
CHAPTER 7: Discovering How to Sign Up for Medicare 137
CHAPTER 8: Understanding How Medicare Fits In with Other Health Insurance 153
Part 3: Making Smart Choices among Medicare's Many Options 177
CHAPTER 9: Making Sense of Medicare's Many Options 179
CHAPTER 10: Choosing Wisely If You Go with Traditional Medicare 197
CHAPTER 11: Making Smart Choices If You Opt for Medicare Advantage 223
CHAPTER 12: Getting Help in Making Medicare Choices 237
Part 4: Navigating Medicare from the Inside 251
CHAPTER 13: Starting Out as a New Medicare Beneficiary 253
CHAPTER 14: Getting the Inside Scoop on Using Certain Medicare Benefits 283
CHAPTER 15: Changing Your Medicare and Medigap Coverage 311
CHAPTER 16: Knowing Your Rights 331
Part 5: The Part of Tens 347
CHAPTER 17: Ten Proposed Changes to Medicare You Should Know About 349
CHAPTER 18: Ten Ways to Stay Healthier Beyond Age 65 357
Part 6: Appendixes 365
APPENDIX A: Sources of Help and Information 367
APPENDIX B: Glossary 379
Index 385
See More
Patricia Barry is features editor of AARP Media as well its online "Ms. Medicare" columnist. A recognized authority on Medicare and Medicare Part D prescription drug coverage who has written extensively for consumers, Patricia has answered thousands of questions sent by Medicare beneficiaries across the nation.
See More