E-book
Mind+Machine: A Decision Model for Optimizing and Implementing Analytics
ISBN: 978-1-119-30297-1
320 pages
October 2016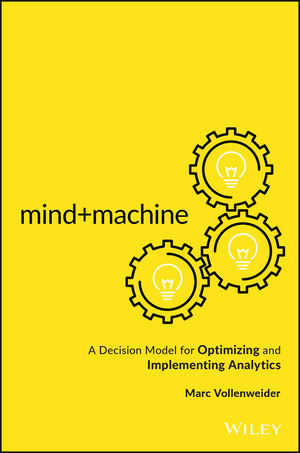 Cut through information overload to make better decisions faster
Success relies on making the correct decisions at the appropriate time, which is only possible if the decision maker has the necessary insights in a suitable format. Mind+Machine is the guide to getting the right insights in the right format at the right time to the right person. Designed to show decision makers how to get the most out of every level of data analytics, this book explores the extraordinary potential to be found in a model where human ingenuity and skill are supported with cutting-edge tools, including automations.
The marriage of the perceptive power of the human brain with the benefits of automation is essential because mind or machine alone cannot handle the complexities of modern analytics. Only when the two come together with structure and purpose to solve a problem are goals achieved.
With various stakeholders in data analytics having their own take on what is important, it can be challenging for a business leader to create such a structure. This book provides a blueprint for decision makers, helping them ask the right questions, understand the answers, and ensure an approach to analytics that properly supports organizational growth.
Discover how to:
Harness the power of insightful minds and the speed of analytics technology
Understand the demands and claims of various analytics stakeholders
Focus on the right data and automate the right processes
· Navigate decisions with confidence in a fast-paced world
The Mind+Machine model streamlines analytics workflows and refines the never-ending flood of incoming data into useful insights. Thus, Mind+Machine equips you to take on the big decisions and win.
See More
Preface xi
Acknowledgments xvii
List of Use Cases xix
Part I: The Top 12 Fallacies about Mind+Machine 1
Fallacy #1: Big Data Solves Everything 3
Fallacy #2: More Data Means More Insight 17
Fallacy #3: First, We Need a Data Lake and Tools 26
Fallacy #4: Analytics Is Just an Analytics Challenge: Part I: The Last Mile 31
Fallacy #5: Analytics Is Just an Analytics Challenge: Part II: The Organization 36
Fallacy #6: Reorganizations Won't Hurt Analytics 40
Fallacy #7: Knowledge Management Is Easy—We Just Need Some Wikis 45
Fallacy #8: Intelligent Machines Can Solve Any Analytic Problem 49
Fallacy #9: Everything Must Be Done In-House! 61
Fallacy #10: We Need More, Larger, and Fancier Reports 66
Fallacy #11: Analytics Investment Means Great ROI 72
Fallacy #12: Analytics Is a Rational Process 78
Part I: Conclusion 82
Part II: 13 Trends Creating Massive Opportunities for Mind+Machine 85
Trend #1: The Asteroid Impact of Cloud and Mobile 87
Trend #2: The Yin and Yang of the Internet of Things 96
Trend #3: One-to-One Marketing 105
Trend #4: Regulatory Flooding of the Ring of Knowledge 111
The European Union and Privacy Rules: The General Data Protection Regulation and the EU–US Privacy Shield 114
The Teeth of the General Data Protection Regulation 115
Privacy Impacting the Ring of Knowledge 120
The Nine Questions You Need to Ask Your CIO Regarding Personal Data 121
Trend #5: The Seismic Shift to Pay-as-You-Go or Output-Based Commercial Models 123
Trend #6: The Hidden Treasures of Multiple-Client Utilities 133
Trend #7: The Race for Data Assets, Alternative Data, and Smart Data 136
Trend #8: Marketplaces and the Sharing Economy Finally Arriving in Data and Analytics 144
Trend #9: Knowledge Management 2.0—Still an Elusive Vision? 147
Trend #10: Workfl ow Platforms and Process Automation for Analytics Use Cases 156
Trend #11: 2015–2025: The Rise of the Mind–Machine Interface 164
Trend #12: Agile, Agile, Agile 172
Trend #13: (Mind+Machine)2 = Global Partnering Equals More Than 1+1 177
Era 1: Pure Geographic Cost Arbitrage (2000–2005) 178
Era 2: Globalizing Outsourcing (2005–2015) 180
Era 3: Process Reengineering (2007–2015) and Specialization 184
Era 4: Hybrid On-Site, Near-Shore, and Far-Shore Outsourcing (2010–) 184
Era 5: Mind+Machine in Outsourcing (2010–) 185
Pricing and Performance Benchmarks 190
The Future of Outsourcing in Knowledge-Intensive Processes 194
Part II: Conclusion 196
Part III: How to Implement the Mind+Machine Approach 197
The Analytics Use Case Methodology: A Change in Mind-Set 198
Perspective #1: Focus on the Business Issue and the Client Benefits 207
Perspective #2: Map Out the Ring of Knowledge 214
Perspective #3: Choose Data Wisely Based on the Issue Tree 218
Perspective #4: The Effi cient Frontier Where Machines Support Minds 226
Perspective #5: The Right Mix of Minds Means a World of Good Options 232
Perspective #6: The Right Workfl ow: Flexible Platforms Embedded in the Process 241
Perspective #7: Serving the End Users Well: Figuring Out the Last Mile 245
Perspective #8: The Right User Interaction: The Art of User Experience 250
Perspective #9: Integrated Knowledge Management Means Speed and Savings 257
Perspective #10: The Commercial Model: Pay-as-You-Go or Per-Unit Pricing 264
Perspective #11: Intellectual Property: Knowledge Objects for Mind+Machine 266
Perspective #12: Create an Audit Trail and Manage Risk 269
Perspective #13: The Right Psychology: Getting the Minds to Work Together 271
Perspective #14: The Governance of Use Case Portfolios: Control and ROI 274
Perspective #15: Trading and Sharing Use Cases, Even across Company Boundaries 279
Part III: Conclusion 281
Notes 283
About the Author 287
Index 289
See More
MARC VOLLENWEIDER is co-founder and CEO of Evalueserve, an industry- influencing global research, analytics, and data management solutions provider known for its mind+machine™ process that combines a global network of expert analysts and best-in-class technology. The McKinsey & Co. alum has extensive consulting experience in such industries as telecommunications, banking, and pharmaceuticals.
See More