Windows 10 For Dummies, 2nd Edition
ISBN: 978-1-119-31104-1
456 pages
August 2016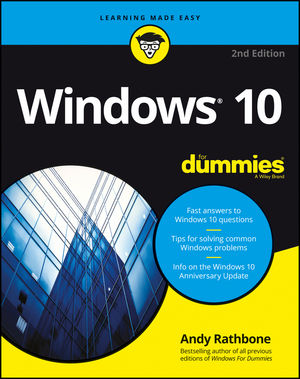 Get productive with Windows 10
Windows 10 For Dummies is the all-time bestselling computer how-to book—and it's been fully updated for the enhancements coming with the Windows 10 Anniversary Update! Free of confusing jargon and packed with lots of helpful step-by-step explanations, it quickly gets you started with exploring the Start menu, storing files on the Cloud, creating desktop shortcuts, connecting to a printer, using Windows social apps, organizing digital photos, interpreting error messages, and so much more.
Windows 10 keeps your PC or tablet running, organizes your files, and provides a platform to run your important applications. In short, it's the brain and heart of your computer. The simple steps and friendly advice inside help you manage files and applications, connect to the Internet, customize your Windows experience, and make repairs when things go haywire.
Fast answers to Windows 10 questions
Steps for customizing your Windows 10 PC
Tips for solving common Windows problems
Covers using Windows 10 on a tablet
If you're new to Windows or upgrading to its new operating system, grab this book to get to know Windows 10 a little better.
See More
Introduction 1
Part 1: Windows 10 Stuff Everybody Thinks You Already Know 7
CHAPTER 1: What Is Windows 10? 9
CHAPTER 2: Starting with the Start Menu 21
CHAPTER 3: The Traditional Desktop 49
CHAPTER 4: Basic Desktop Window Mechanics .73
CHAPTER 5: Storage: Internal, External, and in the Cloud 89
Part 2: Working with Programs, Apps, and Files 123
CHAPTER 6: Playing with Programs, Apps, and Documents 125
CHAPTER 7: Finding the Lost 147
CHAPTER 8: Printing and Scanning Your Work 163
Part 3: Getting Things Done on the Internet 179
CHAPTER 9: Cruising the Web 181
CHAPTER 10: Being Social: Mail, People, and Calendar 199
CHAPTER 11: Safe Computing 219
Part 4: Customizing and Upgrading Windows 10 229
CHAPTER 12: Customizing Windows with the Control Panels 231
CHAPTER 13: Keeping Windows from Breaking 259
CHAPTER 14: Sharing One Computer with Several People 273
CHAPTER 15: Connecting Computers with a Network 291
Part 5: Music, Photos, and Movies 305
CHAPTER 16: Playing and Copying Music 307
CHAPTER 17: Fiddling with Photos (and Videos) 333
Part 6: Help! 349
CHAPTER 18: The Case of the Broken Window 351
CHAPTER 19: Strange Messages: What You Did Does Not Compute 369
CHAPTER 20: Moving from an Old PC to a New Windows 10 PC 379
CHAPTER 21: Help on the Windows Help System 387
Part 7: The Part of Tens 395
CHAPTER 22: Ten Things You'll Hate about Windows 10 (And How to Fix Them) 397
CHAPTER 23: Ten or So Tips for Tablet and Laptop Owners 409
Index 419
See More
Andy Rathbone is the author of all editions of Windows For Dummies as well as Dummies titles on many other tech topics. The 15 editions of Windows For Dummies have combined to sell over 13 million copies in 30 languages. Andy answers reader questions and shares his tech expertise at www.andyrathbone.com.
See More