The Strategy Pathfinder: Core Concepts and Live Cases, 3rd Edition
ISBN: 978-1-119-31184-3
464 pages
December 2017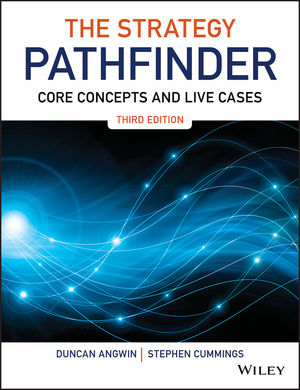 Real-world strategic management practice in an interactive micro-case format
The Strategy Pathfinder presents an innovative, dynamic guide to strategic thinking and practice. Using real-world case examples from companies like Apple, the BBC, Hyundai, LEGO, McDonalds, Nike and SpaceX to illustrate critical concepts, this book enables readers to actively participate in real-world strategy dilemmas and create their own solutions. Strategy Pathfinder's 'live' micro-cases provoke discussion about business models, value creation, new ventures and more, while its complimentary instructional content introduces you to the best 'classic' and new tools of strategic management.
Rather than passively reproducing past and current ideas, Strategy Pathfinder encourages strategic thinkers to learn by doing. The book is designed to help the reader to develop a clear understanding of key concepts while shifting your thought processes towards real strategic action and innovation by enabling you to:
Use strategy theories and frameworks to engage in analytical and creative discussions about key strategic issues facing real companies today
Form strategic views for yourself, and test them against the views of others
Effectively make and communicate recommendations based on solid strategic analysis that stand up to scrutiny from multiple stakeholders
Become an active producer of new strategic ideas rather than a passive receiver of past wisdom
This third edition has been updated with new chapters and cases to reflect the latest, cutting-edge issues in strategic thinking and practice. And the updated companion website offers students, instructors and managers more resources to facilitate understanding, interaction and innovation.
As an active learning experience, The Strategy Pathfinder 3rd Edition engages the reader in the work of strategy practitioners. By arming you with the empirical research you need, and the best strategic management theories and frameworks to better analyse situations you're likely to encounter or already facing in your career, The Strategy Pathfinder teaches you how to improve your strategic thinking and practice, and develop your own strategic pathways for the future.
See More
The Strategy Pathfinder Map ix
Pathways to Strategy xv
About the Creators xxii
Chapter 1 Strategic Purpose 1
PART I THE STRATEGIC ENVIRONMENT
Chapter 2 Macro-Shocks 37
Chapter 3 Industry Forces 73
PART II STRATEGIC ADVANTAGE
Chapter 4 Competitive Advantage 103
Chapter 5 Resource-Based Advantage 133
Chapter 6 Business Model Advantage 165
Chapter 7 Corporate Advantage 191
PART III STRATEGIC GROWTH
Chapter 8 New Ventures 221
Chapter 9 Crossing Borders 247
Chapter 10 Leading Strategic Change 281
Chapter 11 Evaluating Strategic Performance 315
PART IV MAVERICK STRATEGIES
Chapter 12 The Maverick: Six Senses of Strategy 345
APPENDICES
Practice Cases for Job Interviews 369
Using The Strategy Pathfinder 3rd Edition for Assessments and Examinations 385
Notes 391
References 405
Glossary of Core Strategic Management Concepts 411
Acknowledgements 427
Index 429
See More
DUNCAN ANGWIN is the Sir Roland Smith Professor of Strategic Management, Head of the Entrepreneurship, Strategy and Innovation Department, and Head of the Strategic Management Group at Lancaster University, UK.
STEPHEN CUMMINGS is Professor of Strategy and Innovation at Victoria Business School, Wellington, New Zealand; an Academic Fellow at the Institute of Management Consultants; and an NZC Research Fellow at Peking University, Beijing.
See More
Instructors Resources
Request a print evaluation copy
Contact us

See More
See Less