Knowledge in Risk Assessment and Management
ISBN: 978-1-119-31789-0
360 pages
February 2018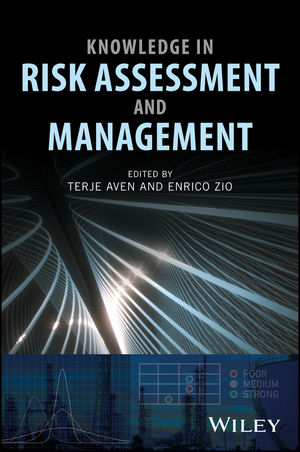 Exciting new developments in risk assessment and management
Risk assessment and management is fundamentally founded on the knowledge available on the system or process under consideration. While this may be self-evident to the laymen, thought leaders within the risk community have come to recognize and emphasize the need to explicitly incorporate knowledge (K) in a systematic, rigorous, and transparent framework for describing and modeling risk.
Featuring contributions by an international team of researchers and respected practitioners in the field, this book explores the latest developments in the ongoing effort to use risk assessment as a means for characterizing knowledge and/or lack of knowledge about a system or process of interest. By offering a fresh perspective on risk assessment and management, the book represents a significant contribution to the development of a sturdier foundation for the practice of risk assessment and for risk-informed decision making.
How should K be described and evaluated in risk assessment? How can it be reflected and taken into account in formulating risk management strategies? With the help of numerous case studies and real-world examples, this book answers these and other critical questions at the heart of modern risk assessment, while identifying many practical challenges associated with this explicit framework.
This book, written by international scholars and leaders in the field, and edited to make coverage both conceptually advanced and highly accessible:
Offers a systematic, rigorous and transparent perspective and framework on risk assessment and management, explicitly strengthening the links between knowledge and risk
Clearly and concisely introduces the key risk concepts at the foundation of risk assessment and management
Features numerous cases and real-world examples, many of which focused on various engineering applications across an array of industries
Knowledge of Risk Assessment and Management is a must-read for risk assessment and management professionals, as well as graduate students, researchers and educators in the field. It is also of interest to policy makers and business people who are eager to gain a better understanding of the foundations and boundaries of risk assessment, and how its outcomes should be used for decision-making.
See More
Terje Aven, PhD is Professor in Risk Analysis and Risk Management at the University of Stavanger, Norway. He is Editor-in-Chief of Journal of Risk and Reliability, the Chairman of the European Safety and Reliability Association and President-Elect of the Society for Risk Analysis.
Enrico Zio, PhD is Director of the Chair on Systems Science and the Energetic Challenge of the Foundation Electricite' de France at CentraleSupélec, Paris, France, and full professor and President of the Alumni Association at Politecnico di Milano.
See More