E-book
Materials and Infrastructures 1
ISBN: 978-1-119-31857-6
448 pages
June 2016, Wiley-ISTE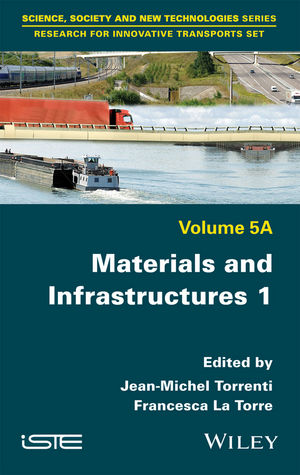 This volume presents the first half of a diverse collection of chapters in the field of materials and infrastructures in transport systems, which illustrate the technological and methodological innovations required to rise to the challenge of building more sustainable transport infrastructures for the future. The authors explore the potential of these sustainable solutions to improve the performance and efficiency of materials and infrastructures, with a reduced environmental impact and lower cost. Theoretical and practical case studies address a variety of topics including circular economy and sustainability, the impacts of climate change, durability, lifecycle, auscultation and the monitoring of infrastructures.
This book provides transport researchers and professionals with a better understanding of the current and future trends in these innovative fields, enabling them to put into practice new technologies and methods of design and management, so that new solutions can become current practices to truly improve modern transport systems.
See More
Part 1. Materials for Infrastructures
1. Use of an Ultra-wide Band Radar to Detect Slope Movements Along Transport Infrastructures
Jean-Pierre Magnan, Jean-Paul Duranthon, Patrick Joffrin, François Depardon, Dominique Allagnat, François Lemaître, 
Philippe Evenat and Philippe Le Ster
2. Intelligent Compaction Technology for Geomaterials: A Demonstration Project
António Gomes Correia and Manuel Parente
3. Geotechnical Challenges Related to Transport Infrastructures on Sensitive Soft Clay Deposits
Vikas Thakur and Bjorn Kristoffer Dolva
4. Performance Control of Bituminous Mixtures with a High RAP Content
Frédéric Delfosse, Ivan Drouadaine, Stéphane Faucon Dumont and Sabine Largeaud
5. Integration of Materials Science- based Performance Models into PMS
Altred Weninger-Vycudil, Michael Wistuba, Goran Mladenovic, Johan Litzka, Axel Walther and Alexander Alisov
6. Decision Aid Model for Asphalt Mixture Choice
Nicolas Bueche and André-Gilles Dumont
7. Experimental Study of Binder–Filler Interaction Using the Modified Multiple Stress–Strain Creep Recovery Test
Mahmoud Elnasri, Nick Thom and Gordon Airey
8. Reliability of New Shear Design Equations for FRP-strengthened Concrete Bridge Girders
Ayman M. Okeil, Abdeldjelil Belarbi and Daniel A. Kuchma
9. Experimental Investigation and 
Modeling of the Bond between Aramid
 Fiber-reinforced Polymer Bars and Concrete
Arnaud Rolland, Sylvain Chataigner, Karim Benzarti, Marc Quiertant, Pierre Argoul and Jean-Marc Paul
10. Innovative Use of FRP for Sustainable Precast Concrete Structures
Sami Rizkalla
Part 2. Auscultation and Monitoring
11. 3D Extraction of the Relief of Road Surface through Image Analysis
Majdi Khoudeir and Benjamin Bringier
12. Measurement Error Models (MEMs) Regression Method to Harmonize Friction Values from Different Skid Testing Devices
Azzurra Evangelisti, Samer W. Katicha, Edgar De León Izeppi, Gerardo W. Flintsch, Mauro D'apuzzo and Vittorio Nicolosi
13. Accurate and Up-to-Date Evaluation of Extreme Load Effects for Bridge Assessment
Xiaoyi Zhou, Franziska Schmidt, François Toutlemonde and Bernard Jacob
14. Transportation Infrastructure Monitoring Using Satellite Remote Sensing
Edward Hoppe, Brian Bruckno, Elizabeth Campbell, Scott Acton, Andrea Vaccari, Michael Stuecheli, Adrian Bohane, Giacomo Falorni and Jessica Morgan
15. Monitoring of Scour Critical Bridges using Changes in the Natural Frequency of Vibration of Foundation Piles: A Preliminary Investigation
Luke J. Prendergast and Kenneth Gavin
16. Evaluation of Multilayer Pavement Viscoelastic Properties from Falling Weight Deflectometer using Neural Networks
José Manuel Gonzalez, Josep Maria Carbonell and Wouter Van Bijsterveld
17. Accuracy of Ground-penetrating 
Radar in Pavement Thickness Evaluation: Impact of Interpretation Errors
Anne Lalagüe, Matthew A. Lebens and Inge Hoff
18. Full-scale Test on Prefabricated Slabs for Electrical Supply by Induction of Urban Transport Systems
Mai-Lan Nguyen, Pierre Hornych, Jean-Pierre Kerzrého and Sergio Perez
Part 3. Durability and Maintenance Repair
19. The Poroelastic Road
Surface (PERS): Is the 10 dB Reducing Pavement within Reach
Luc Goubert, Hans Bendtsen, Anneleen Bergiers, Björn Kalman and Darko Kokot
20. Modeling Subjective Condition Data of Asphalt Surfaced Urban Pavements
Rayya Hassan, Oliver Lin and Amutha Thananjeyan
21. Modeling of Aging of Low-noise Road Surfaces
Gijsjan Van Blokland, Ronald Van Loon and Christiaan Tollenaar
22. Evaluation of Load-carrying Capacity of Asphalt Superstructures from Deflection Measurements
J. Stefan Bald and Anh-Duc Nguyen
23. Durable Pothole Repairs
Cliff Nicholls, Kathrin Kubanek, Carsten Karcher, Andreas Hartmann, Adewole Adesiyun, Aleksander Ipavec, Jozef Koma􏰀ka and Erik Nielsen
24. Application of Multicriteria Assessment for the Selection of At-grade Intersections
Jan Hradil, Michal Uhlík and Petr Slabý
25. Low-energy and Environmentally-friendly Solutions for Road Maintenance
Bernard Eckmann, Frédéric Delfosse, Philippe Poilane and Bruno Taillis
26. 3D Longitudinal and Transverse Cracking and the Influence of Non-Uniform Contact Pressure on the Stress Intensity Factors of these Cracks
Dermot B. Casey, James R. Grenfell and Gordon Airey
27. Selecting a Road Network Maintenance Strategy to Achieve the Operator's Objectives
Pierre Hankach and Philippe Lepert
See More
Jean-Michel Torrenti is the R&D director of the Materials and Structures Department of IFSTTAR, and a Professor at Ecole Nationale des Ponts et Chaussées. His research concerns the mechanics of concrete and its coupling with durability aspects, and has been applied to modeling the behavior of structures such as bridges, nuclear power plants and nuclear waste storage. He is the co-author of several books concerning concrete and concrete structures.
Francesca La Torre is Professor of roads, railways and airports at the University of Florence in Italy. She has been working in the field of transportation infrastructures for over 20 years, and is a member of the EC Horizon 2020 advisory group for "Smart, Green and Integrated Transport" and the infrastructures representative for academia in ERTRAC.
See More
More in this series