Textbook
Visualizing Human Geography: At Home in a Diverse World, 3rd Edition
ISBN: 978-1-119-32114-9
400 pages
January 2017, ©2018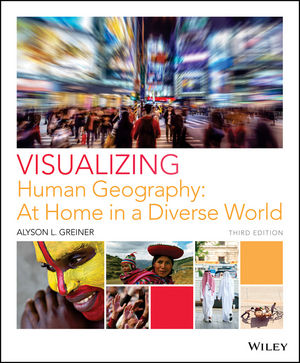 Newly revised, Visualizing Human Geography: At Home in a Diverse World, Third Edition maximizes the use of photographs, maps and illustrations to bring the colorful diversity of Human cultures, political systems, food production, and migration into the undergraduate classroom. This text provides readers with a thrilling approach to the subject, allowing them to see Human Geography as a dynamic and growing science and helping them move beyond the idea that geography is about memorization. Unique presentation of visuals facilitates reflection on the textual content of this text, providing a clear path to the understanding of key concepts. In its Third Edition, Visualizing Human Geography: At Home in a Diverse World includes improved coverage of migration and industry and new animations to support each chapter.
See More
1. What Is Human Geography?
2. Globalization and Cultural Geography.
3. Population and Migration.
4. Geographies of Language.
5. Geographies of Religion.
6. Geographies of Identity: Race, Ethnicity, Sexuality, and Gender.
7. Political Geography.
8. Urban Geographies.
9. Geographies of Development.
10. Changing Geographies of Industry and Services.
11. Agricultural Geographies.
12. Environmental Challenges.
Appendix A: Understanding Map Projections.
Appendix B: Answers to Self-Tests.
Glossary.
See More
Alyson L. Greiner is Professor of Geography at Oklahoma State University. She earned her PhD in Geography from the University of Texas at Austin. She has taught courses on cultural geography, world regional geography, the history of geographic thought, and the regional geography of Europe, Africa, and the Pacific Realm. She regularly teaches undergraduate, graduate, and honors students. She has received a Distinguished Teaching Achievement Award from the National Council for Geographic Education. From 2009–2012 she served as a Regional Councilor for the Association of American Geographers. Her scholarly publications include Anglo-Celtic Australia: Colonial Immigration and Cultural Regionalism
(with Terry G. Jordan-Bychkov) and several peer-reviewed journal articles. She is presently the editor of the Journal of Cultural Geography.
See More
Reorganization of Chapter 9 (Agriculture) and Chapter 11 (Development) to better reflect recent changes and modern geographic theories.
Updated Data, Maps, and Coverage to reflect our changing world and provide students with the most accuarate and up-to-date information possible.
The 3rd Edition is now available in WileyPLUS Learning Space, which will allow students to better interact with content, maps, graphics, and videos.
See More
WileyPLUS Learning Space is an easy way for students to learn, collaborate, and grow. Students can create a personalized study plan, assess progress along the way, and make deeper connections with the course material and each other. This collaborative learning environment provides immediate insight into strengths and problem areas through a combination of dynamic course materials and visual reports so that both you and your students can act on what's most important.
Visual pedagogy, integrated with a comprehensive text. Visuals and text are conceived and planned together in ways that clarify and reinforce major concepts while allowing students to understand the details.
Ask Yourself Questions. Short answer, closed-ended questions that are linked to a visual help students tie what they are learning to what they are seeing.
The use of authentic situations and issues from the National Geographic Society collections. These authentic materials immerse the student in real-life issues in human geography, thereby enhancing motivation, learning, and retention
See More
Instructors Resources
ENHANCE YOUR COURSE
Digital evaluation copy available for this title
Request Copy

Contact your Wiley Representative
Find Your Rep

See More
See Less