Currents in Geospace and Beyond
ISBN: 978-1-119-32449-2
596 pages
April 2018, American Geophysical Union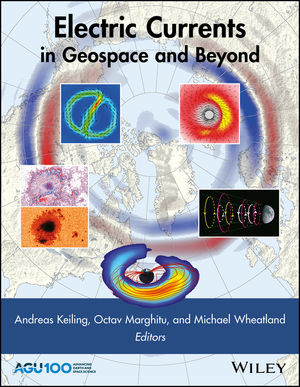 Currents in Geospace and Beyond volume is an outcome of an international collaboration among different space science communities, that takes an integrated approach by treating currents as a fundamental phenomenon and incorporating their phenomenology and physics for many regions in one volume. The volume reviews recent advances of research on electric currents in various space plasmas of our solar system and provides an authoritative up ]to ]date insight on the current status of research on electric currents in outer space.
In the last decade, electric currents in the ionosphere and magnetosphere have been under increased scrutiny with more sophisticated spacecraft at both high and low orbits. Furthermore, ground magnetometer arrays and radar networks have enormously expanded to monitor the ionospheric electrodynamics on a global scale with high timing accuracy. In addition, there have been tremendous advances in the capabilities of simulations to allow modeling many of the relevant processes. In addition to advances in our own geospace, much knowledge has been accumulated about planetary current systems (other than Earth) and even the Sun in the last decade. These new developments make it timely to compile a new volume, reviewing and evaluating recent and accepted results on electric currents in space plasmas in order to gain a deeper understanding of this multidisciplinary research field.
Currents in Geospace and Beyond thus provides a broad overview of recent advances on different types of currents in different types of environments, and will therefore serve as an excellent reference volume for a broad community of space scientists, astronomers and astrophysicists who are studying space plasmas beyond our solar system.
See More
More in this series