E-book
On-Camera Coach: Tools and Techniques for Business Professionals in a Video-Driven World
ISBN: 978-1-119-32471-3
272 pages
February 2017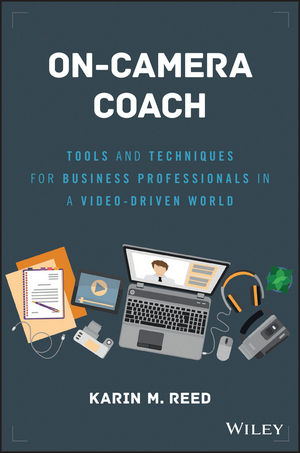 The invaluable handbook for acing your on-camera appearance
On-Camera Coach is your personal coach for becoming great on camera. From Skype interviews and virtual conferences to shareholder presentations and television appearances, this book shows you how to master the art of on-camera presentation to deliver your message clearly, effectively, and with confidence. Fear of public speaking is common, but even the most seasoned speakers freeze in front of a single lens—being on camera demands an entirely new set of skills above and beyond the usual presentation to an audience you can actually see. It requires special attention to the way you move, the way you speak, and even the way you dress. This book provides the guidance and tools you need to ace it every time.
Video is powerful, and it is everywhere; corporate YouTube channels, webinars, virtual meetings, TedTalks, and more are increasingly turning the lens on those who typically remain behind the scenes. This relatively recent trend will continue to expand as media plays a larger role in business, and the ability to appear confident, authoritative, and polished is becoming a necessary job skill. This book shows you everything you need to know about being on camera, from preparation through presentation and beyond.
Learn how to prepare for an on-camera appearance
Tailor your presentation to on-camera demands
Discover how the camera interprets wardrobe and body language
Appear dynamic, confident, and engaged when the lens points your way
The lens captures everything—the awkward pauses, the nervous fidgets, poor posture, and every false start and mistake is captured for posterity. Is that the image you want to present? You want to get your message across and be heard; to do that, you must portray authority, energy, and confidence—even when you don't feel it. On-Camera Coach provides the expert instruction and insider secrets that help you make your message sing.
See More
Wiley & SAS Business Series ii
Preface xvii
Acknowledgments xix
Section One The Inescapable Reality—We All Have to Communicate through a Camera 1
Chapter 1 Why You Need to Read This Book 3
The Power and Pervasiveness of Video 5
The Decline of the Professional Spokesperson 6
The Global Communication Tool of Choice 7
Hiring by Skype 8
The Perils of Video 9
How Reading This Book Can Improve Your On-Camera Performance 9
What You Will Need 10
Topics to Be Discussed 10
Chapter Takeaways 11
Notes 11
Chapter 2 Why the Camera Changes Everything 13
My "Aha!" Moment 16
A Camera Changes Everything 17
No Immediate Feedback 17
Your Own Worst Critic 18
Recorded for Posterity 19
Unfamiliar Territory 20
The Archenemy of Performance Success: You 21
The Key to On-Camera Success: Authenticity 22
Chapter Takeaways 24
Section Two The MVPs of Performance Success 25
Chapter 3 M—Mental Mind-set: The Prep before the Performance 27
Reaching the Real Audience 28
Visualize the Viewer 30
Video Chat: Now You See Me, Now You Don't 30
Embrace Your Nervousness 32
Passion Play 33
Beware of Brain Cramps 33
The Bottom Line: It's Not about You 35
Chapter Takeaways 38
Note 39
Chapter 4 V—Vocal Variety: Pacing and Pausing with Purpose 41
The Musicality of Your Delivery—What's Your Range? 42
What Is Vocal Variety? 42
Natural versus On-Camera Inflection 43
Setting Your Pace with the Viewer in Mind 44
Finishing Your Thoughts 45
Using the Power of the Pause 45
Pause for You 45
Filler Words as Placeholders 47
Pause for Them 47
The Lowdown on Uptalk 49
The Most Common Uptalk Trouble Spot 50
Chapter Takeaways 54
Note 54
Chapter 5 P—Physical Factors: On-Camera Movement with Meaning 55
On-Camera Gesturing: An Out-of-Body Experience 56
Getting Familiar with Frame Size 58
Gestures for a Tight Shot 58
Gestures for a Medium Shot 58
Gestures for a Wide Shot 59
Gestures as a Retention Tool 60
The Role of Off-Camera Movement 61
Posture Pointers 61
Standing While on Camera 62
The Metronome Effect 62
Going for a Walk 62
Sitting While on Camera 63
Crossed Legs 64
Leaning In or Out 64
Step In to Start 65
Making Eye Contact When You Can't See Your Audience 66
Look Away 66
Performance Pitfalls: Eye Contact Errors 67
Vary Your Angle 68
Look Up 68
Chapter Takeaways 72
Notes 72
Section Three Ready to Wear . . . or Not 73
Chapter 6 Looking the Part—Wardrobe 101 75
Match Audience Expectations 77
Boring Is Best 78
Spin the Color Wheel 78
Special Consideration: Green-Screen Shoots 79
Solids: A Solid Choice 80
Putting on the Pounds 82
Dress Right for the Mic 82
Pack Placement 83
Microphone Placement 83
Jewelry Jukebox and Light Show 84
Your Fifth Appendage: A Smartphone 85
Additional Considerations for Men 85
Sock Style 86
The Uniform Look 87
To Button or Not to Button? 87
Chapter Takeaways 88
Notes 88
Chapter 7 Hair and Makeup 89
Hair Hassles 91
On-Camera Makeup Musts for Women 92
What You Need in Your Kit 93
Moisturizer 93
Foundation 93
Powder 94
Eye Makeup 94
Cheeks 94
Lip Color 95
Makeup for Men 95
Glasses or No Glasses 96
Chapter Takeaways 97
Section Four Best Practices for Creating Your On-Camera Message 99
Chapter 8 Organizing for the Ear 101
The Rule of Three 102
Applying the Rule of Three On Camera 103
Rule of Three via Skype 104
Your Core Message 105
The Rule of Three Expanded 106
Repetition, Repetition, Repetition 107
Chapter Takeaways 108
Note 108
Chapter 9 Writing for the Spoken Word 109
The Challenges of Reading Written Prose Aloud 110
Why the Whisper Test Won't Work 111
Writing Tip 1: Keep It Short 111
Writing Tip 2: Don't Fear the Grammar Police 112
Writing Tip 3: See Spot . . . Be Bored 113
Exercises for Writing the Way You Speak 113
Chapter Takeaways 116
Note 117
Section Five How to Read without Sounding Like You Are 119
Chapter 10 Marking Your Script 121
Step One: Smooth Out the Script 123
Step Two: Add Phonetics Where Appropriate 123
Step Three: Mark with Meaning 125
New vs. Old 126
The Name Stress Principle 128
How to Mark Your Copy for Emphasis 129
Emphasis Obstacles 130
Beware of Connotations 130
Too Much Stress 131
Step Four: Place Your Pauses 131
The Short Pause 132
The Power Pause 132
Marking Your Pauses 134
Pause Practice Example 134
Pause Pitfalls 135
It All Comes Down to This 136
Chapter Takeaways 137
Script Marking Exercises Answer Key 138
Notes 140
Chapter 11 Tackling the Teleprompter 141
Lessons Learned from Michael Bay's Implosion 143
Lesson 1: Know Your Content 143
Lesson 2: Know Your Script 143
Lesson 3: Stay in the Moment 144
Teleprompter-Friendly Copy: Best Practices 144
Read Your Script in the Prompter before Your Performance 145
Effective Visual Cues in Teleprompter Copy 146
Options for Marking Emphasis 146
Options for Marking Pauses 147
Visual Cues Are Guides, Not Absolutes 149
The Role of the Teleprompter Operator 149
A Second Set of Eyes 150
Adjusting Font Size 150
Following the Leader 150
Editing on the Fly 151
No Mind Reading 151
Adjusting the Read Line 152
Prompter Practice Made Possible 152
The Proliferation of Prompter Software 153
Control the Scroll 153
Watch Yourself 154
Lost in the Teleprompter 154
Chapter Takeaways 155
Note 155
Section Six The Most Common On-Camera Performance Scenarios 157
Chapter 12 Presenting Directly to the Camera in a Studio Setting 159
Considerations for Corporate Video 161
A Lesson from TV News 161
Does Length Matter? 162
How Much Face Time Is Too Much? 163
Preparing for the Shoot 164
Creating Your Content 164
Identifying Your Viewer 164
Writing the Way You Speak 165
Marking for Meaning 165
Practice, Practice, Practice 166
Looking the Part 167
Microphone Matters 167
Hair Issues 168
Getting Rid of Your Fifth Appendage 168
Orienting Yourself to the Studio 169
Meet the Crew 169
The Floor Director 169
The Audio Technician 170
The Camera Operator 171
The Teleprompter Operator 171
The Crew's Mission 171
Give Yourself the Once-Over 172
Getting Familiar with Your Performance Space 172
The Crew's Final Prep 173
Pulling Off a Great Performance 173
Stay Focused Despite Distractions 174
The Most Dangerous Part of Your Performance 176
The Runaway Train Ramble 176
Mentally Moving On 177
Stopping the Performance before the Real End 177
Reviewing Your Performance 178
Chapter Takeaways 178
Chapter 13 Videoconferencing and Interviews via Video Chat 181
Changes in Where and How You Work 182
Hiring by Skype 184
Travel Cost Savings 185
Fewer Scheduling Headaches 185
Why You Want to Turn on Your Webcam 186
Best Practices for VC 187
Technical Considerations 187
Setting Considerations 189
Performance Considerations 191
Recording a Videoconference 193
Chapter Takeaways 197
Notes 198
Chapter 14 Webcasts—Best Practices for Panelists and Moderators 199
Why a Webcast Is Easier to Master 200
Best Practices for Panelists 202
Prepare Your Points 202
Plan Your Wardrobe 203
Take Advantage of Rehearsal Time 203
Focus on the Action 204
Where You Should Look 205
When Someone Asks You a Question 205
When Presenting Uninterrupted to Viewers 205
When Others Are Speaking 206
Opting Out of Using a Teleprompter 207
Handling the Unexpected Question 208
Best Practices for Moderators 208
Directing the Conversation 209
Preparing to Be a Moderator 209
Encouraging the Conversation 210
Being the Ultimate Editor 211
Staying Hydrated 212
Chapter Takeaways 213
Notes 213
Chapter 15 Broadcast Interview Basics 215
Before the TV Interview 216
Find Out the Focus 217
Simplify Your Talking Points 218
Seek to Speak in Sound Bites 219
Practice with a Peer 219
During the TV Interview 220
Establishing a Friendly Rapport 220
Checking Yourself in the Mirror 220
Realizing When the Camera Is On 221
Orally Editing Your Sound Bite 221
Controlling the Controllables 222
Pause to Ponder 222
Press Your Own Reset Button 222
Keep Your Cool 223
Answer Every Question as Best You Can 223
After the TV Interview 224
Interviews by Satellite 225
Introducing the IFB 226
Managing the Monitor 226
Waiting for the All-Clear 227
Chapter Takeaways 229
Notes 230
Conclusion: Embrace Communicating through the Camera 231
About the Author 233
Index 235
See More
KARIN M. REED is the CEO of Speaker Dynamics, a communications firm based in Raleigh, North Carolina. She has made a career out of communicating on camera as an award-winning broadcast journalist, spokesperson, and executive communications specialist.
Karin has been a trusted trainer and consultant for organizations ranging from early-stage start-ups to Fortune 500 companies. She empowers her clients, whether they come from the C-suite or the sales force, to speak with ease to any audience on any platform. Her methodology is based on more than 20 years of personal presentation prowess and the understanding that the best speakers are steeped in authenticity.
See More
More in this series