Material Imagination: Art in Europe, 1946-72
ISBN: 978-1-119-32857-5
224 pages
July 2017, Wiley-Blackwell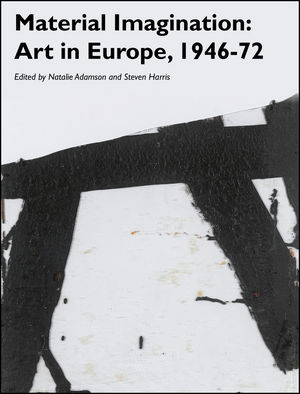 Material Imagination examines the interrelated concepts of matter, materialism, and materiality in postwar European art, from 1946-1972.


Provides a unique perspective on European art by prioritizing material dimensions over concept or context, while also paying attention to theoretical and historical concerns
Explores artists' methods and materials in order to better understand the social and cultural environments in which their works of art were made
Demonstrates how materials can be harnessed to affect the critical interpretation of artwork
Brings together exceptional illustrations and new research in eight essays by art historians and scholars
See More
Notes on Contributors 6
Chapter 1 Material Imagination: Art in Europe, 1946–72 8
Natalie Adamson and Steven Harris
Chapter 2 Black Flowers Blossom: Bachelard, Soulages and the Material Imaginary of Abstract Painting 22
Natalie Adamson
Chapter 3 Materialism and Intersubjectivity in Cobra 44
Karen Kurczynski
Chapter 4 Makeshift Wholes: Interiority and Texture in Postwar British Design 66
Alex Kitnick
Chapter 5 Materializing Modernism in Postwar Italy: Fausto Melotti, Gio Ponti, and the 1961 Esposizione Internazionale del Lavoro 88
Marin R. Sullivan
Chapter 6 L'Optique Moderne: Daniel Spoerri's 'Optical Readymades' 112
Jill Carrick
Chapter 7 Terrain vague: Ben Vautier and the Ecole de Nice 140
Anna Dezeuze
Chapter 8 'Not Yet' Materialized: Carlfriedrich Claus's 'Talking Papers' 164
Sarah E. James
Chapter 9 The Longevity of Roman Opa³ka 188
Alistair Rider
Index 209
See More
Natalie Adamson is Senior Lecturer in Art History at the University of St Andrews, and was Deputy Editor of Art History from 2012 to 2017. She is the author of Academics, Pompiers, Official Artists and the Arrière-Garde: Defining Modern and Traditional in France, 1900-1960 (2009) and Painting, Politics, and the Struggle for the École de Paris, 1944-1964 (2009). She currently holds a two-year Major Research Fellowship from the Leverhulme Trust for a book project provisionally entitled Pierre Soulages: Radical Abstraction.
Steven Harris is Associate Professor in History of Art, Design and Visual Culture at the University of Alberta. He is the author of articles on surrealism, postwar abstraction, and Fluxus, and the book Surrealist Art and Thought in the 1930's: Art, Politics and the Psyche (2004). His current research project, The Poetics of Disenchantment, investigates both the surrealist movement in the postwar period, and how surrealist ideas and values were taken up or challenged by postwar European collectives like Cobra, the College of 'Pataphysics, and the Situationist International.
See More
More in this series