E-book
UnMarketing: Everything Has Changed and Nothing is Different, 2nd Edition
ISBN: 978-1-119-33603-7
304 pages
September 2016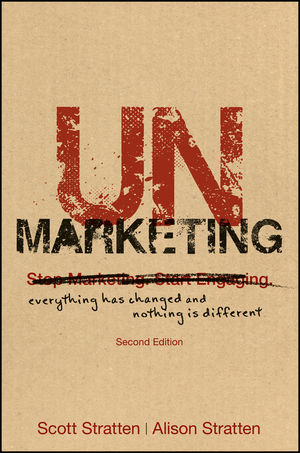 UnMarket to build trust and make lifelong customers!
In 2009, Scott Stratten and Alison Stratten wrote the bestselling UnMarketing: Stop
Marketing, Start Engaging
and began a journey that would take them around the world sharing their message of engagement with corporations, entrepreneurs, and students.They are now back with this second edition, because Everything has Changed and Nothing is Different, with all the brilliance of the first edition, plus new content and commentary to reflect the rapidly changing landscape we all live, buy, and work in today.
For generations, marketing has been hypocritical. We've been taught to market to others in ways we hate being marketed to (cold-calling, flyers, ads, etc.). So why do we still keep trying the same stale marketing moves?
UnMarketing shows you how to unlearn the old ways and consistently attract and engage the right customers. You'll stop just pushing out your message and praying that it sticks somewhere. Potential and current customers want to be listened to, validated, and have a platform to be heard-especially online. With UnMarketing, you'll create a relationship with your customers, and make yourself the logical choice for their needs. We know you've been told to act like other people, talk like other people, and market like all the people, but it is time for you to unlearn everything and start to UnMarket yourself.
UnMarketing includes the latest information on:
Idea Creation, Viral Marketing and Video, Marketing to Millennials, Authenticity, Transparency and Immediacy, Ethics and Affiliates, Social Media Platforming, UnPodcasting, Word of Mouth, Customer Service, Consumer Advocacy and Leadership.
With examples of what to do, and what not to do, from small business right up to worldwide corporations in areas such as real estate, travel, service, retail, and B2B.
See More
Introduction xi
1 Everything Has Changed and Nothing Is Different 1
2 The Hierarchy of Buying 3
3 A Word on Experts 7
4 Trust Gap 11
5 ROD: Return on Donuts 15
6 Restaurant That Didn't Get It 19
7 Cold-Calling 23
8 Aiming Your Company at the Bottom of the Barrel 27
9 Pull and Stay 33
10 Reasons Why Companies Don't Use Social Media 37
11 Social Media (Social Currency as Well) 39
12 Twitter versus Facebook versus LinkedIn 43
13 Social Media Platforming 47
14 UnPodcasting 53
15 HARO 57
16 The Game Has Changed: Immediacy and Relevancy 59
17 Publicized Customer Service 63
18 Don't Bank on the Bold 69
19 Seven Deadly Social Media Sins 73
20 The Millennials Are Coming 81
21 How Twitter Changed Scott's Business 85
22 Tassimo 91
23 Domino's—Word of Mouth: Mouths Are Moving . . . 95
24 Naked Pizza 99
25 Don't Feed the Trolls 101
26 Social Media for Social Good 105
27 Your Website—Old School versus New School 113
28 Your Captcha Is Craptcha 123
29 Experience Gap 127
30 Raising and Keeping the Bar High—Cirque 131
31 Stirring Coffee 135
32 Using "Stop Start Continue" 143
33 Zappos 147
34 Rockport 153
35 FreshBooks 155
36 Why You Can't Learn from Millionaires 159
37 Authenticity and Transparency 163
38 For Whom the Bell Mobility Tolls 167
39 Scott's Transparency on Twitter 175
40 Your Transparency 177
41 Affiliates 179
42 Testimonials 183
43 Best Sellers 187
44 Why Being a Work-at-Home Mom Is Bad for Business 189
45 Hello? Walmart? 193
46 Idea Creation 197
47 Idea Delivery 201
48 Doing In-Person Seminars 207
49 Tele-Seminars (now Webinars) 213
50 Viral Marketing 217
51 Video 227
52 Be Prepared for Success 235
53 Undercover UnMarketing 241
54 Putting It into Practice 247
55 Lush 251
56 Trade Shows 253
57 Social Media at Trade Shows 261
58 UnNetworking: Why Networking Events Are Evil 265
59 The Awesomeness of Being a 2.0 Author 269
60 The UnTour 273
61 The UnEnd 277
Index 279
See More
SCOTT STRATTEN and ALISON STRATTEN are cohosts of not only The UnPodcast, but five children, two dogs, and two cats. The original UnMarketing was the first of four bestselling books they've written together, which contain their thoughts on the changing world of business through their experiences of entrepreneurship, two degrees (Alison), not lasting long as an employee (both), and screaming at audiences around the world (Scott, Alison is more restrained). They were put on this earth to remind the world that not all Canadians are passively polite. Businesses like PepsiCo, Saks Fifth Avenue, IBM, Cirque du Soleil, Microsoft, and others have been brave enough to want their advice, to the point that Scott has been named one of the Top 5 Social Media Influencers in the world by Forbes.com. They now spend their time keynoting around the world and realize they rank 10th and 11th in order of importance in their home.
See More