E-book
Words of Wisdom from Women to Watch: Career Reflections from Leaders in the Commercial Insurance Industry
ISBN: 978-1-119-34151-2
192 pages
December 2016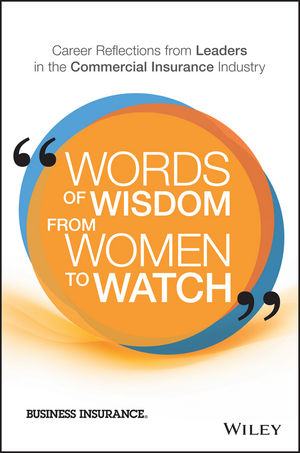 Learn from some of the most respected women in insurance and risk management
Women to Watch presents the advice, guidance, and lessons learned from the most successful women in risk management and insurance. For the past 10 years, Business Insurance has highlighted key women in the field—women noted for their skills, accomplishments, courage, wisdom, and everyday steel. In this book, these women present their stories in their own words; through essays and anecdotes about key issues, key moments, and crucial lessons, former Women to Watch honorees provide a glimpse into what it takes to make it. They've battled obstacles, hurdles, and institutionalized career impediments—and they've come out on top; their stories provide inspiration, motivation, and concrete, real-world guidance for all women who seek advancement in the insurance and risk management fields.
Business Insurance receives several hundred Women to Watch nominations every year; of those, they honor only 25. These women are the cream of the crop, and their unique insights into all-too-common experiences can help us all rise to the top.
Shatter the glass ceiling and close the wage gap
Shift your perspective on what "work/life balance" means
Celebrate and navigate the workplace's changing demographics
Learn how successful women get it done
The insurance and risk management fields look very different today than they did even 10 years ago; there is much to celebrate, but even more still left to be done. There is no substitute for the wisdom of experience, and the best lessons come from those who have navigated the path successfully. Women to Watch provides unique insight into the women who have conquered the field, and critical perspective for those who will follow.
See More
Foreword ix
Joanne Wojcik
Acknowledgments xiii
Chapter 1 I'm Strong 1
Ingrid Lindberg
Chapter 2 My College-Self Says, "What Glass Ceiling?". . . My Now-Self Responds 15
Lindsey Frase
Chapter 3 Building Your Personal Brand 25
Kimberly George
Chapter 4 Hear Me Roar 35
Caryn Siebert
Chapter 5 Lessons Learned in a 30-Year Career 49
Carol Arendall
Chapter 6 The Myth of Work-Life Balance 57
Carolina Klint
Chapter 7 Dirty Glass Ceilings 65
Yvette Connor
Chapter 8 Integration: The Key to Happiness 79
Janet Pane
Chapter 9 Women on Boards 89
Terrie Pohjola
Chapter 10 A Growth Story 103
Carol L. Murphy
Chapter 11 What If . . . 117
Linda Lane
Chapter 12 Game Changers 129
Artemis Emslie
Appendix Women to Watch (by year) 139

About the Authors 151
Index 163
See More
Business Insurance is a publication of Crain Communications Inc. that provides news and information for risk managers, benefits managers, insurers, brokers and other providers of insurance products and services. The publication delivers in-depth analysis on new and emerging risks, case studies of successful programs, market intelligence on trends, and guidance on how to capitalize on opportunities and overcome challenges. Business Insurance covers core risk management and insurance areas such as property/casualty insurance, health insurance, captive insurance and other alternative risk transfer vehicles, and enterprise risk management. Business Insurance is delivered in a multi-media mix, including a bi-weekly print magazine, tablet apps, digital replica, and daily online and mobile news.
See More