High Returns from Low Risk: A Remarkable Stock Market Paradox
ISBN: 978-1-119-35105-4
164 pages
January 2017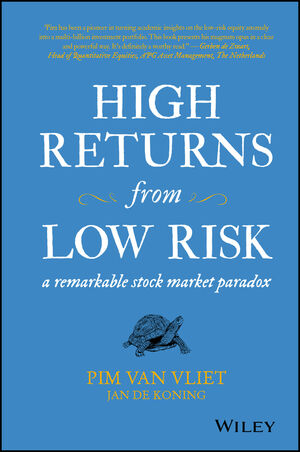 Believing "high-risk equals high-reward" is holding your portfolio hostage
High Returns from Low Risk proves that low-volatility, low-risk portfolios beat high-volatility portfolios hands down, and shows you how to take advantage of this paradox to dramatically improve your returns. Investors traditionally view low-risk stocks as safe but unprofitable, but this old canard is based on a flawed premise; it fails to see beyond the monthly horizon, and ignores compounding returns. This book updates the thinking and brings reality to modelling to show how low-risk stocks actually outperform high-risk stocks by an order of magnitude. Easy to read and easy to implement, the plan presented here will help you construct a portfolio that delivers higher returns per unit of risk, and explains how to achieve excellent investment results over the long term.
Do you still believe that investors are rewarded for bearing risk, and that the higher the risk, the greater the reward? That old axiom is holding you back, and it is time to start seeing the whole picture. This book shows you, through deep historical simulation, how to reap the rewards of smarter investing.
Learn how and why low-risk, low-volatility stocks beat the market
Discover the formula that outperforms Greenblatt's
Construct your own low-risk portfolio
Select the right ETF or low-risk fund to manage your money
Great returns and lower risk sound like a winning combination — what happens once everyone is doing it? The beauty of the low-risk strategy is that it continues to work even after the paradox is widely known; long-term investment success is possible for anyone who can shake off the entrenched wisdom and go low-risk. High Returns from Low Risk provides the proof, model and strategy to reign in your exposure while raking in the profit.
See More
Introduction 1
Chapter One The Opposite of What You're Aiming For 5
Chapter Two Mr Thrifty Enters the Stock Market 11
Chapter Three The Tortoise Beats the Hare 19
Chapter Four A Little Bit Is Enough 29
Chapter Five Ignoring the Eighth Wonder of the World 35
Chapter Six It's All a Matter of Perspective 43
Chapter Seven The Dark Appeal of Risk 53
Chapter Eight Buy Them Cheap and Remember the Trend Is Your Friend 59
Chapter Nine All Good Things Come in Threes 67
Chapter Ten Spotting Tortoises and Hares 77
Chapter Eleven Slice and Dice, But Do It Wisely 83
Chapter Twelve Sit Back and Relax 91
Chapter Thirteen Trade Little, Be Patient 101
Chapter Fourteen The Biggest Victory of All 109
Chapter Fifteen The Golden Rule 117
Chapter Sixteen The Paradox Is Everywhere 123
Chapter Seventeen Will the Paradox Persist? 129
Chapter Eighteen Final Reflections 133
Epilogue Jan's Perspective 137
Appendix ParadoxInvesting.com 143
Acknowledgments 145
References 147
Index 151
See More
PIM VAN VLIET, PHD, is the Founder and fund manager of the multi-billion dollar Conservative Equity funds at Robeco. These low-risk funds are based on academic research and provide investors with a stable source of income from the stock market. Pim is a guest lecturer at several universities, the author of numerous financial publications and travels the world advocating low-volatility investing.
JAN DE KONING, CFA, CAIA, CMT is an investment specialist for Robeco's quantitative equities strategies and conducts client and consultant meetings, speaks at conferences, and gives seminars on low-volatility investing. In the past, he published regular investment updates and was an investment advisor, portfolio manager and fiduciary manager for institutional investors.
See More