E-book
Teachers' Know-How: A Philosophical Investigation
ISBN: 978-1-119-35572-4
248 pages
February 2017, Wiley-Blackwell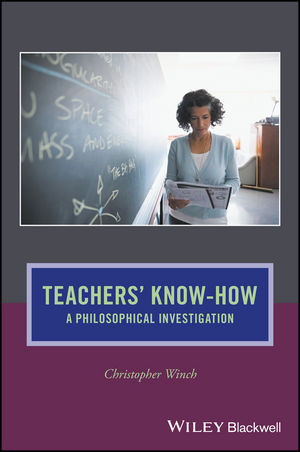 Teachers' Know-How: A Philosophical Investigation presents a comprehensive and up to date philosophical treatment of the kinds of knowledge and "know-how" that educators should possess.
Offers an original and in-depth study of teachers' know-how which situates teaching within the spectrum of professions
Critiques the currently fashionable craft conception of teaching and the view of teaching as protocol-driven which is currently influential in policymaking circles
Utilizes epistemological debates on the nature of know-how to inform understanding of the work of teachers
Features detailed examples including some drawn from the author's own long professional experience of a teacher in a wide range of different contexts
See More
Preface vii
1 Introduction: Education and Teaching 1
2 Schooling and the Occupation of Teaching 21
3 Dimensions of Expertise and Their Relevance to Teaching 39
4 Towards a Typology of Occupations 59
5 The Elements of Teacher Knowledge and Know-How 77
6 Teaching as a Craft Occupation 97
7 The Teacher as Executive Technician, or the Temptations of 'Teacher Proof' Teaching 115
8 The Teacher as a Professional Technician 133
9 Teaching as an Occupation 151
10 Teacher Education 169
11 A Good Teacher? 187
12 Some Outstanding Issues 203
Bibliography 217
Index 227
See More
CHRISTOPHER WINCH is Professor of Educational Philosophy and Policy, School of Education, Communication and Society, King's College London. He is the author of numerous books and articles in the philosophy of education and on professional and vocational education.
See More
More in this series