MCSA Windows Server 2016 Study Guide: Exam 70-741
ISBN: 978-1-119-35933-3
504 pages
September 2017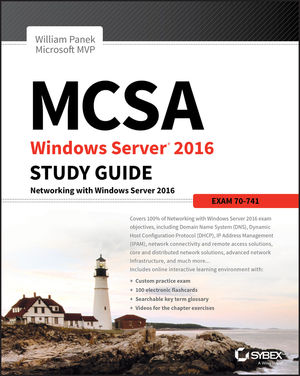 Ultimate coverage and hands-on practice for the second MCSA Windows Server 2016 exam
MCSA Windows Server 2016 Study Guide: Exam 70-741 offers complete preparation for the second exam in the MCSA series. With comprehensive coverage of all exam objectives led by a four-time Microsoft MVP winner, this book is your ideal companion for thorough preparation. Optimize your study time with hundreds of practice questions that pinpoint your weak spots, and try your hand at real-world application with exercises that reflect the MCSA skill set. Access to the Sybex interactive online practice test environment provides electronic flashcards, a glossary, practice exams and more, so you can study anywhere, any time; this invaluable study guide goes beyond mere review to help you enter the exam with full confidence in your abilities.
The Microsoft Certified Solutions Associate certification puts your skills in demand—but first you must pass a series of three exams; exam 70-741 is the second step, testing your Windows 2016 networking knowledge and skills. This book covers everything you need to know, giving you the exam-day advantage of comprehensive prep.
Master 100 percent of the exam objective domains
Learn how these skills are applied in real-world scenarios
Solidify your understanding with hands-on exercises
Access electronic flashcards, practice exams, and more!
How well do you deploy, manage, and maintain a server? Can you expertly configure file and print servers, network access and services, and network policy server infrastructure? Have you configured and managed Active Directory and Group Policy? Don't leave anything to chance—MCSA Windows Server 2016 Study Guide: Exam 70-741 tells you all you need to know to pass with flying colors.
See More
Introduction xvii
Assessment Test xxvii
Chapter 1 Configuring TCP/IP 1
Understanding TCP/IP 2
Details of the TCP/IP Model 2
How TCP/IP Layers Communicate 3
Understanding Port Numbers 4
Understanding IP Addressing 5
The Hierarchical IP Addressing Scheme 5
Understanding Network Classes 6
Subnetting a Network 10
Implementing Subnetting 11
An Easier Way to Apply Subnetting 18
Applying Subnetting the Traditional Way 22
Working with Classless Inter-Domain Routing 29
Supernetting 32
Understanding IPv6 33
IPv6 History and Need 33
New and Improved IPv6 Concepts 34
IPv6 Addressing Concepts 36
IPv6 Integration/Migration 41
Summary 45
Exam Essentials 45
Review Questions 47
Chapter 2 Configuring DNS 51
Introducing DNS 52
The Form of an IP Address 53
Understanding Servers, Clients, and Resolvers 58
Understanding the DNS Process 59
Introducing DNS Database Zones 65
Understanding Primary Zones 65
Understanding Secondary Zones 66
Understanding Active Directory Integrated DNS 67
Understanding Stub Zones 69
GlobalName Zones 70
Zone Transfers and Replication 71
Advantages of DNS in Windows Server 2016 74
Background Zone Loading 74
Support for IPv6 Addresses 75
Support for Read-Only Domain Controllers 75
DNS Socket Pools 75
DNS Cache Locking 76
Response Rate Limiting 76
Unknown Record Support 77
IPv6 Root Hints 77
DNS Security Extensions 77
DNS Devolution 78
Record Weighting 79
Netmask Ordering 79
DnsUpdateProxy Group 79
DNS Policies 79
Introducing DNS Record Types 80
Start of Authority (SOA) Records 81
Name Server Records 82
Host Record 83
Alias Record 83
Pointer Record 83
Mail Exchanger Record 84
Service Record 84
Configuring DNS 85
Installing DNS 86
Load Balancing with Round Robin 86
Configuring a Caching-Only Server 87
Setting Zone Properties 88
Configuring Zones for Dynamic Updates 91
Delegating Zones for DNS 92
DNS Forwarding 93
Manually Creating DNS Records 94
DNS Aging and Scavenging 95
Monitoring and Troubleshooting DNS 95
Monitoring DNS with the DNS Snap-In 96
Troubleshooting DNS 98
Integrating Dynamic DNS and IPv4 DHCP 107
DNS PowerShell Commands 108
Summary 111
Exam Essentials 112
Review Questions 114
Chapter 3 Configuring DHCP 117
Understanding DHCP 118
Introducing the DORA Process 119
Advantages and Disadvantages of DHCP 120
Ipconfig Lease Options 121
Understanding Scope Details 122
Installing and Authorizing DHCP 124
Installing DHCP 124
Introducing the DHCP Snap-In 125
Authorizing DHCP for Active Directory 126
Creating and Managing DHCP Scopes 128
Creating a New Scope in IPv4 129
Creating a New Scope in IPv6 136
Changing Scope Properties (IPv4 and IPv6) 139
Changing Server Properties 140
Managing Reservations and Exclusions 141
Setting Scope Options for IPv4 143
Activating and Deactivating Scopes 146
Creating a Superscope for IPv4 146
Creating IPv4 Multicast Scopes 147
Integrating Dynamic DNS and IPv4 DHCP 149
Using DHCP Failover Architecture 151
Working with the DHCP Database Files 152
Working with Advanced DHCP Configuration Options 153
Implement DHCPv6 154
Configure High Availability for DHCP, Including DHCP
Failover and Split Scopes 155
Configure DHCP Name Protection 157
PowerShell Commands 158
Summary 160
Exam Essentials 161
Review Questions 162
Chapter 4 Implement IP Address Management 165
Understanding IPAM 166
Installing IPAM 167
Provision IPAM Manually or by Using Group Policy 170
Configure Server Discovery 176
Create and Manage IP Blocks and Ranges 177
Managing Services 178
Managing DNS 179
Managing DHCP 184
IPAM Access and Auditing 189
Migrate to IPAM 191
Delegate IPAM Administration 191
Manage IPAM Collections 195
Virtual Machine Manager and IPAM 195
Auditing IPAM 197
PowerShell Commands for IPAM 200
Summary 203
Exam Essentials 203
Video Resources 203
Review Questions 204
Chapter 5 Configuring Network Access 207
Overview of Dial-Up Networking 208
What DUN Does 209
How DUN Works 209
Overview of Virtual Private Networks 212
What VPNs Do 213
VPNs and Windows Server 2016 213
How VPNs Work 214
Configuring Your Remote Access Server 217
Configuring PPP Options 217
Understanding a VPN 224
How a VPN Works 224
Enabling RRAS as a VPN 225
Configuring a VPN 225
Configuring VPN Ports 225
Troubleshooting VPNs 226
Managing Your Remote Access Server 229
Managing Remote Users with a RADIUS Server 229
Monitoring Overall Activity 229
Controlling Remote Access Logging 229
Reviewing the Remote Access Event Log 233
Monitoring Ports and Port Activity 233
Network Address Translation 234
Configuring Routes 234
RAS Gateway 236
Configuring a VPN Client 236
The General Tab 237
The Options Tab 238
The Security Tab 239
The Networking Tab 241
The Sharing Tab 242
Configuring a Web Application Proxy 243
Publishing Applications 243
Configuring Pass-Through Authentication 244
Understanding DirectAccess 245
DirectAccess vs. VPNs 245
Understanding the DirectAccess Process 245
Knowing the DirectAccess Infrastructure Requirements 247
Contents xi
Overview of Wireless Access 248
Configuring Wireless Access 249
Remote Access Security 250
User Authentication 250
Connection Security 252
Access Control 253
Configuring User Access 253
Setting Up User Profiles 254
Using Network Access Policies 256
NPS as a RADIUS Proxy Server 259
Importing and Exporting NPS Policies 261
Using Remote Access Profiles 263
Setting Up a VPN Network Access Policy 266
Configuring Security 268
Controlling Server Security 268
Configuring Network Access Protection 270
PowerShell for Remote Access 272
Summary 273
Exam Essentials 274
Video Resources 274
Review Questions 275
Chapter 6 Understanding File Services 277
Configuring File Server Resource Manager 278
FSRM Features 278
Installing the FSRM Role Service 279
Configure File and Disk Encryption 280
Using BitLocker Drive Encryption 280
Features of BitLocker 281
Windows 7 and 2008 R2 vs. Windows 10 and 2016 283
Using EFS Drive Encryption 285
Configuring Distributed File System 287
Advantages of DFS 287
Types of DFS 288
What's New in Windows Server 2016 290
Remote Differential Compression 292
Configure Advanced File Services 295
Configure the NFS Data Store 295
Configure BranchCache 296
Implementing an Audit Policy 303
Overview of Auditing 303
Implementing Auditing 304
Viewing Auditing Information 305
Using the Auditpol.exe Command 306
Windows Server 2016 Auditing Features 307
Configure and Optimize Storage 308
Configure iSCSI Target and Initiator 308
Configure Internet Storage Name Server 309
Implement Thin Provisioning and Trim 311
Manage Server Free Space Using Features on Demand 311
Configure Tiered Storage 312
Summary 312
Exam Essentials 312
Review Questions 314
Chapter 7 Configuring High Availability 317
Components of High Availability 318
Achieving High Availability 319
High Availability Foundation 320
Understanding Network Load Balancing 321
NLB Requirements 323
Installing NLB Nodes 323
Upgrading an NLB Cluster 328
Setting the Affinity 328
PowerShell Commands for a NLB Cluster 329
Achieving High Availability with Failover Clustering 330
Failover Clustering Requirements 332
Workgroup and Multi-domain Clusters 334
Site-Aware, Stretched, or Geographically
Dispersed Clusters (Geoclustering) 334
Cluster Quorum 335
Validating a Cluster Configuration 337
Creating a Cluster 342
Clustered Application Settings 345
Resource Properties 347
Windows Server 2016 Clustering Features 350
PowerShell Commands for Clustering 354
Implementing Storage Spaces Direct 355
The Benefits of Storage Spaces Direct 357
Deployment Options 358
Requirements to Setup Storage Spaces Direct 358
Storage Spaces Direct using Windows PowerShell 359
Achieving High Availability with Hyper-V 361
Implementing a Hyper-V Replica 361
Understanding Live Migration 369
Implementing Storage Migration 372
PowerShell Commands for Hyper-V High Availability 374
Summary 375
Exam Essentials 376
Video Resources 376
Review Questions 377
Chapter 8 Implementing Software Defined Networking 379
Understanding Software Defined Networking 380
Network Controllers 381
Internal DNS Service (iDNS) 381
Remote Direct Memory Access and Switch Embedded Teaming 384
Windows Server Containers 385
Hyper-V Components 387
Hyper-V Overview 387
What Is Virtualization? 387
Hyper-V Features 388
Hyper-V Architecture 393
Hyper-V Requirements 394
Hyper-V Installation and Configuration 396
Install the Hyper-V Role 396
Hyper-V in Server Manager 399
Using Hyper-V Manager 399
Configure Hyper-V Settings 401
Manage Virtual Switches 402
Managing Virtual Hard Disks 405
Configuring Virtual Machines 410
Creating and Managing Virtual Machines 410
Linux and FreeBSD Image Deployments 422
PowerShell Commands 426
Summary 430
Exam Essentials 430
Review Questions 431
Appendix Answers to the Review Questions 433
Chapter 1: Configuring TCP/IP 434
Chapter 2: Configuring DNS 435
Chapter 3: Configuring DHCP 436
Chapter 4: Implement IP Address Management 437
Chapter 5: Implement IP Address Management 438
Chapter 6: Understanding File Services 439
Chapter 7: Configuring High Availability 440
Chapter 8: Implementing Software Defined Networking 440
Index 443
See More
William Panek, MCP, MCSE, MCSA, MCTS, MCITP, CCNA, is a four-time Microsoft MVP winner. He has taught at Boston University, Clark University, and the University of Maryland, and presently conducts live online classes for StormWind Studios (www.stormwind.com). Will has been a consultant and trainer for the United States Secret Service, Cisco, the United States Air Force, and the United States Army. He also creates training videos to help students prepare for various Microsoft exams.
See More
Instructors Resources
Request a print evaluation copy
Contact us

See More
See Less
Learn more about