MCSA Windows Server 2016 Study Guide: Exam 70-740
ISBN: 978-1-119-35934-0
432 pages
June 2017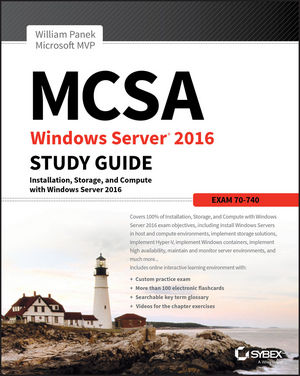 The bestselling MCSA 70-470 study guide, updated for the latest exam
MCSA Windows Server 2016 Study Guide is your ultimate resource for Exam 70-740. Covering 100% of all exam objectives, this study guide goes far beyond concept review with real-world scenarios containing expert insights, chapter review questions, hands-on practice exercises while the Sybex interactive learning environment provides additional last minute review through practice exams, electronic flashcards, and searchable glossary. This new edition has been fully updated to align with the Windows Server 2016 exam, featuring authoritative coverage of installation, configuration, server roles, Hyper-V, core network services, Active Directory, Group Policy, security, remote access, disaster recovery, and more.
The vast majority of servers around the world use Windows Server, and the 2016 release includes a host of new features and updates. This study guide has been updated to prepare you for these changes so you can be confident on exam day and beyond.
Study 100% of Exam 70-740 objectives
Gain hands-on practice performing critical tasks
Link concept to practice through real-world scenarios
Access to the Sybex interactive learning environment
Whether you want to sit for the exam, or simply improve your job performance, this Sybex study guide will give you the expert insight to learn the key concepts and latest updates to Windows Server 2016.
See More
Introduction xxi
Assessment Test xxxii
Chapter 1 Installing Windows Server 2016 1
Features and Advantages of Windows Server 2016 2
Planning the Windows Server 2016 Installation 6
Server Roles in Windows Server 2016 6
Migrating Roles and Features to Windows Server 2016 10
Deciding Which Windows Server 2016 Versions to Use 11
Deciding on the Type of Installation 13
NIC Teaming 16
Installing Windows Server 2016 17
Activating and Servicing Windows 31
Key Management Service 32
Automatic Virtual Machine Activation 33
Active Directory–Based Activation 34
Servicing Windows Server 2016 34
Using Windows Deployment Services 35
Preparing the WDS Server 36
WDS Server Requirements 36
Network Services 37
Installing the WDS Server Components 37
Preparing the WDS Client 39
Understanding Features On Demand 39
Summary 41
Video Resources 41
Exam Essentials 41
Review Questions 42
Chapter 2 Installing in the Enterprise 45
Understanding Automated Deployment Options 46
An Overview of the Microsoft Deployment
Toolkit 2013 Update 2 47
An Overview of Unattended Installation 55
An Overview of the System Preparation Tool and Disk Imaging 57
Overview of the Windows Assessment and Deployment Kit 61
Windows Imaging and Configuration Designer 62
Summary of Windows Server 2016 Deployment Options 62
Deploying Unattended Installations 64
Using the System Preparation Tool to Prepare an Installation for Imaging 65
Using Windows Imaging and Configuration Designer (Windows ICD) to Create a Disk Image 67
Installing from a Disk Image 69
Using the Deployment Image Servicing and Management Tool 70
Using Windows System Image Manager to Create Answer Files 73
Microsoft Assessment and Planning (MAP) Toolkit 75
Understanding Hyper-V 77
What Is Virtualization? 78
Linux and FreeBSD Image Deployments 78
Summary 79
Video Resources 80
Exam Essentials 80
Review Questions 81
Chapter 3 Configuring Storage and Replication 85
Understanding File Systems 86
Resilient File System (ReFS) 87
NTFS 88
Storage in Windows Server 2016 91
Initializing Disks 91
Configuring Basic and Dynamic Disks 92
Managing Volumes 94
Storage Spaces in Windows Server 2016 95
Redundant Array of Independent Disks 96
Mount Points 99
Microsoft MPIO 100
Configuring iSCSI Target 102
Internet Storage Name Service 103
Implement Thin Provisioning and Trim 105
Fibre Channel 106
Network Attached Storage 106
Virtual Disk Service 106
Understanding Data Center Bridging 108
Configuring Permissions 109
Understanding SMB 109
Understanding NTFS 110
Understanding Shared Permissions 112
How NTFS Security and Shared Permissions Work Together 114
Understanding NFS Shares 116
Configuring Disk Quotas 118
Windows PowerShell 120
Using Server Manager 125
Booting from a VHD 126
Understanding Data Deduplication 127
Backup and Restoring Deduplicated Volumes 128
Installing and Enabling Data Deduplication 129
Monitoring Data Deduplicated 132
Summary 132
Video Resources 133
Exam Essentials 133
Review Questions 135
Chapter 4 Understanding Hyper-V 137
Hyper-V Overview 139
What Is Virtualization? 139
Hyper-V Features 140
Hyper-V Architecture 145
Hyper-V Requirements 147
Hyper-V Installation and Configuration 148
Install the Hyper-V Role 148
Hyper-V in Server Manager 151
Using Hyper-V Manager 152
Configure Hyper-V Settings 153
Manage Virtual Switches 154
Managing Virtual Hard Disks 157
Configuring Virtual Machines 162
Creating and Managing Virtual Machines 162
Linux and FreeBSD Image Deployments 175
PowerShell Commands 179
Summary 182
Video Resources 183
Exam Essentials 183
Review Questions 185
Chapter 5 Configuring High Availability 187
Components of High Availability 188
Achieving High Availability 189
High Availability Foundation 190
Understanding Network Load Balancing 191
NLB Requirements 193
Installing NLB Nodes 193
Upgrading an NLB Cluster 198
PowerShell Commands for a NLB Cluster 199
Achieving High Availability with Hyper-V 200
Implementing a Hyper-V Replica 201
Understanding Live Migration 205
Implementing Storage Migration 208
PowerShell Commands for Hyper-V High Availability 210
Summary 211
Video Resources 212
Exam Essentials 212
Review Questions 213
Chapter 6 Understanding Clustering 215
Achieving High Availability with Failover Clustering 216
Failover Clustering Requirements 218
Workgroup and Multi-domain clusters 219
Site-Aware, Stretched, or Geographically Dispersed
Clusters (Geoclustering) 220
Cluster Quorum 220
Validating a Cluster Configuration 223
Creating a Cluster 228
Clustered Application Settings 231
Resource Properties 233
Windows Server 2016 Clustering Features 236
PowerShell Commands for Clustering 239
Implementing Storage Spaces Direct 241
The Benefits of Storage Spaces Direct 243
Deployment options 243
Requirements to Set Up Storage Spaces Direct 244
Storage Spaces Direct using Windows PowerShell 245
Summary 247
Video Resources 247
Exam Essentials 247
Review Questions 248
Chapter 7 Configuring Windows Containers 251
Understanding Windows Containers 252
Container Terminology 253
Install and Configure Server Containers 253
Install and Configure Windows Containers 260
Tagging an Image 265
Uninstall an Operating System Image 265
Creating New Images Using Dockerfile 266
Understanding Hyper-V Containers 268
Managing Container Networking 269
Using Docker Hub Repository 270
Using Microsoft Azure for Images 271
Contents xvii
Using PowerShell for Containers 271
Summary 273
Video Resources 274
Exam Essentials 274
Review Questions 275
Chapter 8 Maintaining Windows Server 277
Configuring Windows Server Updates 278
Windows Update 279
Using Windows Server Update Services 282
Understanding Backups 297
Overview of the Windows Server 2016 Backup Utility 298
Setting Up an Active Directory Backup 303
Restoring Active Directory 306
Active Directory Recycle Bin 308
Understanding the ntdsutil Utility 309
Wbadmin Command-Line Utility 310
Backing Up Virtual Machines 311
PowerShell Commands 312
Summary 314
Video Resources 315
Exam Essentials 315
Review Questions 316
Chapter 9 Understanding Monitoring 319
Overview of Windows Server 2016 Performance Monitoring 321
Using Windows Server 2016 Performance Tools 323
Introducing Performance Monitor 323
Using Other Monitoring Tools 332
Summary 347
Video Resources 348
Exam Essentials 348
Review Questions 349
Appendix Answers to the Review Questions 351
Chapter 1: Installing Windows Server 2016 352
Chapter 2: Installing in the Enterprise 352
Chapter 3: Configuring Storage and Replication 353
Chapter 4: Understanding Hyper-V 354
Chapter 5: Configuring High Availability 355
Chapter 6: Understanding Clustering 356
Chapter 7: Configuring Windows Containers 357
Chapter 8: Maintaining Windows Server 357
Chapter 9: Understanding Monitoring 358
Index 361
See More
William Panek, MCP, MCSE, MCSA, MCTS, MCITP, CCNA, is a four-time Microsoft MVP winner. He has taught at Boston University, Clark University, and the University of Maryland, and presently conducts live online classes for StormWind Studios (www.stormwind.com). Will has been a consultant and trainer for the United States Secret Service, Cisco, the United States Air Force, and the United States Army. He also creates training videos to help students prepare for various Microsoft exams.
See More
Instructors Resources
Request a print evaluation copy
Contact us

See More
See Less
Learn more about