E-book
Race and Social Change: A Quest, A Study, A Call to Action
ISBN: 978-1-119-35943-2
384 pages
February 2017, Jossey-Bass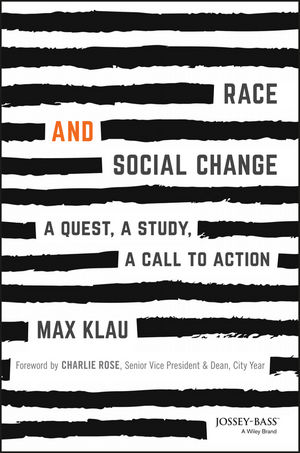 A powerful study illuminates our nation's collective civic fault lines
Recent events have turned the spotlight on the issue of race in modern America, and the current cultural climate calls out for more research, education, dialogue, and understanding. Race and Social Change: A Quest, A Study, A Call to Action focuses on a provocative social science experiment with the potential to address these needs. Through an analysis grounded in the perspectives of developmental psychology, adaptive leadership and complex systems theory, the inquiry at the heart of this book illuminates dynamics of race and social change in surprising and important ways. Author Max Klau explains how his own quest for insight into these matters led to the empirical study at the heart of this book, and he presents the results of years of research that integrate findings at the individual, group, and whole system levels of analysis. It's an effort to explore one of the most controversial and deeply divisive subject's in American civic life using the tools of social science and empiricism. Readers will:
Review a long tradition of classic, provocative social science experiments and learn how the study presented here extends that tradition into new and unexplored territory
Engage with findings from years of research that reveal insights into dynamics of race and social change unfolding simultaneously at the individual, group, and whole systems levels
Encounter a call to action with implications for our own personal journeys and for national policy at this critical moment in American civic life
At a moment when our nation is once again bitterly divided around matters at the heart of American civic life, Race and Social Change: A Quest, A Study, A Call to Action seeks to push our collective journey forward with insights that promise to promote insight, understanding, and healing.
See More
Foreword vii
Introduction 1
1. A Personal Quest 17
2. Introduction to Classic Social Psychology Experiments 37
3. Understanding Systems, Part I: Dynamics of Complex Systems 57
4. Understanding Systems, Part II: Development Toward Complexity and the Hidden Process Driving Social Change 85
5. The Separation Exercises 111
6. Findings at the Interpersonal and Intergroup Levels 143
7. The Whole System Level of Analysis 175
8. Lessons for the Real World, Part I: Seeing the System and the Process of Awakening 207
9. Lessons for the Real World, Part II: On Power, Control, and the Interconnectedness of Our Inner and Outer Worlds 231
10. The (Dual) Call to Action 269
References 303
Appendix A: Research Methodology Overview 309
Appendix B: Sample Questionnaire 311
Appendix C: Codes Related to Research Question 1 313
Appendix D: Responses to Question 2 317
Appendix E: Responses to Question 4 329
Appendix F: Quantitative Attention Distribution Charts by Exercise 333
Appendix G: Qualitative Data Related to Question 3 339
Acknowledgments 349
Index 353
See More
MAX KLAU is the Chief Program Officer at the New Politics Leadership Academy, a non-profit dedicated to recruiting and developing alumni of long-term service programs—both military and civilian—to run for political office. Previously, he served as Vice President of Leadership Development at City Year, the Boston-based AmeriCorps program focused on addressing the nation's high school drop-out crisis. Max received his Doctorate of Education in Human Development and Psychology from the Harvard Graduate School of Education in 2005; where his studies focused on civic leadership education. An alumnus of four different service programs, he has completed two years of service in Israel and led service programs in Ghana, Honduras, and Ukraine. He serves on the board of the International Leadership Association, and his writings about leadership have been featured in Fast Company, Harvard Business Review, Huffington Post, and The Washington Post. He lives with his wife and two children in the suburbs of Boston, MA.
See More