E-book
Trap Tales: Outsmarting the 7 Hidden Obstacles to Success
ISBN: 978-1-119-36591-4
224 pages
April 2017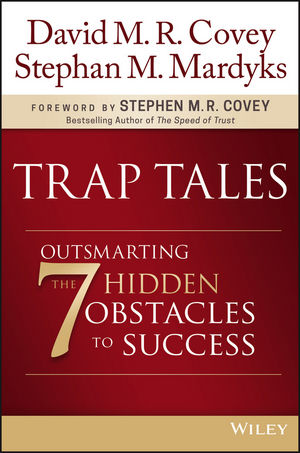 Outsmart the traps that are holding you back from success!
Trap Tales is your guide to avoiding the seven obstacles that ensnare people every day. We all fall into traps, and we often don't even realize it until we're deeply entrenched. Like quicksand, traps are easy to step into, but difficult to escape—it seems that the harder we try to climb out, the deeper we sink. But what if there were another way? What if we knew the right strategies to escape the traps we have fallen into? What if we could spot traps from a distance, and avoid them entirely?
In this book, authors David M. R. Covey and Stephan M. Mardyks train you in the art of Trapology. You'll meet Alex and Victoria, who have fallen into traps you're sure to recognize. As you read their stories, you'll learn about the seven most common traps in life and work, and how even the smartest and seemingly most accomplished people find themselves stuck and unable to see their way out. Traps are masters of disguise, but there are telltale signs that give them away every time. If you discover that you're trapped right now, consider this book your lifeline—the lessons contained in Trap Tales will teach you how to escape these traps and how to sidestep them in the future.
This book, unlike most books, offers counter-intuitive strategies and unconventional wisdom to:
• Learn the seven biggest traps in life and work that catch people unaware
• Identify the traps that are holding you back right now
• Discover your escape route and climb out of the quicksand
• Become a "Trapologist" and avoid traps altogether
The core message of Trap Tales is hope—the belief that anybody can change the trajectory of their life, at any stage of their life. Stop letting traps steal your time, money, energy, and happiness—Trap Tales provides survival training of a different sort, allowing you to write your own tale of success.
See More
Foreword by Stephen M. R. Covey ix
PART 1 Alex's Story 1
The Story Begins 3
Trapology 15
PART 2 Traps 1-3 27
Trap 1: The Relationship Trap 29
Trap 2: The Money Trap 45
Trap 3: The Focus Trap 65
PART 3 Traps 4-6 81
Back to Reality 83
Trap 4: The Change Trap 93
Trap 5: The Learning Trap 115
Trap 6: The Career Trap 135
PART 4 Trap 7 147
Decision Day 149
Trap 7: The Purpose Trap 161
The Perfect Trip 173
Trapologist Toolbox 179
Four Characteristics of a Trap 179
Four-Phase Progression 179
Traps 1–7 Overviews 181
Acknowledgments 197
Citations 199
About the Authors 201
See More
David M. R. Covey is co-CEO and cofounder of SMCOV, as well as managing partner and cofounder of ThomasLeland. An expert in leadership and global licensing, he has lived the Seven Habits since birth.
Stephan M. Mardyks is co-CEO and cofounder of SMCOV, as well as managing partner and cofounder of ThomasLeland. He is widely seen as a world-renowned expert in the field of Global Learning and Development
See More